Looking to spruce up your bedroom in a fresh and modern way? We've got you covered! In this post, we've gathered 30 stylish bedroom decor ideas that will help you achieve the look you're after. Plus, we've also included tips and tricks on how to get the most out of your bedroom decorating. We will also be covering children's bedroom decor ideas and small bedroom decorating ideas in this post too.
Master Bedroom Decor Ideas
Bedroom design is something that can be greatly improved by incorporating some stylish and modern master bedroom decor ideas. From accents and furnishings to colors and patterns, there is a wide range of options to choose from. Let's look at some of the trending master bedroom design ideas.
1. 3D Round Wall Clocks
Round wall clocks are a perfect bedroom wall decor idea. They add a classic look and function to any room, and they're great for adding some extra time-telling functionality to your living space. There are many different styles available on the market these days, so it is important to get one that suits your unique tastes.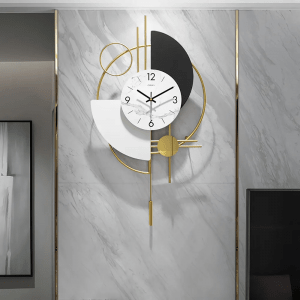 Source: Homary
One of our favorites is this Gold Pendulum Geometric Digital Wall Clock from Homary, which can greatly combine with most of the home decor themes. Portraying the classic Nordic romance style, this pendulum wall clock features black Arabic numerals that are easily readable.
We will be featuring many master bedroom decor ideas from Homary, as they have a respectable collection of bedroom design ideas. We also provide exclusive coupon codes for Homary that let you save as much as $150 on your next purchase at Homary. Isn't that a deal to steal!?
Wanna know some other top websites to shop from? If so, you may like to check Best Online Shopping Websites & Apps.
2. Geometric Canvas Wall Art Painting
Geometric wall art is a popular bedroom design idea right now and can add some personality to any room. These paintings are made from colorful canvases that are cut into various shapes and sizes, giving them an intricate and beautiful design. You can choose from a wide variety of designs, ranging from simple squares to more complex patterns.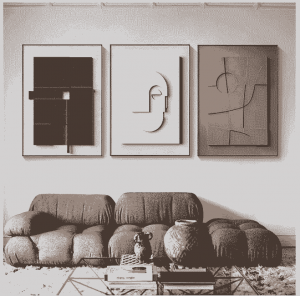 Source: Homary
For example, look at the above contemporary 3-piece wall decor painting featuring center-filling patterns of chocolate, brown, and white, which does a splendid job of shining playful color appeal to your master room. This master bedroom wall decor idea is sure to appeal to those who appreciate minimalist geometry!
3. Modern Indoor Rugs
Have you ever wished your master bedroom could be both inviting and comfortable? Well, modern indoor rugs can help to achieve just that. These versatile pieces of décor can be used in any room in the house, including the master bedroom. Not only do modern rugs add style and sophistication to a space, but they are also effective at protecting furniture from dirt and dust.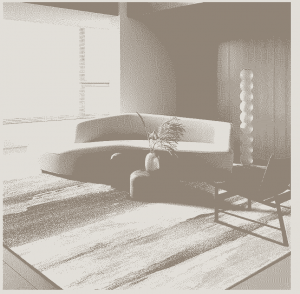 Source: Homary
This rug, featuring a stunning mix of gray and gold, and a simple design with lines, provides a designer look and feel and brings your home contemporary elements.
4. Minimalist TV Stand
A minimalist TV stand can be a great way to declutter your home and make it look more organized. By choosing an oak or other wood grain side table, you can create a sleek, modern focal point for your living room. This piece should have enough storage space at the bottom to store your television, along with cords and other accessories.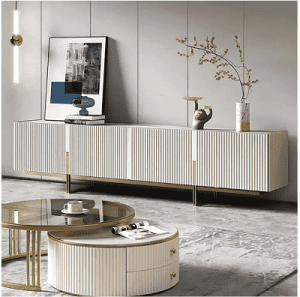 Source: Homary
One of our favorites would be this minimalist and artful TV stand that's designed with a rectangular silhouette and features 4 spacious doors and 2 inner shelves. This everlasting bed decoration idea brings a modern exquisite touch and an alluring appeal.
5. Light Wave Ceiling Fan
A lightwave ceiling fan is a great way to add some brightness and style to your home. These fans use LED lights, which are energy-efficient and last longer than regular incandescent or fluorescent bulbs. These fans also come in a variety of colors and styles that can complement any room in your home.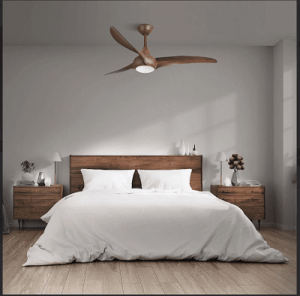 Source: 2Modern
A great bedroom design idea can be this Light Wave Ceiling Fan from MINKA AIRE. This purposeful fan comes outfitted with energy-efficient LED technology, and tons of natural finishing options to choose from. While it can seem like an expensive bet, don't let the price point stop you, as with our 2Modern Coupons, you can save up to a whopping 25%. Also, check our Basic Couponing Guide and Extreme Couponing Tips to learn more amazing ways to unlock bumper savings!
6. Wood Coffee Table
A wood coffee table is a great way to inject some visual interest and warmth into any room. Not only does it add aesthetics, but it can also serve as an extra surface for displaying your favorite items. There are many different types of woods that you can choose from, so you are bound to find one that suits the look and feel of your home decor.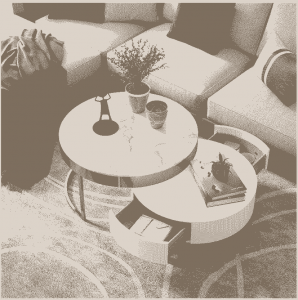 Source: Homary
Today, many coffee tables aren't exclusively made up of wood, and rather employ a combination of wood and stainless steel table (like the one shown). These trendy coffee tables pack in all features you would imagine like height adjustment, rotatory drawers and hidden storage, and movable drawers.
7. Sofa With Storage Bed
Creating a cozy and comfortable living space can be done with the right combination of furniture, accessories, and flooring. One great idea can be to add a storage bed to your existing sofa. This simple addition will not only make it easier to store toys or laundry next to the couch, but it can also double as extra seating when needed. You could even choose an upholstered storage bed that looks like part of the sofa design.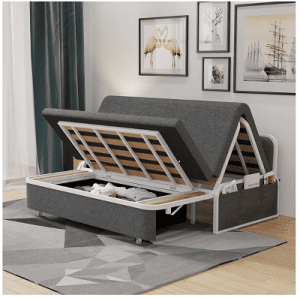 Source: Homary
 A great visualization of this great master bedroom decor idea would be this trendy and multi-purpose sofa bed sleeper, which features a comfy sleeping sofa at the top, storage space below, and independent legs for free and simple support. As couples are always looking for extra storage space ideas to accommodate their clothes, this also makes up for a great bedroom decorating idea for couples too!
8. Modern Black Table Lamps
Black table lamps are perfect bedroom decor ideas for any modern home. They add a bit of drama and sophistication to the space, while also giving it a little bit of edge. Choose from antique-inspired or sleek contemporary styles when shopping for black lamp shades. You can even go monochromatic if you prefer, but be sure to include at least one colorful option in your lineup so that the room isn't too dark and gloomy.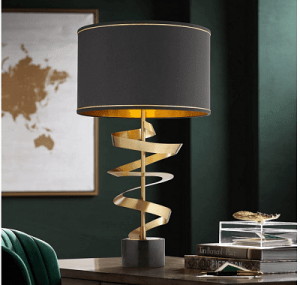 Source: Amazon
 The best example of this bedroom design idea is these black finished USB table lamps topped with natural linen shades. This simple decor features a nightlight at the bottom, and two energy-efficient LED bulbs in a nostalgic Edison style, which provide a rich and earthy traditional look for your home. We found it on the world's biggest marketplace Amazon. Again, like many other marketplaces, GrabOn is offering anywhere from 20% to 65% on various categories at Amazon, which can be availed using GrabOn's special offers & discount codes for Amazon.
9. Tree Floor Lamps
Tree floor lamps are definitely trending right now, and for good reason. They add a natural element to any room, and they look amazing! These are perfect solutions for anyone and everyone looking for an affordable way to jazz up their decor.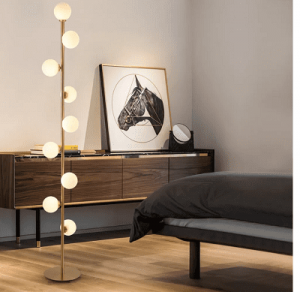 Source: Homary
 At GrabOn, we really admire tree floor lamps like this, which feature a slender metal body, solid outfits finish, and mid-century-look-inspired spherical white glass lights.
10. Luxury Mattresses
Anyone looking to add a touch of luxury and class to their home can create a luxurious bed with an expensive mattress. Not only will this bed be attractive, but it will also provide comfort and support that is hard to beat. For the best results, look for mattresses that are made from high-quality materials such as cashmere or woolen fabrics.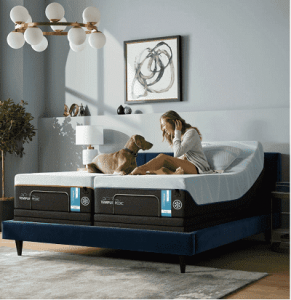 Source: US-Mattress
US-Mattress is the name you should remember if you want to invest in luxury mattresses. Their top-of-the-line mattresses like this King Tempurpedic Luxe Breeze Mattress come with a superb comfort scale rating, high-density core, and top-of-the-line cooling technology. What's great is that GrabOn offers a plethora of coupons for US-Mattress, which can allow you to save as much as 30% on their mattresses and other bedding solutions, so you can implement this master bedroom design idea without breaking your bank.
11. Pomtastic Pillows
There's no need to be confined to the boring and dreary decor when you can inject some fun and personality into your home with a little bit of pomtastic pillow designs. These pillows are unique pieces that not only add color and life to any room in the house but also serve as functional furniture items that can be used for many different purposes. Many pomtastic pillows also come with a coordinating feather bed skirt that adds an extra touch of elegance and sophistication to any bedroom setting.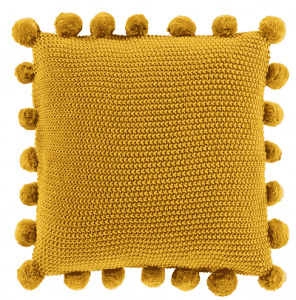 Source: 2Modern
 We highly recommend these pomtastic pillows at 2Modern, which are available in elegant color options like Mustard, Pale Pink, or Light Gray. These authentic, and modern designed pillows adapt to all sorts of ambiances and spacing, which is why they are a must-have for anyone looking for a great bedroom design idea.
12. Metal Plant Stand
This simple bedroom decorating idea can be used to display plants of all shapes and sizes, making it the perfect centerpiece for any room in the house. Not only is this item easy to install, but it also looks great semi-hidden behind furniture or mounted on the wall near an open window. Plus, with its sturdy construction and versatile use, this piece will last long into the future.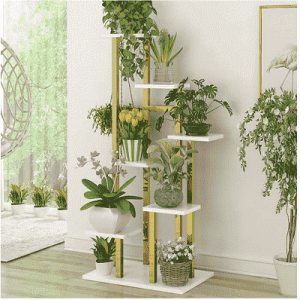 Source: Homary
A great example of this bedroom interior design idea would be this 7-tiered shelves metal plant stand that accentuates your current decor beautifully while providing ample space to store all sorts of flowers and plants.
13. Hang-it-all Clothes Rack
With so many clothes packed away in closets and garages, it's time to start thinking about what to do with all of them. One solution is a hang-it-all clothes rack. This simple invention allows you to easily organize your closet by hanging each piece of clothing on its own hanger. Not only does this system make accessing your wardrobe faster and more convenient, but it also eliminates the need for piles of folded-up clothes on the floor or in drawers.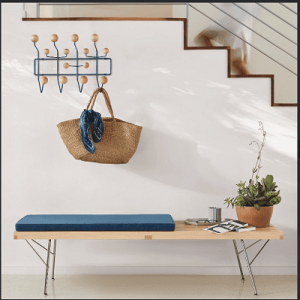 Source: 2Modern
If this bedroom wall decor idea resonates with you, try picking up  Eames® Hang-It-All® from Herman Miller® that features solid wood balls for a touch of whimsy, and eight large and six small hooks to accommodate everything.
14. White Computer Desk
White furniture is versatile enough to be used in almost any setting – from the living room to the bedroom – and it works well with most color schemes. That's why white also works wonderfully well on computer desks. The striking white desks work for both office and bedroom settings and allow anyone to easily create an elevated workspace that reflects their classy sense of style.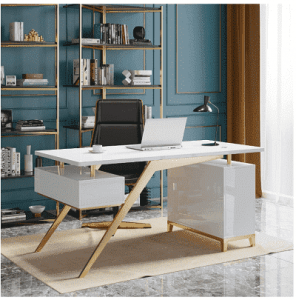 Source: Homary
Some of the best ones like the one shown above come in an attractive composition of two stainless steel tubes with a shiny golden finish. Do consider investing in these elegant-looking desks if you are looking to spice up your home office interior.
15. Modern Mirrors
Modern mirrors add style and function to any room, and can be used to enhance your look from every angle. Some of the best modern mirror designs include frameless mirrors with sleek finishes, velvet-backed panels that provide a luxurious feel, and metal frames that are both stylish and durable.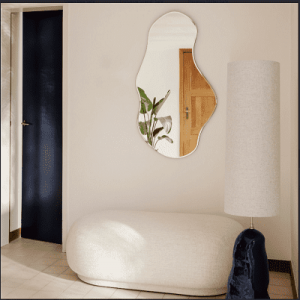 Source: 2Modern
However, the one mirror that truly stands out is the free-flowing water-inspired pond mirror with a metal frame. It's a great bedroom interior design idea to turn your mere functional mirror into a decorative wall piece.
16. Tealight Candleholder
Creating a relaxing and tranquil bedroom atmosphere is essential for a healthy sleep cycle. One way to do this is by incorporating tealight candles into your decor. These delicate candles emit a soft, soothing light that can help to create an inviting and comfortable environment. They are also perfect for adding accents of color to any room in the house, including the master bedroom.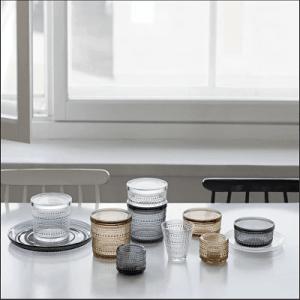 Source: 2Modern
What you are seeing above is the glass droplet designed tealight candle holder in a range of colors like green , linen, salmon pink, clear, gray, and rain. They make for a great master bedroom decor idea as they are able to generate beautiful reflections when lit tea lights are placed inside them. That's why this product also makes up for a great Christmas bedroom decor idea. We bet you must have tried this. Right? 😉
17. Accent Chairs
Accent chairs can add a pop of color and style to any room in your home. That's why they make up for a  perfect master bedroom decor idea. They are perfect for adding extra seating, as well as becoming focal points when displayed on the corner or by the window.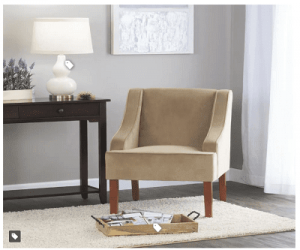 Source: The Home Depot
For this category, our favorite has to be this velvet fabric-made and elegant-looking accent chair. What we liked about it are its comfort-providing side swoop arms and dark walnut-finished wooden legs. Place it in any room (this decor works for small-sized rooms), and it's sure to add a luxurious decorative accent. Accent Chairs like the one above are available on "The Home Depot " platform. Good news! We even provide numerous offers and coupons for "The Home Depot" so that you can shop more and worry less.
18. Cotton Throw Pillows
Soft and cuddly throw pillows are a great way to add comfort and style to any master bedroom, so make up for a great yet simple bedroom decorating idea. When choosing the right pillow for your needs, keep in mind that you should consider both its fill material and shape. Try out different types of throws before settling on a favorite design or pattern.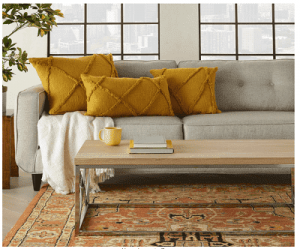 Source: The Home Depot
What you saw above is one of our most liked throw pillows, which feature a tufted, abstract cross-hatch pattern in mustard yellow – perfect for adding depth and visual element onto your sofa, bed, or chair. This pillow decor idea can be mixed and matched with various colors as per your desires.
19. Living Room Wallpapers
A great master bedroom decor idea would be using wallpaper with an urban or contemporary feel to create a modern and luxurious master bedroom. Pieces like distressed textures, lush foliage, or elegant lines can add character and sophistication to any room. For a more relaxed vibe in the living area, go for pastel hues or calming patterns inspired by water droplets or waves.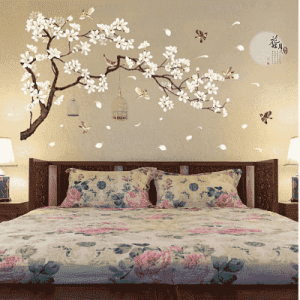 Source: DHGate
A good example of this decor idea would be this dreamy living room wallpaper featuring a spectacular-looking white tree with scattered leaves and flocking birds. We found it on DHGate – a platform that has a respectable collection of such cool wallpapers and more.  Make use of DHGate coupons in case you plan to check them out.
20. Corner Shelves
A corner shelf is a great way to add some personality and charm to your master bedroom. It's also an ideal spot for storing clothing, accessories, or any other small items you need quick access to. If you have limited wall space, a corner shelf can be customized to fit seamlessly into the existing design of your room. Additionally, it can be easily removed whenever necessary.
Source: Amazon
Our favorite for this category is this 5-tier wall storage shelf that comes with easy-to-assemble decorative & multi-functional shelves and looks great no matter where you place it including kitchens, and living rooms, bedrooms, bathrooms, offices, etc.
Children Bedroom Decor Ideas
Children's bedroom decor ideas can be as simple or complex as you want them to be. It's also important to have a range of options available to you, as your child will grow and change over the years. We will be introducing you to that range so you can find inspiration on how to furnish your child's bedroom in a fun and stylish way.
1. Friendly Animals as Wall Hangings

One great way to decorate your child's bedroom in a way that is friendly and fun, is by hanging friendly animals as wall decorations. Not only will they be entertained, but they'll also feel special – like their room is their own little kingdom! You can find a variety of cute and cuddly creatures online or at local stores.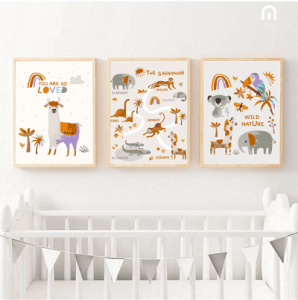 Source: Minimalist Arts
If you're on a tighter budget, try this children's bedroom design idea that uses an animal wall art collection that brings charm and unique character to any space. We bet that your kids will love looking at their favorite animals every time they wake up in the morning!
2. Twinkling Star Lights from a Cloud
Bedroom ideas don't have to be drab and boring. In fact, a little bit of creativity and pizazz can go a long way in making your child's bedroom look stylish and fun! For example, try adding skipping rope curtains and a brightly colored bedspread to give the room a pep.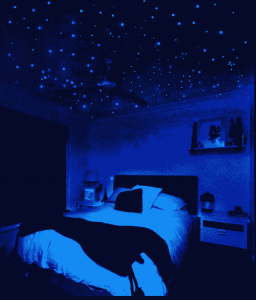 Source: Minimalist Arts
Alternatively, create an extraterrestrial space theme by hanging stars from the ceiling and using blue, green, or red walls as accents. If you're looking for something more whimsical, try hanging twinkling star lights from a cloud. You can also use this idea for themed bedrooms or wardrobes. Whatever you choose, make sure it brings a touch of fun and excitement to your child's bedroom!
3. Contemporary Playroom with Engaging Chalkboard Wall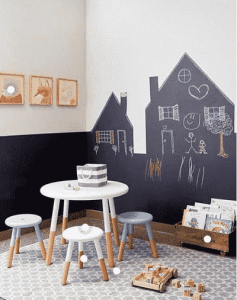 Source: Pinterest
Kids love playrooms – and there are so many fun and creative ideas out there for children's bedrooms. Whether you're looking for something simple and modern, or something a little more extravagant, there's sure to be a design that's perfect for your child. In fact, you don't even need furniture – just something that's engaging and inspiring! So go ahead, and let your child's imagination run wild in this fun and exciting room! And for extra fun, why not add a chalkboard wall to the space for them to write on or draw?
4. Night-Time Reading Space
Like playrooms, kids, sure enough, love books, and a bedroom that reflects this is a winner in the bookshelf stakes. Whether you go all out and decorate the room with books and wall art, or you make use of more subtle elements like curtains and furniture, the end result will be the same – a kid's bedroom that is packed with books!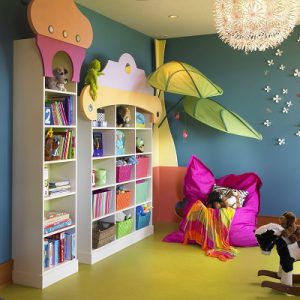 Source: Works Photograph
But don't stop there. A comfortable reading space can be as simple or elaborate as you want it to be. Consider adding a bookshelf and some lights for a touch of luxury, or go for something more playful like a bean bag chair and a selection of books. Whatever your chosen design element, make sure it reflects the personality of your child!
5. Bean Bags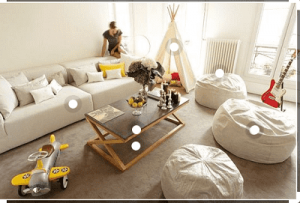 Source: Works Photography
Children's bedrooms are usually crammed full of toys and gadgets, leaving little room for anything else. But that doesn't have to be the case! Introducing comfortable seating with bean bags can be the perfect solution. You can fill them with any kind of material, so your child can customize their bean bag to their own liking. You can also add DIY decorations like washable fabric art or framed photos.
Small Bedroom Decorating Ideas For Those On Budget
Small bedroom decorating doesn't have to be limited to expensive items. In fact, there are plenty of affordable and stylish options that can make your space feel cozier and more inviting. Here are 5 small bedroom decorating ideas that are perfect for budget-conscious buyers.
1. Horizontal Wall Stripes
Small bedrooms can feel a little bit cramped, but there is no need to worry! You can spruce up your room by adding some horizontal stripes. They are easy to paint and look great in any season – perfect for matching the mood of the room. Plus, they add a dynamic and modern look that will make your small bedroom feel like it has tons of space! Wall stripes are also perfect as part of larger schemes – like wall hanging art. So go ahead and give this small bedroom decorating idea a try today!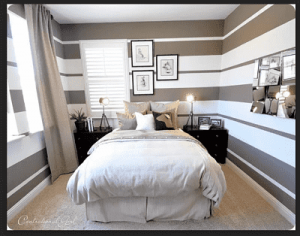 Source: Centsational Girl
2. Storage Elements
Many people enjoy displaying small pieces of furniture and knick-knacks in their bedrooms, but often these items are not easily accessible. By adding storage elements to your bedroom, you can make it easier for you to access everything that you need without having to search through piles of clutter. There are a variety of organizers available on the market today that will help you solve this problem.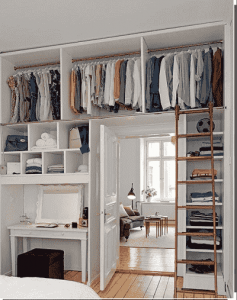 Source: Pinterest
Some examples include dressers with built-in shelves or drawers, side tables with large storage compartments, magazine racks, wall-mounted shoe boxes, and more.
3. Full-length mirrors
One way to make a small bedroom look bigger is by installing full-length mirrors. By having a view of yourself from every angle, you can add visual space and increase the feeling of spaciousness. Not only that, but mirrors also provide an added sense of glamor and effortless luxury when decorating your bedroom.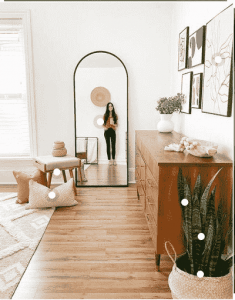 Source: Pinterest
When selecting the right mirror for your room, consider its size and shape. If you have limited storage or closet space, go for a mirror that hangs on the wall instead of sitting on a stand or floorboard.
4. Budget-Friendly Artwork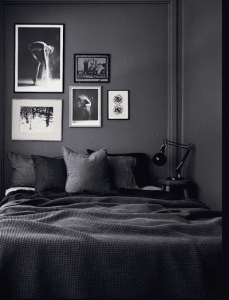 Source: Pinterest
Another great way to decorate a small bedroom on a budget is by installing inexpensive artwork. It's super-easy to find high-quality pieces of art that are affordable and easy to hang. Some popular options include southwestern landscapes, coastal scenes, or romantic era paintings. Once you've chosen your piece, measure the space where it will be installed and buy hardware such as hooks or wall brackets accordingly. We love this small bedroom design idea, as with the abundance of artwork there, anyone and everyone can find a great affordable artwork to instantly elevate their room's elegance.
5. Centered Bed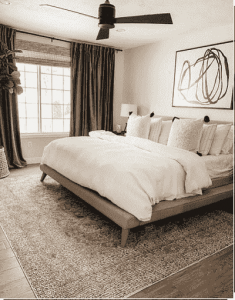 Source: Pinterest
We saved the best for the last. This simple trick is just about centering your bed, so it costs you nothing and can be done within minutes. By moving your bed into the middle of the room, you'll both save space on each side of the bed and increase how much floor storage you have. You may also find it easier to organize closet and drawer spaces this way since there's now more open area on either side of the dresser or bureau.
Tips For Decorating a Beautiful Bedroom
Bedrooms are the final sanctuary of your home – the place where you can let your hair down, escape the reality of the day, and disconnect from the world. To create the relaxing bedroom of your dreams, follow these 10 bedroom design tips. Whether you're looking for color palette inspiration or want to know how to decorate a small bedroom, you'll find everything you need on this list!
Go for a subtle color pattern
There's no wrong way to decorate a bedroom – as long as the style you choose is subtle and comfortable. When choosing a color palette, start by thinking about the rest of the room decor. Then, choose soft, subdued colors that will work well together. Use clean lines and shapes to accent key elements, and add personal accessories to inject some character. Remember: Subtlety is key when decorating a bedroom!
Plan out furniture aspects
When decorating a bedroom, it's important to take the time to think about the layout, size, and style that you want. Too often, people rush into decorating without considering the basics. That's why it's important to have someone else help guide you – an expert in the bedroom decorating world. They can help you choose the right size furniture for the room, as well as help you achieve the look you're aiming for.
When decorating a bedroom, think about the function of the room – is it relaxing and calming, or more upbeat? Once you've decided on the style and size of the furniture, think about the colors and accessories that you want to use. Finally, make sure your furniture doesn't take away from the purpose of the bedroom – that is, sleeping!
Have plenty of storage
Bedrooms are the perfect spot to decorate in any style. However, to make the most of your decorating potential, it's important to have plenty of storage. This means investing in furniture that is movable and easy to decorate. Additionally, think about changing the color of the wall and ceiling to add a pop of personality to your room. As you start to fill your bedroom with beautiful decorating pieces, make sure to keep the storage in mind.
Invest in some luxurious linens
Decorating a bedroom can be a daunting task, but it's definitely worth it to indulge in luxurious linens. For a more classic look, a great bedroom design tip can be to go for linen bedding and pillows in neutral tones. If you're feeling a little more playful, try adding intricate patterns or contrasting colors to the bedroom. For a bit of extra fun, try adding colorful throws or curtains to brighten up the space! Remember, the bedroom decor is all about personalizing the space to reflect your own style. So go ahead and get creative!
Include multiple lightning options
When decorating a bedroom, it's important to include multiple lighting options so you can choose the perfect light for each scene. Consider chandeliers, sconces, or wall sconces for a classic look, or go for bold prints and textures to give the room an edgy vibe. Add candles or votive holders for a touch of romance and color, and keep furnishings low-key and minimalistic to allow plenty of airflow and natural light into the room.
Add pattern with wallpaper
A bedroom should feel calming and serene – which is easy to achieve with the right decorating style. One great way to do this is by adding patterns to your bedroom. There are many different patterns that look great, so it's up to you to find the perfect one for your space. Don't be afraid to go wild with wallpaper designs – they can really add character to the room! Additionally, use coordinating fabrics and trims on furniture, accessories, and bedding to complete the look.
Invest in the best bedding and throw pillows
No room is complete without the right bedding, and that includes the bedroom. When it comes to selecting bedding, it's important to consider the overall style of the room. For a more traditional look, go for stripes and patterns. From soft blankets to luxurious bedding sets, choose the right pieces to complement your style. For a more modern look, go for soft materials like blankets and comforters. Then, add throws and pillows to personalize your bed and make it your own.
Don't forget to get new sheets and pillowcases every few years to keep your bedroom looking fresh and new.
Rearrange for optimal space utilization
When decorating a bedroom, the first step is to think about how you'll be using the space. This includes figuring out the layout of the room and the items you'll be using most frequently. Once you have a general idea, begin rearranging your furniture in a way that makes the most sense. Consider using floor-to-ceiling mirrors to maximize the space on one side of the room, and use storage items to fill in any empty spaces. If you have ample closet space, consider incorporating it into your bedroom design by adding trim around the door or hanging clothes on colorful rods instead of hooks!
Once you have the layout of the room figured out, begin arranging your furniture in a way that makes the most use of the space. This can be done by grouping together items that have a similar style or color, or by placing furniture in strategic positions to create the look you're going for. Do not be afraid to rearrange your furniture several times until you're completely satisfied with the way things look!
Hang plants from the ceiling
A bedroom should be relaxing and calming, and decorating it should reflect that. One way to achieve this is by choosing plants that can handle high water demands. For example, choose succulents over traditional houseplants. Additionally, use vibrant colors and patterns in your decorating choices to amp up the visual appeal of your bedroom. Whether you go for a natural look with plants hanging from the ceiling or opt for a more contemporary style with plants as a focal point, the options are endless!
Add a reading nook
Adding a reading nook to your bedroom can be the perfect way to make it feel like a home away from home. This space can double as an informal sitting area where you can relax after a long day or enjoy some time alone in peace and quiet.
There are many different ways that you could create this cozy spot, so take your creativity into account when planning out this bedroom designing tip. You could choose to add traditional furniture such as chairs and ottomans or go for something more transitional with poufs, lamps, and Persian rugs. Whatever style you settle on, make sure that the elements combine well together so that the room flows seamlessly from one section of decoration to another.