275+ Remarkable AI Statistics & Trends
This is a complete and up-to-date list of AI statistics.
Here, you will find the most popular statistics surrounding the AI industry that include
AI Market Share
AI Adoption Statistics and Challenges
Usage of Artificial Intelligence
Customer's Perspective On AI
AI Job Market
Industry-Specific Market Share
Trends In Artificial Intelligence
And Much More
So, let us take a look at this list without any further ado.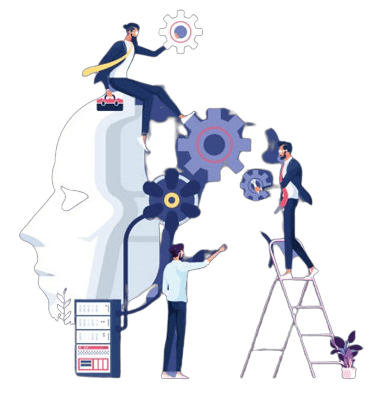 AI and Machine Learning are no longer science fiction concepts, but terms that have been firmly planted in our current technology-driven society. Artificial Intelligence (AI) and Machine Learning (ML) continue to make substantial impacts on both the business world and everyday life.
From facial recognition technology to automated customer service bots, AI has become an increasingly mainstream part of our lives. This article takes a closer look at the latest AI statistics to help readers gain an understanding of the current state of AI, as well as what to expect in the near future. Some of the topics we'll cover include:
What is the global market size for AI technologies?
How much investment is pouring into the development of AI technologies?
How big is the market share of Generative AI?
What exciting applications of AI have emerged in recent years?
How has AI changed the way we interact with technology?
What industries are most heavily investing in artificial intelligence research and development?
What are some of the ethical implications surrounding artificial intelligence?
How will artificial intelligence shape the future workplace?
These questions serve as a jumping-off point for exploring the many ways that artificial intelligence is transforming our world. With these figures, facts, and trends in AI, we can gain insight into how this emerging field could shape our future.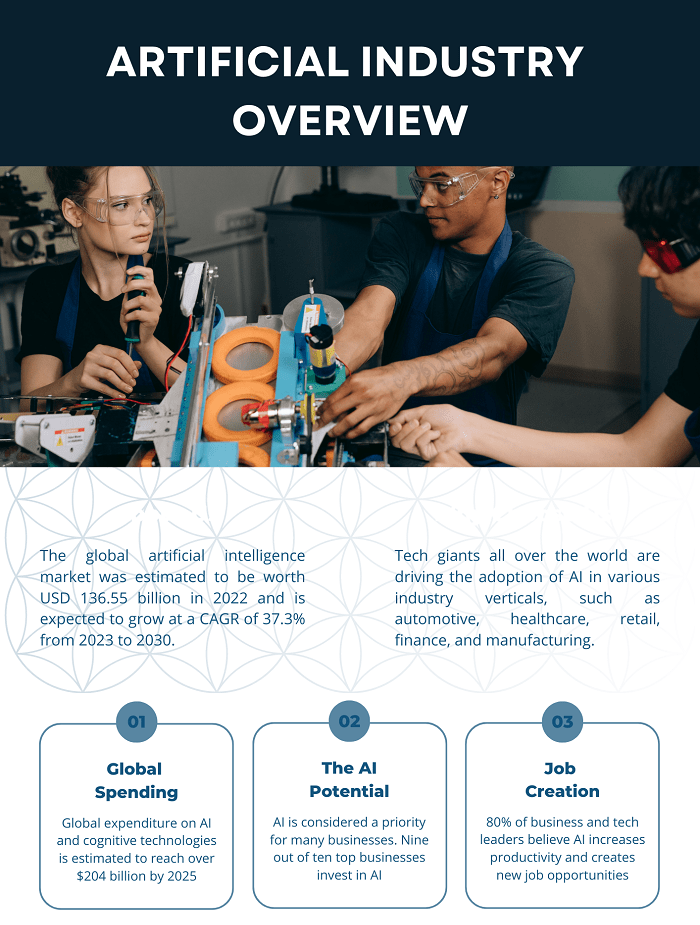 Top AI Statistics (Editor's Pick)
The global AI market is worth an impressive $136 billion
The market size of the Artificial Intelligence industry is projected to grow by 120% year-over-year
A whopping 97 million jobs will be created in the AI space by 2025
83% of companies all over the world prioritize AI within their business strategies
AI can boost labor productivity in business by 40%, or even more by 2035
The manufacturing industry is poised to record a gain of $3.78 trillion by 2035 thanks to AI
73% of global consumers give AI a nod in business if capable of easing life
AI is said to add over $1 billion to the banking space by 2035

In the last decade, investment into AI startups has boomed – over triple what it was before. A whopping 57 out of YC's 273 most recent companies are making waves with their progress on generative AI.
The AI Market Forecasts
The AI market is expected to experience a significant surge in the coming years, driven by technological advancements and increased deployment of AI-based solutions.
However, on a bigger scale, the market size of AI is difficult to determine as different companies define the scope of the market differently.
The Understanding…
Businesses worldwide should investigate the intricate details of AI market reports to gain an accurate grasp of their magnitude.
While some firms evaluate only income generated by AI businesses, others solely consider how every organization endures from artificial intelligence advancements.
It's essential for enterprises to observe both perspectives in order to truly appreciate this revolutionizing resource.
Market Size
As of the latest figures/current worth, the global AI market is worth an impressive $136 billion and is expected to skyrocket. Automation, data availability, and computing power have driven this growth (GrandViewResearch)
By 2025, the estimated worth could be $190 billion (Markets and Markets)
In 2025, global spending on cognitive and Artificial Intelligence systems is expected to reach $204 plus billion (IDC)
The AI industry is expected to increase by more than 13 times in the next 7 years, and experts believe that this trend will continue for many years to come (GrandViewResearch)
The AI market could further grow to a value of $15 trillion by 2030 (PwC)
China is expected to account for about 26% of the total AI market share compared to a projected 2030s $15 trillion (PwC)
According to IDC's Worldwide Artificial Intelligence Spending Guide, global spending on AI was a whopping $55 billion in 2021 and is projected to keep rising (IDC)
The AI industry is expected to generate a revenue of $119 billion each year by 2025 (Statista)
According to data collected from different sources, 37% of businesses worldwide are using some form of artificial intelligence or machine learning technology in their operations today
Demand for autonomous vehicles is set to reach 3195.5 thousand units by 2030. Market growth is projected at a CAGR of 53.6% from 2022 to 2030 (GrandViewResearch)
Global AI software revenue is forecasted to reach nearly $100bn by 2025, with a growth of 34.9% CAGR from 2020-2025 (Omdia)
The global AI market is estimated to be worth $136 billion by 2025 and is expected to grow significantly in the coming years.

Global Annual Revenue Of The AI Software Market From 2018 To 2025
| | |
| --- | --- |
| Year | Revenue |
| 2018 | $10.1 billion |
| 2019* | $14.69 billion |
| 2020* | $22.59 billion |
| 2021* | $34.87 billion |
| 2022* | $51.27 billion |
| 2023* | $70.94 billion |
| 2024* | $94.41 billion |
| 2025* | $126 billion |
*Projected figures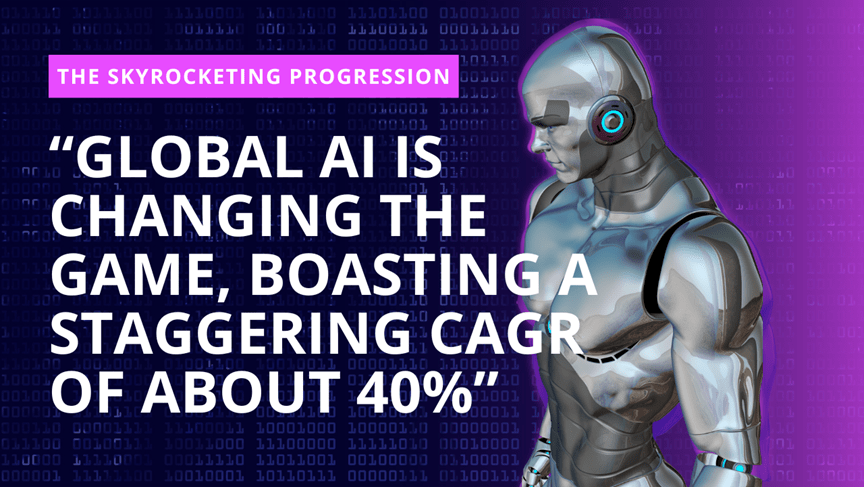 AI has experienced unprecedented growth and is set to expand rapidly, with a CAGR (Compound Annual Growth Rate) of 38.1% between 2022 and 2030.
There has been an increase in trust among consumers and businesses for AI technology, with 43% of customers believing that businesses have taken necessary measures for privacy protection.
China and India are leading the way in terms of adoption, with 60% of respondents indicating their use of AI technology (IBM)
25% of businesses have implemented some form of intelligent automation to fill positions that are increasingly difficult to source due to the lack of candidates (IBM)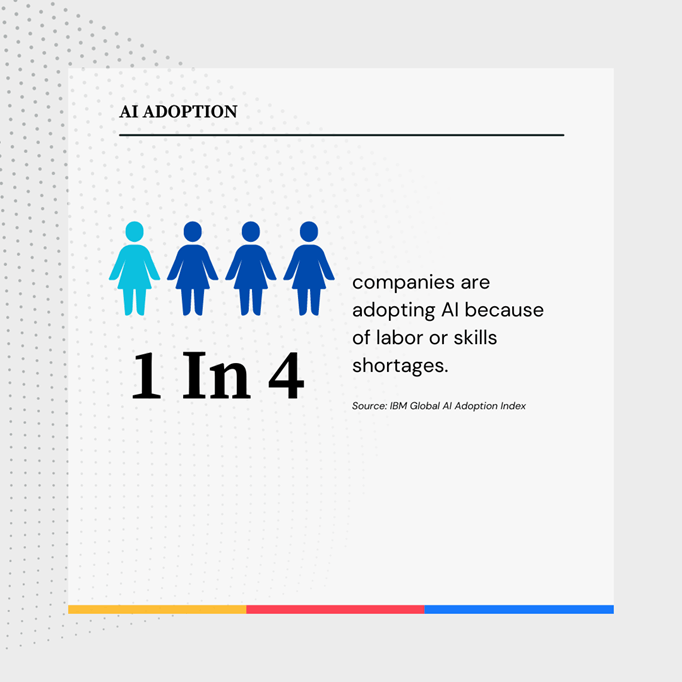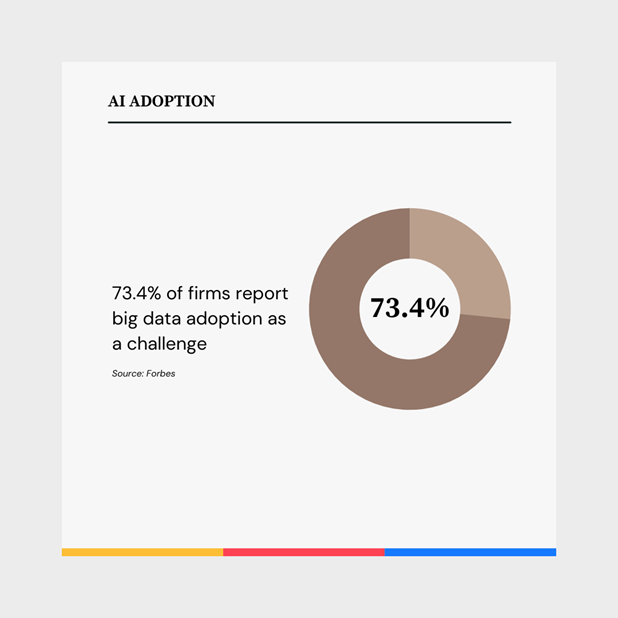 4% of firms cite big data adoption as an ongoing challenge (Forbes)
77% of consumers use an AI-powered service or device but only 33% realize it (Pega)
Statistics have revealed that only 29% of businesses with less than 1000 employees asserted that they have adopted AI and machine learning technology (Forbes)
15% of enterprises are using AI, with 31% having it on the agenda for the next 12 months (Adobe)
Top-performing companies are twice as likely to be using AI for marketing (28% vs. 12%, Adobe)
47% of digitally mature organizations have an AI strategy (Adobe)
72% of business leaders view AI as a business advantage (PwC), and 61% of those with an innovation strategy use it to identify data opportunities (Narrative Science)
61% of people believe AI will make the world a better place (Arm), and 61% of marketing professionals view machine learning/AI as the most significant data initiative for next year (MeMSQL)
Businesses project labor productivity increases of up to 40%, and large companies are most likely to have an AI strategy (MIT Sloan Management Review)
Marketing and sales teams value the inclusion of AI more than any other sector in corporate enterprises with an impressive 40% (Forbes)
The demand for knowledgeable AI talent has effectively doubled in a short span of time with big tech and finance companies leading the way by immediately absorbing 60% of available talent (Forbes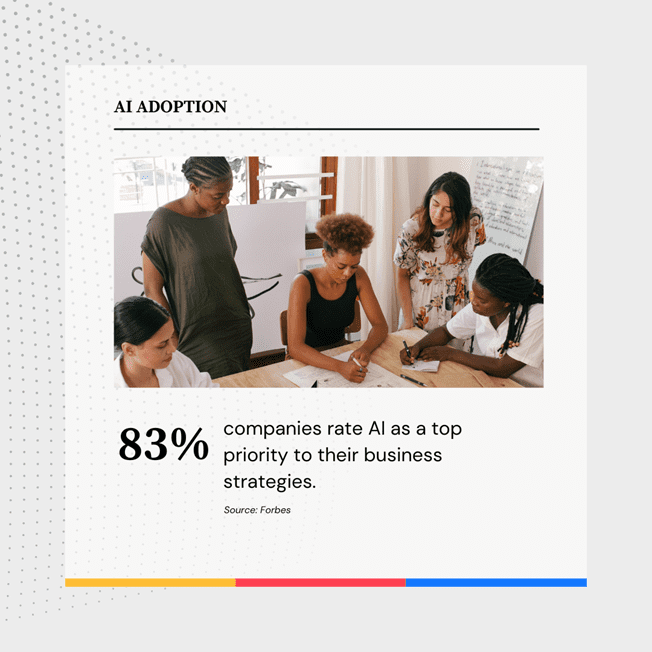 According to Forbes, 4/5 of companies consider AI a vital part of their business strategy.
83% of businesses prioritize Artificial Intelligence in their future planning and goal setting.
AI technology is experiencing unprecedented growth and will continue to grow at a high rate. Interestingly, 90% of leading businesses have already invested in AI.

Artificial Intelligence Usage Statistics
Accenture research revealed that Artificial Intelligence (AI) implementation in businesses can lead to a 40% boost in productivity (Accenture)
A survey showed that 41% of consumers believed AI would improve their lives (StrategyAnalytics)
Global AI chip revenue is projected to exceed $80 billion by 2027 (The Insight Partners)
The implementation of AI could lead to an economic boost of $14 trillion in additional gross value added (GVA) across 16 industries in 12 economies (Accenture)
Automated emails and chatbots are two of the most popular applications of artificial intelligence (AI) in the business world.
Company Usage of AI:
| | |
| --- | --- |
| AI Usage | Percentage |
| Businesses that started implementing with limited AI use cases | 33% |
| Businesses that have processes that are fully enabled by AI | 25% |
| Have promising proofs of concepts and looking to scale sooner | 21% |
| Partial success win testing proof of concepts | 14% |
| Currently do not use AI, but willing to | 7% |
80% of surveyed retail industry professionals expect their companies to have adopted AI automation by 2025 (AnalyticsInsights)
Netflix's highly personalized recommendation system, powered by AI, is worth $1 billion annually in its revenue
AI technology is most prioritized for its use in marketing and sales departments at 40%
China has made R&D investments in AI that could lead to a 26% economic growth over the next 10 years (McKinsey&Company)
The telecom industry has fully embraced AI with 52% of telephone companies now taking advantage of automation using chatbots (Gartner)
By 2026, 10% of agent interactions will be automated versus 1.6% today using AI (Gartner)
Over 3,600 AI startups across 70+ countries have raised $66B since 2013 (CB Insights)
During Q2 of 2019, startup companies utilizing AI obtained more than $7.4 billion in funding (CB Insights)
AI is most commonly used in predictive analytics (25%), machine learning (22%), natural language processing or generation (14%), voice recognition and response (14%), virtual personal assistants/chatbots (11%) and diagnosis/recommendation engines (11%) (Narrative Science)
AI is employed in business intelligence (90%), finance (87%), compliance/risk (55%), product management (68%), marketing/sales (77%), and communications (43%) (Narrative Science)
Roughly 59% of executives stand by the claim that new AI utilizes will bolster fine data recruiting within their conglomerates (PwC)
54% of executives echo confidence in AI's ability to enhance worker productivity manifold (PwC)
Executives are leveraging the power of Artificial Intelligence to take their products to an all-new level, with a whopping 51% aiming for enhanced functionalities, features, and performance (Harvard Business Review)
61% with an innovation strategy are using AI to identify data opportunities vs. 22% without a strategy (Narrative Science)
Accenture predictions show us signs leaning toward Labor profits going up around 40%, akin to extravagant yield powered by new AI technologies before market analysis has yet come into wake (Accenture)
80% of tech and/or businesses reportedly agree: as a sprout from cultivating superior machines workers' productivity could be aquiline increase potentials can further create job chances beneficial through introductions of automation so prominently found aloft (Narrative Science)
Executives are embracing the potential of Artificial Intelligence to streamline their workflows and help them be more productive. With a whopping 80% believing AI will make their jobs easier, it's clear that leaders in business believe technology is here to stay – and give us an advantage (The Economist)
Consumers expect to find information quickly and easily online; chatbots can help meet this need. Survey findings show that consumers value 24-hour service (64%), instant responses (55%), and answers to simple questions (55%) (Drift)
Companies using AI
77% of businesses are using or exploring AI.
35% of companies are currently utilizing AI while 42% are looking at its potential implementation in the future.
AI offers benefits such as improved accuracy, efficiency, and productivity.
The usage of AI is constantly growing; in 2020 34% of companies were using it, 31% in 2021, and 35% in 2022.
AI implementation in businesses can lead to a 40% boost in productivity.

Obstacles to AI Adoption Statistics
Only 45% of businesses are actively engaging in ethical AI monitoring, while 78% lack the tools to assess the moral ramifications surrounding AI usage.

Challenges Faced From AI Adoption
Limited access to resources and a lack of understanding can make it difficult to adopt AI.
Technical challenges such as data availability, scalability, and accuracy can impede adoption.
Security concerns, integration issues, shortage of data scientists, and ethical considerations need to be addressed.
Change management and algorithm transparency are also important factors when considering AI adoption.
Regulatory compliance needs to be established for sensitive data usage.
Technical challenges and other factors need to be considered before adopting AI.

51% of executives believe that AI will help power the performance, functionalities, and features of their product (HBR)
36% of executives say that AI will help free up the workforce by automating tasks to improve creativity (HBR)
36% of executives believe that cognitive technologies will power optimizing internal operations (HBR)
35% agree that AI will help individuals or businesses make better decisions (HBR)
32% of executives say that these technologies will help create new products faster and more efficiently (HBR)
30% believe that artificial intelligence will play a major role in optimizing external business processes like marketing and sales (HBR)
25% of executives believe that AI will help businesses pursue new markets (HBR)
22% agree that AI will reduce the overall headcount with automation (HBR)
Investments in AI startups have grown exponentially since 2000, increasing by 6x (Report: Tortoise Intelligence)
The number of AI startups has also seen a massive increase, rising 14x since 2000 (Report: Tortoise Intelligence)
During Q2 2019, startups using AI bagged a record $7.4 billion in funding, which is by far the single highest amount raised ever in a quarter (CBInsights)
Businesses using AI in personalizing and segmenting customer communications can register an increase in CTR by an average of 14% (EU Business School)
A majority of business executives believe that artificial intelligence will help their company in various ways such as increasing performance, creating new products, and pursuing new markets.

Customers Perspective On AI
A majority of people around the world are welcoming AI in their lives, with a preference for hands-free control, especially to power their experiences, and 80% of marketers already using chatbots.

The Impact Of AI – Gainers
| | | |
| --- | --- | --- |
| Industry | Baseline | Additional AI Contribution |
| Accommodation and Food Services | $1.5 trillion | $489 billion |
| Agriculture, Forestry, and Fishing | $554 billion | $215 billion |
| Arts, Entertainment and Recreation | $453 billion | $87 billion |
| Construction | $2.76 trillion | $520 billion |
| Education | $1.06 trillion | $109 billion |
| Financial Services | $3.42 trillion | $1.15 trillion |
| Healthcare | $2.26 trillion | $461 billion |
| Information and Communication | $3.72 trillion | $951 billion |
| Manufacturing | $8.4 trillion | $3.78 trillion |
| Other Services | $535 billion | $95 billion |
| Professional Services | $7.47 trillion | $1.85 trillion |
| Public Services | $3.99 trillion | $939 billion |
| Social Services | $1.08 trillion | $216 billion |
| Transportation and Storage | $2.13 trillion | $744 billion |
| Utilities | $962 billion | $304 billion |
| Wholesale and Retail | $6.18 trillion | $2.23 trillion |
AI Job Market, Challenges, & More
Companies considering AI implementation face three main challenges: staff skills (56%), fear of the unknown (42%), and finding a starting point (26%) (Gartner)
It is projected that 97 million new jobs will be created due to AI-enabled automation by 2025, requiring greater technical skill sets than previously needed (World Economic Forum)
By 2030, 375 million people worldwide may need to make drastic career switches due to AI technology replacing 800 million existing jobs (World Economic Forum)
An estimated 20 million manufacturing jobs could be displaced by robots by 2030 (Oxford Economics)
63% of CEOs expect AI technology to have a positive impact on job openings similar to when the internet was first made available.
💡AI To Create 97 Million Jobs By 2025💡
43% of manufacturers said that they added data scientists and data quality analysts to their workforce (Semrush)
35% of manufacturers are expected or agreed to hire data scientists in the next five years (Semrush)
Job losses in sectors like health and social work are lower compared to the risk in sectors such as transportation and storage at 56%, manufacturing at 46%, and wholesale and retail at 44% (PwC)
According to statistics, the use or applications of artificial intelligence in commerce is said to automatically drop by a great margin in the next ten years (Blumberg Capital)
Cognitive technologies like robots, AI, machine learning, and automation are projected to substitute 16% of US jobs by 2025 (Forrestor)
Cognitive technologies to power the development of 9% of new roles including robot monitoring professionals, automation specialists, data scientists, content curators, and more (Forrestor)
As of a report, 44% of low-education workers are said to be at risk of technological unemployment by 2030 (PwC)
72% of business decision-makers believe AI can empower people to focus on more valuable work (PwC)
The percentage of AI-related job postings is growing massively across all sectors. Accordingly to reports, there has been an increase to 1.9% in 2022 from 1.7% in 2021 (Standford's AI Index Report)
Employers in the U.S. are increasingly seeking workers with AI-related skills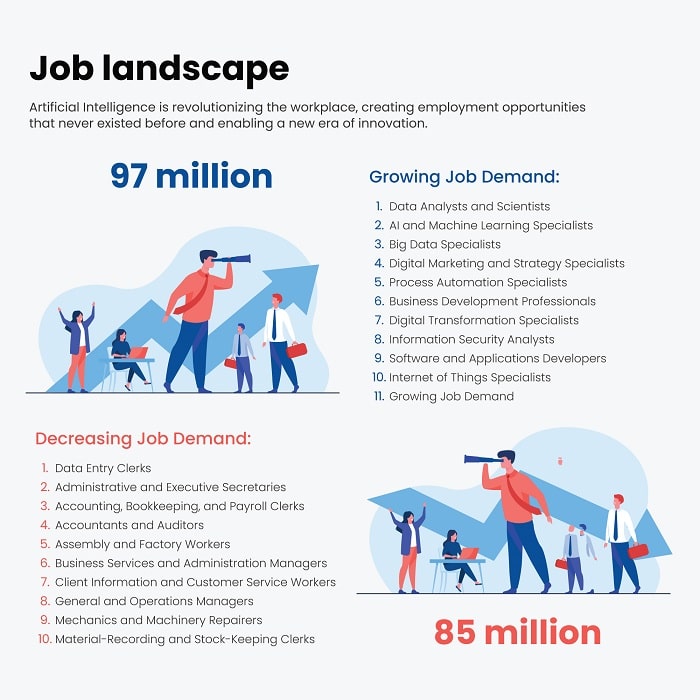 Is A Career In Artificial Intelligence Right Fit For You?
In the past few years, there has been an enthusiastic surge of businesses seeking to hire AI professionals—an increase of 32%
Demand for these qualified candidates is so great that employers are grappling with a talent shortage, where open positions remain unfilled
If potential salary is what's driving your interest in this career path, breathe out a sigh of relief—the hefty earnings are real
According to reports, AI professionals earn well over $100,000 per year. What's not to love?
The possibilities abound from researcher and developer roles leading research initiatives and automated process breakthroughs to consultant positions consulting businesses on the advances made available via AI technology or independence as an independent contractor building new artificial intelligence products.

Top Industry-Specific AI Statistics For 2023, and Beyond
AI for manufacturing is growing rapidly, from $2.3 billion in 2022 to an estimated $16.3 billion by 2027 (

MarketsAndMarkets

)
What about Generative AI in healthcare market?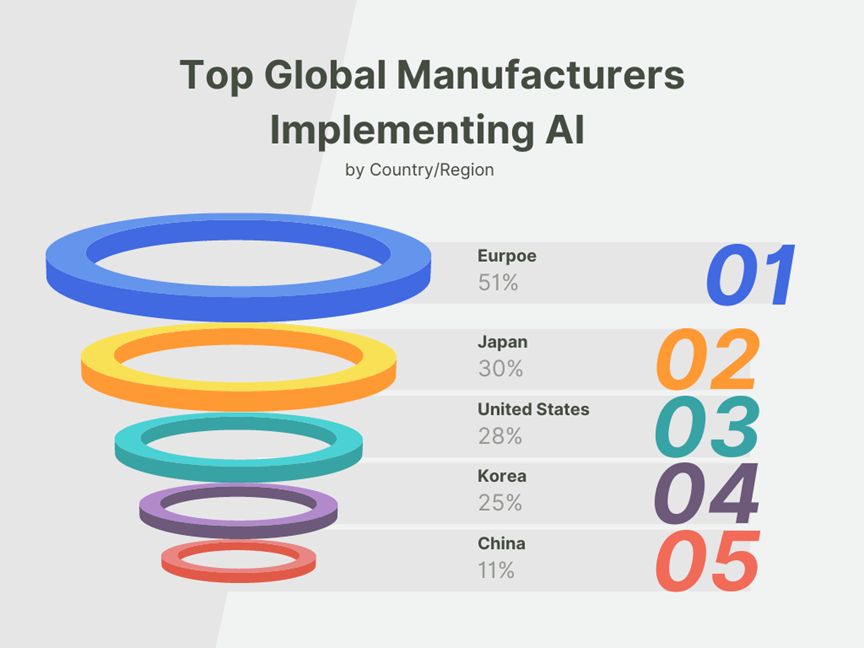 44% of business leaders from the automotive and manufacturing said that artificial intelligence is the key to manufacturing in the coming years (Forbes)
As of a survey, 20% of leading manufacturers are said to rely on embedded intelligence to automate the entire business process to speed up production/execution times by up to 25% (IDC)
According to KPMG, the manufacturing industry has come alive with artificial intelligence - a whopping 93% of business leaders find it useful for their work. It's revolutionizing production lines and helping push productivity further.

Health
Global artificial intelligence in the healthcare market size was valued at USD 15.4 billion in 2022 (MarketsAndMarkets)
The market is expected to grow at a CAGR of 37.5% between 2023 and 2030 (MarketsAndMarkets)
Key market players in the AI in the healthcare market — Intel Corporation, Koninklijke Philips N.V., Microsoft, Siemens Healthineers, NVIDIA Corporation, etc (MarketsAndMarkets)
38% of providers in the healthcare industry said they use computers as diagnosis assistants (Gartner)
51% of healthcare players are said to invest in Artificial Intelligence/Machine Learning this year (Gartner)
Potential annual savings of $150 billion can be achieved for the US healthcare economy by 2026 by combining key clinical health AI applications (Accenture)
Robot-assisted surgery tops the chart in applications of AI in the healthcare industry, followed by virtual nursing assistants and administrative workflow assistance, taking the second and third spots, respectively. 
What about Generative AI in healthcare market?
Global generative AI in the healthcare market valued at USD 0.8 billion in 2022 (

Market(dot)us

)

The market is projected to reach a valuation of $17.2 billion by 2032, representing a CAGR of 37.0% 

Healthcare providers can use Generative AI to reduce time spent on image analysis. 

Machine learning algorithms can analyze 3D scans 1,000 times faster than traditional methods. 

This provides real-time insights and helps healthcare providers effectively diagnose diseases.
Top 10 AI Applications
Robot-Assisted Surgery
Virtual Nursing Assistants
Administrative Workflow Assistance
Fraud Detection
Dosage Error Reduction
Connected Machines
Clinical Trial Participant Identifier
Preliminary Diagnosis
Automated Image Diagnosis
Cybersecurity
As the digital age accelerates, research is leading the charge in terms of advancements and applications – according to IDC
Northwell Health implemented patient chats, achieving a 94% engagement rate among oncology services users (VentureBeat)
AI adoption in the healthcare industry by departments
46% – Service operations
28% – Products and services
19% – Risk management
21% – Supply chain management
17% marketing and sales
Healthcare is rapidly adopting Artificial Intelligence and Machine Learning, with over half of industry players making investments in these cutting-edge technologies this year. This ambitious move promises to revolutionize healthcare practices as we know them - furthering advancements that will vastly improve patient care.

Automotive and Transportation
AI in the transportation industry is expected to touch $3.87 billion by 2026 at a CAGR of 15.8% between the years 2021 and 2026 (Market Data Forecast)
By 2025, the forecast of the adoption of Artificial Intelligence-driven cars and vehicles is expected to touch 109% (Neurosys)
Key players in the global automotive and transportation space include Continental AG, Intel Corporation, Nvidia Corporation, Denso Corporation, AI Motive, Siemens, Thales Group, Harman International, etc.
The global automotive intelligence market is forecasted to grow to the size of nearly $74.5 billion in 2030 against 2019's $2.5 billion (Next Move Strategy Consulting)
By 2025, the use of AI-driven cars and vehicles is expected to experience an explosive surge - skyrocketing past 100%.

Banks around the world are eager to harness the remarkable potential of artificial intelligence, which is predicted to open up a whopping $1 trillion in value.

According to various reports, a large percentage of jobs in the insurance industry will be automated in the next few years with the help of AI.

Artificial intelligence is set to revolutionize the telecommunications industry in the coming decade - ushering in an era of unprecedented growth and innovation.

The drone services market is on track to soar to new heights, with China taking the lead in projected revenue. By 2025, it's estimated that this thriving industry will bring in a whopping $63.6 billion.

Chatbots/Voice Assistants
The global chatbot market was valued at $703 million in 2016 (Outgrow)
As of the latest value predictions, it is expected to touch a whopping $102.29 billion by 2026 from 2020s 17.17 billion (Research And Markets)
By 2024, the chatbot market is expected to grow to $9.4 billion in 2024 compared to 2019's $2.6 billion (MarketsAndMarkets)
51% of Americans (let's assume 1 in 2) now use voice-controlled digital assistants on smartphones and other devices (Statista)
In regards to which voice assistant is more accurate, Google Assistant is said to be the favoutire with an accuracy record of 98% (Statista)
Apple's Siri tops the chart with 93% accuracy in regard to commands (Statista)
As of a recent report, the world will register a total of 8 billion voice assistants this year — Closer to equalling the world population (Statista)
In regard to global smart speaker market share, Amazon takes the lead with 30% and Google with a decent 17% of the total market share, globally (Statista) 
By 2024, the chatbot industry is projected to be a whopping $9.4 billion, representing an incredible growth opportunity for businesses.

The self-driving car industry is experiencing unprecedented growth, with an estimated $62.4 million value by 2027 and major companies investing significantly.

Business Function Specific Statistics
Sales
79% of professionals say that the adoption of artificial intelligence in marketing and sales will power the revenue of businesses (McKinsey&Company)
As per a report, business leaders globally said that chatbots have boosted their sales by 67% on average (Forbes)
AI adoption in sales is usually used in magnifying customer service analytics and segmentation (McKinsey&Company)
Companies using artificial intelligence for sales purposes said that they powered their leads by over 50%
A survey has revealed that a large number of B2B companies (30%) are taking advantage of the power of artificial intelligence to boost their sales processes and propel them forward (Gartner)
The use of AI in sales helped reduce call time by 60 to 70% and cost by 40 to 60% (HBR) 
Marketing
Human Resources (HR)
Organizations are using AI to improve HR processes like never before (Gartner)
40% of organizations are focusing on HR operations, 38% on talent acquisition, and 38% on employee engagement monitoring (Gartner)
According to a report, 62% of businesses have deployed artificial intelligence to power their data-specific decision making (Gartner)
56% of businesses are finding ways to automate their manual tasks further (Gartner)
According to a survey, 96% of HR leaders agree that AI offers the potential to magnify talent acquisition and retention massively (Ideal)
According to Gartner, the amount of investment in AI is increasing within the HR space (Gartner)
47% of HR leaders plan to increase their investments in AI (Gartner)
51% of HR leaders intend to maintain their current investments in AI (Gartner) 
Sourcing talent with AI can help organizations find the right people for the job

Customer Service
According to a report by PEGA, 27% of customers believe that AI can deliver powerful customer service versus humans (PEGA)
80% of companies will count on artificial intelligence and automation to power their service efficiency (PEGA)
77% of companies say that they will rely on AI to enhance their quality of service (PEGA)
Shockingly, businesses in the US alone lose $75 billion each year due to poor customer service (NewVoiceMedia)
On the brighter side, 73% of consumers expressed their willingness to use AI only if it can make their life easier (PEGA)
As of the reports, 85% of customers are said to manage their relationship with any business or organization without having to interact with a human (Gartner)
AI is said to boost almost all customer interactions (95%) by 2025 which also includes online and live telephonic conversations (Servion) 
Companies are increasingly turning to artificial intelligence for customer service, as it is more efficient and can provide a better experience for customers

Top AI Trends – The Now, and Future
AI technology to be at the forefront of Attackers and Defenders in cyber security in 2023, allowing for faster threat detection and response.
3D printing is said to revolutionize the construction industry by making homes more sustainable and cheaper by a large margin. Going forward, we can expect these printers to print foundations as well as walls for a small house in just less than 24 hours.
In the 2020s, experts bet on AI in helping humans grow food with vertical agriculture. Sooner, we can use hydroponic plants for fruits/vegetables, and use vitro cloning for meat.
Natural Language Processing (NLP) is set to become a major area of growth with predictions of it being worth $341bn by 2030.
AI-generated content is becoming increasingly popular as it offers efficient solutions to mundane tasks, creating high-value experiences for customers.
Low-code/no-code development allows businesses with any budget or technical capability to implement AI in their systems.
Chatbots will play an important role in digital transformation, providing quicker customer service while freeing up employees' time for higher-value tasks.
In 2023, advancements in language understanding and generation are expected, such as better handling of context, idiomatic expressions, etc..

Increased use of self-supervised learning algorithms is also anticipated, which can learn from large amounts of unlabeled text data for pre-training and fine-tuning language models.

LLMs such as GPT-3, T5, and BERT will continue to be developed and improved.

More research may be conducted regarding natural language dialogue systems for creating more sophisticated chatbots and virtual assistants.
YOLOv8, the latest State-of-the-Art (SOTA) in object detection sent waves of excitement throughout the tech world when it was released in 2023 – indicating that there is still much more to come.

Generative models are advancing quickly and broadening our potential for creating realistic images, videos and 3D models.

Furthermore, image & video understanding has enabled advanced applications such as self-driving cars or medical imaging to become increasingly sophisticated.

In the coming years, augmented reality may soon enjoy wider use with advancements like improved hand/facial gesture recognition systems along its side – likely becoming a valuable tool for gaming, eCommerce & education going forward.
In 2023, advancements in speech recognition are expected to improve AI's accuracy and its ability to handle various accents and languages.

Further developments in speech synthesis will likely result in more natural and realistic sounds, with the ability to mimic different voices and emotions.

Improved speech separation is also anticipated, allowing for easier separation of multiple speakers in complex environments.
According to the latest reports, the Generative AI Market is expected to grow to $188.62 billion by 2032 (Brainy Insights)
Commercial industries believe that Generative AI will power the productivity and daily productivity of their respective businesses (Brainy Insights)
But what is the job market of Generative AI? Will it impact jobs in the bigger picture?
As per a research report, Generative AI could affect more than 300 million jobs (Goldman Sachs)
Generative AI is said to play a major role in the coming years. As per the report, the administrative industry is expected to be at great risk with an impact of 46%, and 44% in legal professions. The least impacted would be construction (6%) and maintenance (4%) (Goldman Sachs)
The Top Generative AI Statistics
It is predicted that, by the year 2025, 10% of globally produced data will originate from generative AI – and this number could rise significantly by 2030 when the generative AI market may be worth over $15.7 trillion resulting in an expected 26% increase in Global GDP

In a growth trajectory that's projected to reach 33.2% by 2027, the latest research reports show promise for an increased rate of success

With such potential for success, it's no surprise that this technology has proven to be a popular venture: currently, there are over 210 generative AI-based startups spread across the globe, yet despite this only around 10% of people living in the USA have used AI for their social media accounts as of 2021 – indicating vast scope for future technological innovation within the field.
The Generative AI Prediction By Gartner
As of Gartner's report, a total of 20% of the work of procedural code professionals will be replaced by Generative AI by 2025.

And during the same year, a total of 30% of outbound marketing messages will be created synthetically in large-scale companies

50% of drug development is said to be made using Generative AI by 2025

The report also predicts that there will be an increase in product development efficiency by 2027, with 30% of manufacturers using Generative AI.
(Image Source: Gartner)
Generative AI is rapidly increasing its influence within the commercial sectors, with current use cases now spanning across industries like healthcare and finance. By 2023, these applications are set to reach unprecedented levels of advancement – a trend that promises an exciting future for businesses everywhere. The above chart explains it all.
Influencers and content creators have a new tool up their sleeve – Generative AI.

With major advances backed by companies like DeepMind, Google, and MIT, ChatGPT is proving to be formidable competition for the tech giant in its beta phase!

Now we can create 3D models with voice commands or text-to-image modeling using natural language processing models & audio generation through voice synthesis.

Even better? This groundbreaking technology has businesses hopping on board which is projected to grow at a 36% rate in the Asia Pacific market alone by 2030 – bringing plenty of opportunities our way. 

Gartner believes that AI is growing at an astounding rate, with 20% of procedural code work being replaced by Generative AI and 30% of outbound marketing messages created synthetically in large organizations – all within the next 5 years.

At this pace, we can expect 90% of material in quarterly reports to be produced through artificial intelligence as well as 50% of drug development processes.

Come 2024, the EU will mandate watermarking for any artificially generated artifacts.

Manufacturers are set to turn towards Generative AI technology over the coming year too – accounting for up to 30% to power their production efficiency demands dramatically.

 
AI Sports and Gaming Market Statistics
The global artificial intelligence sports market valued at $1.8 billion in 2021 is estimated to reach $19.9 billion by the year 2030, resulting in a CAGR of 30.4% from 2022 to 2030.
The market growth is being influenced by the rising demand for:
– Player monitoring and tracking
– Artificial intelligence to provide forecasts and sports predictions
– Real-time data analytics
– Virtual assistants/Chatbots to interact with fans
According to reports, the gaming market, especially AI-powered video games is said to experience record growth in the coming years
– AI-based ticketing for facial recognition entries
According to reports, the gaming market, especially AI-powered video games is said to experience record growth in the coming years 
AI In Education Market Statistics
The global AI in the Education market has been growing quickly and was estimated to value $1.82 billion in 2021 (

Straits Research

)

Experts predict that its growth rate won't slow down anytime soon, with a 36 percent compound annual growth rate expected from 2022 to 2030 (

Straits Research

)

The evaluation of players dominating this market has become more and more pertinent. Top companies are investing heavily in expanding their market presence across other regions and leveraging lucrative opportunities presented by current industry gaps.

International Business Machines Corporation, Google, Microsoft, Pearson, Cognizant, Amazon Web Services, DREAMBOX LEARNING, Fishtree Inc, BridgeU, Jellynote, and Metacog INC. Except for Jellynote, all major players belong to the US. 
Over 90% of Fortune 1000 companies are investing in Artificial Intelligence (AI) technology to benefit from potential cost savings, increased efficiency, and greater customer insight.
Over half of businesses have implemented AI solutions in their operations, leading to better decision-making processes, better forecasting abilities, and improved customer satisfaction.
Consumer devices containing some form of AI technology account for over three-quarters of all devices in use, with voice search being used by 40% of users at least once a day.
Digital assistants powered by AI already exceeded 3 billion worldwide due to advanced machine learning algorithms making them reliable enough to solve complex tasks.
By 2029, experts opine that search engines will no longer digest keywords but will understand the true meaning of a search inquiry to show results.
82% of consumers have already received customer service from an AI-powered assistant or chatbot, showing the investment organizations are making in automated customer service systems which improves efficiency and customer satisfaction rates.
25% of sales teams are using AI-powered solutions for tasks like customer segmentation, lead scoring, personalization and targeted outreach campaigns – resulting in more conversions and faster sales cycles.
Wrapping it up…
With the steep increase in AI and its applications, it's clear that this technology has an integral role to play in our future. Businesses around the world are adapting and incorporating AI into their operations, both now and for the foreseeable future.
Though opinions vary about what shape AI integration will take, its advancement is undeniable. Technology's development evolves far too quickly for us to make premature assumptions or rely on past trends to predict how it may look in the future. However, one thing is certain: its impact will be felt across all areas of life, leading us down a path of an ever-evolving digital landscape full of promise and potential.