Table of Contents

Staying updated about all the sales can help us to save up a ton, and to make things easier for you, we have culminated a list that will enlighten and help you to make the most out of all the upcoming Best Buy sales blissfully.
Why do we need sales So that we can save on our purchase, right No! They are for buying more while paying less. This is something that we all look forward to so that we can cross out things from our bucket lists. Just imagine, you can buy your favorite, long-awaited MacBook for $1200, but on sales, you can buy your favorite headphones with it while paying not a single penny more. That sounds great! Doesn't it So, let's start without further ado.

Live Sale Offers on Best Buy
| Best Buy SaleS | SALE DATE | Deals |
| --- | --- | --- |
| 20 Days of 20 Deals | Till 17th December 2023 | Amazing deals every day! |
Get ready for incredible savings with Best Buy's 20 Days of Deals! Starting November 27th and running until December 17th, this limited-time event offers new discounts every single day, giving you the chance to snag the perfect holiday gifts for less.
Next Biggest Best Buy Sale
Upcoming Sale
Expected Sale Date
Top Offers
Christmas Sale
20th-25th Dec 2023
60% discount on major
home appliances
The next Best Buy sale is the Christmas Sale which is just around the corner. It will bring happiness tucked in with great deals with savings of up to 60%. You will be able to get discounts on mobile phones, televisions, hair care products, and all the things that you have wanted or tried out for so long. All hyped up Same here! Even though people say not to rush anywhere, or you may mess things up, not here! Sales are the occasions to rush for.
Ongoing Deals and Offers on Best Buy
| Deals & Offers | Discount |
| --- | --- |
| Open Box Electronics | Save up to $170 on select products |
| Outlet Deals | 50% off on open-box and refurbished items |
| Totaltech Member-exclusive Deals | Additional discounts on already discounted products |
Best Buy offers deals and offers throughout the year, including clearance sales, daily deals, and special financing options. Customers can check the Best Buy website or sign up for their newsletter to stay up to date on the latest offers and promotions.
Complete List Of Top Best Buy Works Sales, Offers, Date, Etc
Check-out this complete list of all the Best Buy Upcoming Sales in 2023 and make the most out of these opportunities.
Upcoming Sales
Expected Sale Dates
Deals/Offers
Christmas Sale
20th-25th Dec 2023
60% discount on major
home appliances
New Year's Day Sale
27th Dec 1st Jan 2024
60% concessions on health and wellness category
President's Day Sale
10th 22nd Feb 2024
35% off on home and
kitchen appliances
Easter Sale
9th April 2024
25% discount on televisions
Father's Day Sale
Ends on June 19th, 2024
Up to 20% off electronics, gadgets and personal care products
Hot Game Summer Sale
Starting on June 3rd
Up to 40% off on several video games
4th of July Sale
4th July 2024
50% off Refrigerators
Best Buy Anniversary Sale
5th-14th August 2024
50% discount Amazon Fire Tablets
Flash Sale
17th-18th August 2024
Discounts of up to 50% off regular prices
Labor Day Sale
3rd-5th Sep 2024
50% discount on video games
Outlet Event
5th Oct 2024
Save 50% across all categories
Gaming 3-Day Sale
20th 22nd October 2024
Buy Big Screen TVs with $900 discounts
Halloween Sale
29th-31st Oct 2024
45% off on gaming accessories
Black Friday Sale
31st October 2023
45% discount on 4K TV
Halloween Sale
29th-31st Oct 2023
45% off on gaming accessories
Apple Shopping Event
25th-28th Nov 2023
35% off on iPhones and MacBook
Cyber Monday
27th-30th Nov 2023
50% off on electronic appliances
Best Buy's sales events are offering unbeatable discounts on the latest tech and appliances. Shop now and save big on your favorite electronics, from smartphones to laptops and more. Don't miss out on these limited-time offers at Best Buy your go-to destination for incredible deals:
01 Christmas Sale
Sale Date: 20th-25th Dec 2023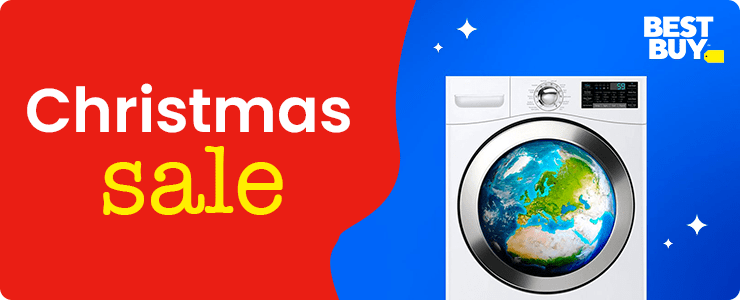 Best Buy stores are the place you must visit to do your shopping as they offer deals that can make your last sale of the year the sweetest one. This sale is held in the second last week of December, which can give you discounts of up to 60% on video games, and major home appliances. But this sale is not limited to these two categories only. You can also enjoy price cuts on small appliances, cameras, toys, personal care items, and much more.
Key Highlights of Best Buy's Christmas Sale
Up to 20% off on hair care products
30% discount on security products
Pay 100$ less on selected home appliances
Up to 30% off or more on patio heaters
02 New Year's Sale
Sale Date: 27th Dec 1st Jan 2024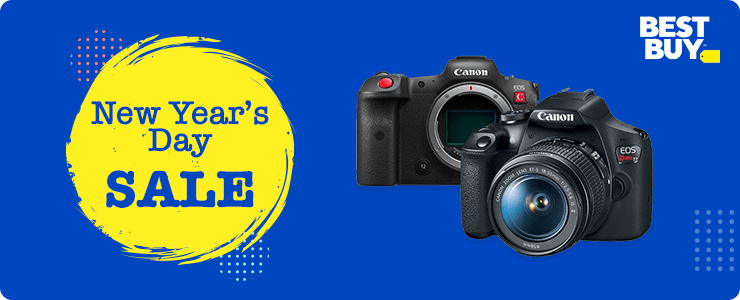 This sale is the best way to kickstart your New Year with positivity and motivation. As most of our resolutions revolve around fitness, be it physical or mental, Best Buy offers massive discounts on treadmills, exercise bikes, and rowing machines. You can find up to 60% off on the wellness and fitness section. Although this sale focuses primarily on the fitness category, users can also find discounts on other electronic appliances. Let us look at some of the highlights from this sale:
Key Highlights of Best Buy's New Year Sale
Get a 55% discount on wowing machines
Premium quality refrigerator for just $1250
Pay only $30 for $70 micro-oven
Free 2-day delivery for Best Buy Totaltech members
03 President's Day Sale
Sale Date: 10th 22nd Feb 2024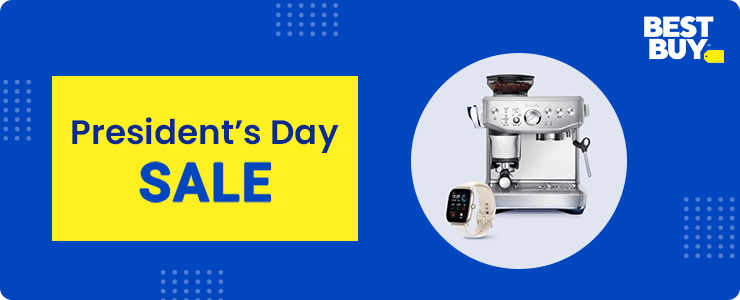 February brings President's Day sale that helps all customers save big on home appliances and smart products. With this sale, Best Buy caters to everyone's desire to have new appliances around every corner of the house. If you are tired of your same old refrigerator and television set, then check out Best Buy's deals that will make you throw away your old stuff and bring in the new and smarter ones. Users can also visit Best Buy's offline store to get the best swap price for their decades-old gadgets. Below are some hard-to-miss deals to make you go merry-go-round:
Key Highlights of Best Buy's President's Day Sale
Save up to $600 on major home appliances
Spend $400 less on selected intel gaming laptops and accessories
Save $30 on PlayStation and Xbox games
Free shipping for orders above 35$
04 Easter Sale
Sale Date: 27th-30th April 2024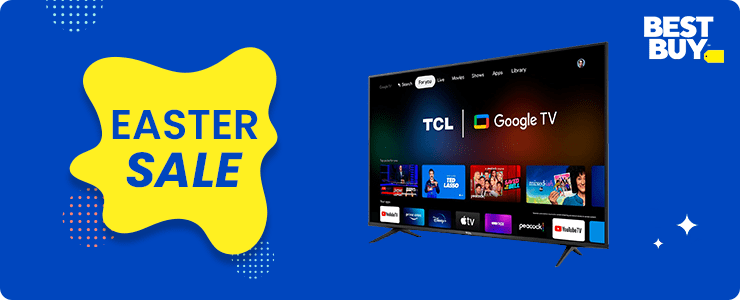 Every year, Best Buy holds its popular Easter Sunday Sale. This sale brings a lot of products with deals and savings on all the major products that we search for from time to time. Here, you can save up to 25% on Smart 4K televisions and MacBooks. Users can also get huge price cuts on Chromebooks, speakers, air-conditioners, and smartwatches. Best Buy stores are usually not open on this holiday but one can easily get what they want with a flash sale on its official website. Let's look at some of the major deals to save more this Easter:
Key Highlights of Best Buy's Easter Sale
Pay only $100 for Chromebooks from Acer, Lenovo, and more
50% discount on selected latest PlayStation games
$400 off on selected 4K televisions
Get up 40% off on smart-home appliances
Must Watch Sales At Best Buy
Best Buy has a lot more than these occasional sales. You can save a lot more by catching up on the additional sales listed here. Stock up on your favorite products at these worth shopping opportunities.
05 Daily Deals
Sale Date: 27th-30th Nov 2024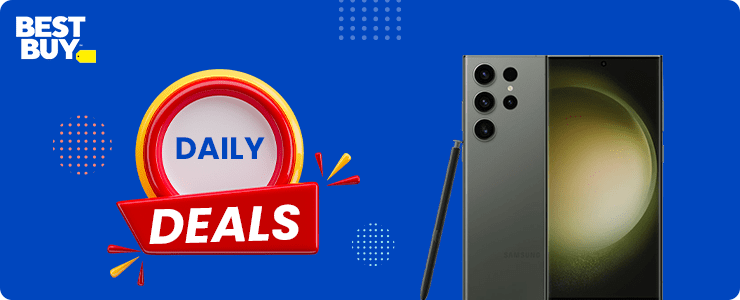 Best Buy offers daily deals on a wide range of tech products that cater to everyone's need. You won't believe the tech deals you can snag – from computers to gaming consoles, and everything in between. Every day brings a fresh batch of unbeatable bargains. Don't miss out on these super affordable daily deals that Best Buy brings just for you.
Key Highlights of Best Buy's Daily Deals
Discounts of up to 50% off on selected products
Free shipping on most daily deals
Products available both online and in-store
Price match guarantee on all daily deals
06 Clearance Sales
Sale Date: 27th-30th Nov 2024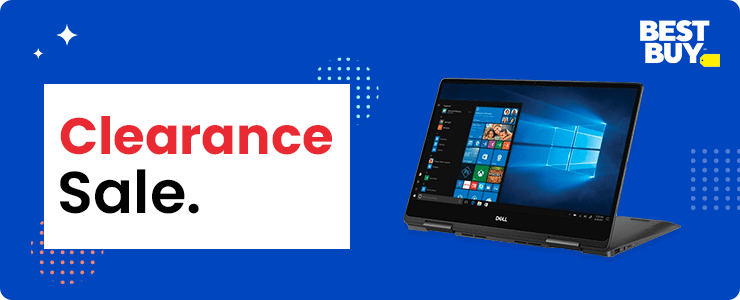 Best Buy's clearance sale features massive discounts on a wide range of products. You can get a variety of gaming controllers, home appliances, microphones and cameras at prices that won't be around long. This sale doesn't stay for long, so you must act before it ends.
Key Highlights of Best Buy's Clearance Sale
Save up to 50% on clearance items
New products that are discontinued by the manufacturer or end of stock
Extra discount on subscribing for Best Buy's newsletter
Store pick up option for all items
7 Hot Game Summer Sale
Sale Date: From June 5th 2024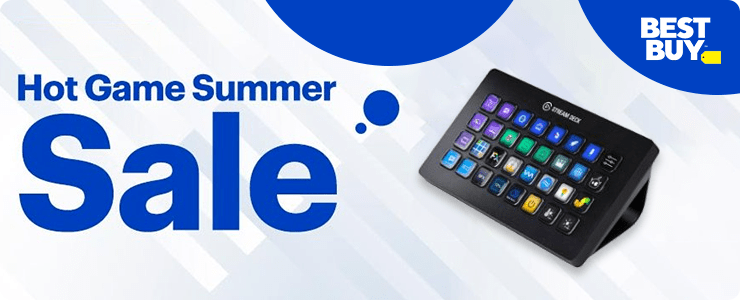 One can get a hold of any product if one manages to catch these deals from Best Buy Sales of 2023, and to make things more interesting, here are some coupons from Best Buy for your purchase.
Now without wasting any further time let's look at all these sales in detail along with all the key offer highlights
Let the scrolling begin!
Key Highlights of the Hot Game Summer Sale
$22 on various Xbox Series X and S games such as EA Sports PGA Tour and NHL 23 Standard Edition
Get discounted prices on several single-player and multiplayer games compatible for various devices
10% off on select purchases of video games this summer
8 Father's Day Sale
Sale Date: Ends of June 19th 2024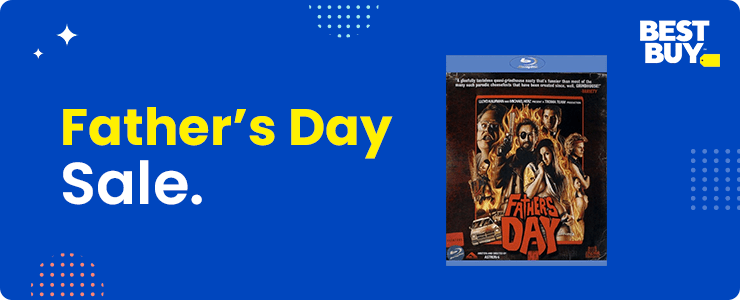 Best Buy's Father's Day Sale is the perfect opportunity to show appreciation for the dads in your life. Whether your dad is a tech enthusiast, a music lover, or a DIY guru, Best Buy has a wide selection of gifts to suit every interest. From cutting-edge smartphones and smart home devices to top-of-the-line headphones and home theater systems, you'll find the perfect present to make your dad's day extra special. With exclusive discounts and deals, Best Buy ensures that you can find a gift that fits your budget without compromising on quality. Celebrate Father's Day with Best Buy and make it a memorable one for your dad.
Key Highlights of the Father's Day Sale
Get up to $25 off on select electronic gadgets
Save on personal care items and avail of 20% discounts during purchase
Special prices on select fitness and training gadgets
9 4th of July Sale on Best Buy
Sale Date: 4th July 2024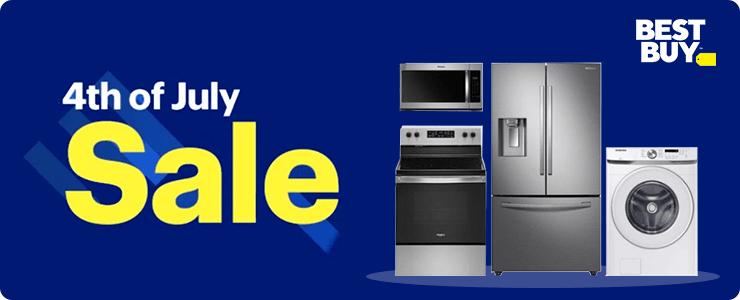 Best Buy delivers happiness in the form of amazing deals and offers in the month of July to celebrate Independence Day with all the buyers. This sale is one of the most-awaited times of the year when everyone buys the product that they had put in the Wishlist section. You can catch great deals on laundry, kitchenware, and home appliances. Users can save up to 50% on LG refrigerators in Best Buy's offline store. You can also catch deals on vacuums, and other appliances. If you want to know more about 4th of July upcoming sales from popular brands across the world, then this article will make you more interested to do most of your shopping on this occasion.
Key Highlight of Best Buy's 4th of July Sale
40% discount on premium refrigerators
$500 off on big-screen 4K televisions
Save up to $200 on Samsung Galaxy Book laptops
Spend up to $400 less on select Apple products
10 Best Buy Anniversary Sale
Sale Date: 5th-14th August 2024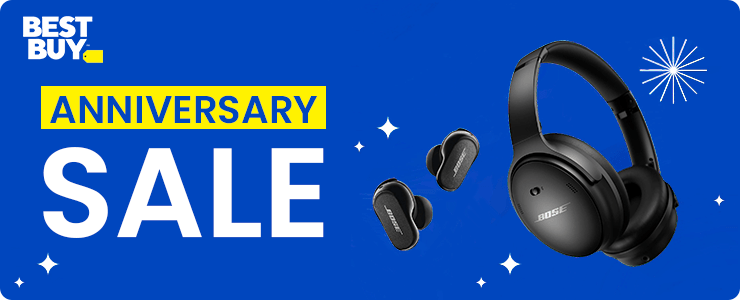 Best Buy has been providing its services to people for more than 50 years. Every August, Best Buy holds its exclusive Anniversary sale, where customers have access to many amazing products with great benefits and savings.
Best Buy deals are always known to have great discounts on new products. And during this 10-day sale event, this leading multinational consumer electronics retailer brings products with huge savings. Big brands like Samsung, Dyson, Bose, etc. are also part of this sale. Below are some of the Best Buy deals that are worth looking at:
Key Highlights of Best Buy's Anniversary Sale
Save up to $400 on selected Dell laptops
Price cuts up to $300 on MacBooks
Up to 50% off on selected Amazon Fire tablets
Same day delivery on select products
11 Flash Sales
Sale Date: 4th-5th August 2024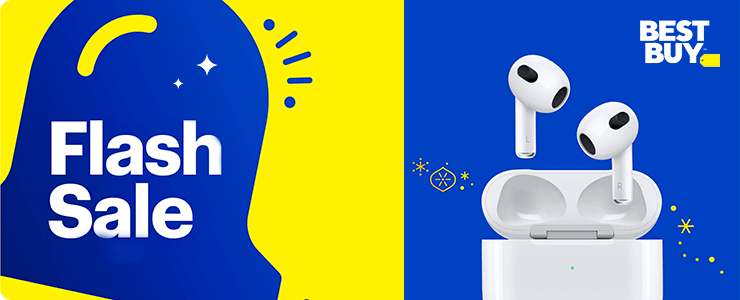 Get incredible discounts on dozens of products for one day only. Once a year, Best Buy announces their 24-hour flash sale on a wide range of electronics and home appliances. This sale ensures access to unbeatable prices on everything from laptops to refrigerators.
Key Highlights of Best Buy's Flash Sale:
Discounts of up to 50% off regular prices
Limited stock of products available
Exclusive deals on refrigerators and washing machines
Reward points applicable on minimum purchase amount for Best Buy members
12 Labor Day Sales
Sale Date: 3rd-5th Sep 2024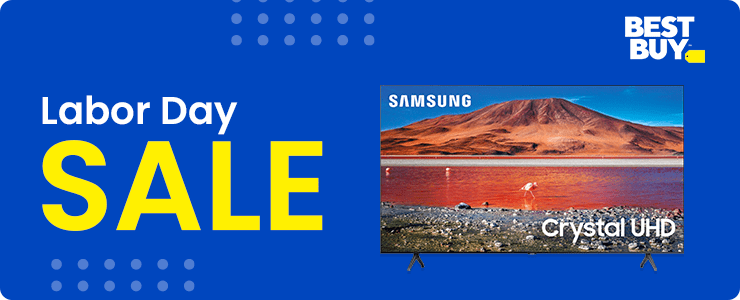 Although the Labor Day Sale is not as major as other Sales, this sale offers best-selling products at never seen before discounted rates. Customers can get hold of this 3-day sale in September. You can spot some of your favorite items on sale such as iPads, iPhones, and kitchen appliances. Even hardcore gamers can enjoy this sale as it offers discounts of up to 50% on gaming accessories and video games. You can easily finance your purchase with Best Buy to pay easy monthly installments. Let us look at some of the products and categories that are going to be on sale:
Key Highlights of Best Buy's Labor Day Sale
60% off on blenders, dryers, and coffee machines
50% discount on PS5, XBOX, and Video Games
Latest laptops with discounts of up to $500
Save up to 70$ electric vehicle charger
13 Outlet Event
Sale Date: 5th Oct 2024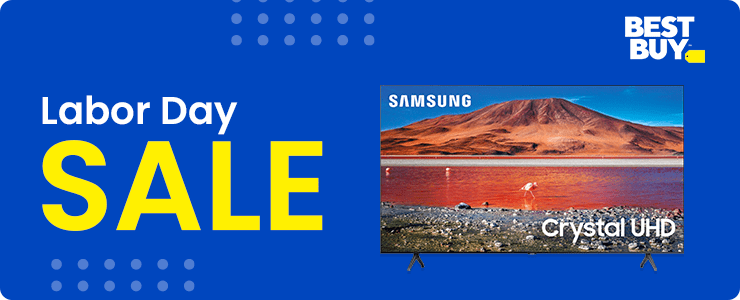 Get ready for the ultimate shopping spree at the Best Buy Outlet Event, where you can save big with discounts of up to 50% off! Whether you're in the market for cutting-edge electronics, home appliances, or anything in between, our clearance, open-box, and refurbished items in all product categories have you covered. This is your chance to upgrade your tech game or revamp your living space without breaking the bank.
Key Highlights of Best Buy's Outlet Event
Save up to 50% on select refurbished electronics
Enjoy up to 60% off on open-box major appliances
Grab a PS5 for just $599
14 Gaming 3-Day Sale
Sale Date: 20th 22nd Oct 2024
Gear up, fellow gamers! Best Buy's Gaming 3-Day Sale is an epic quest for the best deals. My Best Buy Plus? and My Best Buy Total? members, you're in for a treat! Score massive discounts on gaming headphones, gaming laptops, Xbox and PlayStation goodies, and a treasure trove of games. Get ready to level up your gaming arsenal and dominate the leaderboards this sale is your ultimate power-up!
Key Highlights of Best Buy's Halloween Sale
Save $400 on ASUS Rog Zephyrus laptops
Get a free Norton subscription and Xbox game pass
Buy 1 game gift card and save 15% on the other
15 Halloween Sale
Sale Date: 29th-31st Oct 2024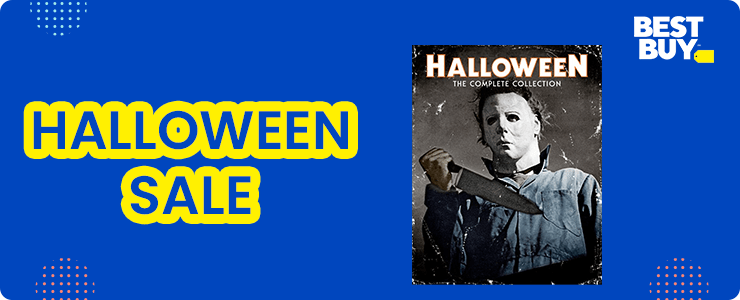 Best Buy's Halloween sale is all about crazy deals. During this seasonal sale, all Best Buy's stores around the US are filled with crowds that are looking to catch great deals.
This brand offers exclusive deals with financing options for monthly installments. You can find huge price cuts on every single electronic product such as power banks, cameras drones, and many more, including toys. You can get deals with up to 45% off on gaming accessories and cameras. This sale is the perfect time to upgrade your camera lenses as the offers that you will be getting here are quite hard to find.
Key Highlights of Best Buy's Halloween Sale
Up to 35% savings on Google Nest
45% off on computer accessories
40% discount on drones
Up to 35% of on games and collectibles
16 Black Friday Sale
Sale Date: 31st October 2023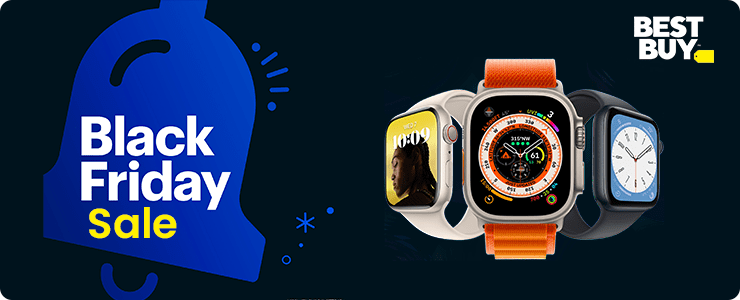 Best Buy's Black Friday sale is an occasion one should never miss. Over the past few years, all the big brands around the world have been offering Black Friday sales in the month of November. During this popular sale, Best Buy offers massive discounts on all products such as laptops, headphones, gaming accessories, appliances, and all the gadgets that one can think of, with the extra service of buy now pay later.
This made premium quality brands more accessible to people. Users can also get open box deals on Best Buy outlets for getting their hands on refurbished and clearance deals.
Key Highlights of Best Buy's Black Friday Sale
Save up to $350 on LG 4k televisions
Members can save 5% extra on select Logitech products
Up to 55% concession on iPads and keyborads
17 Apple Shopping Event
Sale Date: 25th-28th Nov 2023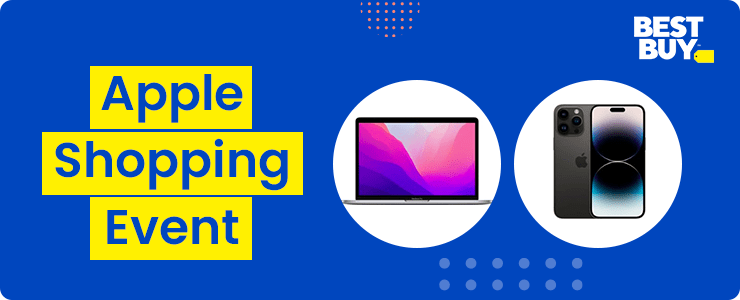 Over the years, Apple has become one of the most prominent brands in the electronics market and has been from time to time proving its commitment to quality. But with quality, users have to pay extra, which can be tough for many of us. Apple Shopping Event by Best Budy is one of those sales where one can get a chance to buy their most beloved gadgets at an affordable price. You can find jaw-dropping price cuts on every Apple product, and get up to 35% off on iPhones and MacBooks. Let us look at some of the eye-catching deals and offers on Apple Shopping Event:
Key Highlights of Best Buy's Apple Shopping Event
Save on select Apple products, including iPhone, or probably the Apple Watch
Get $400 off on MacBook and MacBook Pro
Save between $100 $400 on iPad Pro
Get discounts of up to 40% on health & fitness
18 Cyber Monday Sale
Sale Date: 27th-30th Nov 2023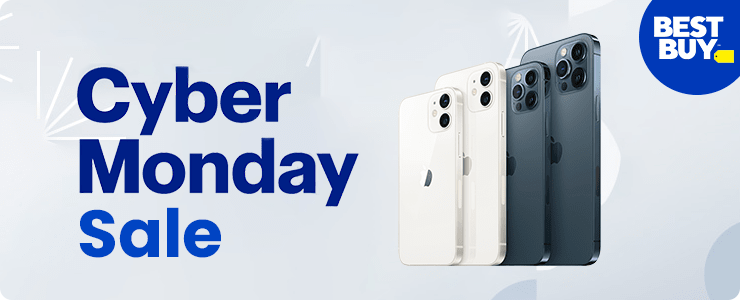 Cyber Monday sale, which is also known as the Cyber Monday Savings, is all about buying new gadgets for yourself and your loved ones. This sale is held on Monday just after The Black Friday Sale, every year. Great deals and prices that are hard to believe are the eye-catchers for this ale. In this sale, you will be seeing price cuts on microphones, musical instruments, GPS navigation, security cameras, and any other electronic appliances that you can imagine. Users can also avail of discounts up to 55% with Totaltech Membership.
Key Highlights of Best Buy's Cyber Monday Sale
Up to 50% off on products
45% discount on headphones
25 % off on selected smartwatches
Best deals on electric transportation
Saving Tips For Best Buy
To make matters easy for you, our team took up the task of researching some of the best tips to get great rewards and make extra saving on your Best Buy purchase. Here are some great ways to save on your next Best Buy purchase.
Trade-In Program: Have an old gadget lying around Trade it in at Best Buy and get a gift card to put toward your new purchase! You can get up to $450 toward a new iPad on qualifying trade-ins, plus discounts of up to 20% on select tech accessories. The program is a great way for users to earn some rewards in exchange for their old stuff. Use the rewards to get discounts and great deals on various gadgets.
Best Buy Totaltech: Consider signing up for the Best Buy Totaltech membership program. For $199 a year, you get free 2-day shipping on standard delivery, extended 60-day return and exchange policies, and exclusive rewards and prices. The scheme has attracted a lot of customers due to the great saving benefits on shopping and additional benefits.
MyBestBuy Account: Register at MyBestBuy and create an account to reap some serious benefits. As a member you save on your shipping charges as well as get access to members-only offers. With this you'll also be eligible for the My Best Buy credit card which comes with the benefit of 10% off your first purchase with the card.
Gift Cards: Best Buy has rolled out different types of gift cards for all the buyers – corporate gift cards, e-gift cards, specialty gift cards. An individual can shop for gift cards ranging from $15 to $500. Redeem your cards at the check-out on your select merch to get unbelievable discounts.
Best Buy Sales FAQs
1. What is the most popular product category on Best Buy
Smart televisions and laptops are considered to be the most popular product at Best Buy.
2. Which sale provides the maximum discount on each product
Black Friday and Best Buy Anniversary sales are some of the sales that provide the highest discount on each product.
3. How often does Best Buy give sales
Best Buy Gives sales at least once a month. You can also catch 24-hour flash sales every now and then.
4. Can I use coupons while shopping from Best Buy
Yes, you can always use different promotional codes while shopping at Best Buy.
5. What are Best Buy's open box items
Best Buy's open box items include the returned/exchanged products that are in working condition and are re-sold at almost half the original price.
6. Are there Best Buy gift cards
To make holiday gifting simpler, Best Buy offers physical, corporate and e-gift cards for its customers.
It's a Wrap!
The end of the year does not mean the end of sales. Every year, new sales are added to the calendar. To make each year fruitful and rewarding, stay updated by bookmarking us. We care about you so we will keep updating this list of Best Buy sales and help you out with your savings.
<div class='toc'><ul><li><a href=#Live-Sale-Offers-on-Best-Buy><b>Live Sale Offers on Best Buy</b></li><li><a href=#Next-Biggest-Best-Buy-Sale><b>Next Biggest Best Buy Sale</b></li><li><a href=#Ongoing-Deals-and-Offers-on-Best-Buy><b>Ongoing Deals and Offers on Best Buy</b></li><li><a href=#Complete-List-Of-Top-Best-Buy-Works-Sales,-Offers,-Date,-Etc><b>Complete List Of Top Best Buy Works Sales, Offers, Date, Etc</b></li><p> <a href=#01-Christmas-Sale>01 Christmas Sale</p><p> <a href=#02-New-Year's-Sale>02 New Year's Sale</p><p> <a href=#03-President's-Day-Sale>03 President's Day Sale</p><p> <a href=#04-Easter-Sale>04 Easter Sale</p><li><a href=#Must-Watch-Sales-At-Best-Buy><b>Must Watch Sales At Best Buy</b></li><p> <a href=#05-Daily-Deals>05 Daily Deals</p><p> <a href=#06-Clearance-Sales>06 Clearance Sales</p><p> <a href=#7-Hot-Game-Summer-Sale>7 Hot Game Summer Sale</p><p> <a href=#8-Father's-Day-Sale>8 Father's Day Sale</p><p> <a href=#9-4th-of-July-Sale-on-Best-Buy>9 4th of July Sale on Best Buy</p><p> <a href=#10-Best-Buy-Anniversary-Sale>10 Best Buy Anniversary Sale</p><p> <a href=#11-Flash-Sales>11 Flash Sales</p><p> <a href=#12-Labor-Day-Sales>12 Labor Day Sales</p><p> <a href=#13-Outlet-Event>13 Outlet Event</p><p> <a href=#14-Gaming-3-Day-Sale>14 Gaming 3-Day Sale</p><p> <a href=#15-Halloween-Sale>15 Halloween Sale</p><p> <a href=#16-Black-Friday-Sale>16 Black Friday Sale</p><p> <a href=#17-Apple-Shopping-Event>17 Apple Shopping Event</p><p> <a href=#18-Cyber-Monday-Sale>18 Cyber Monday Sale</p><li><a href=#Saving-Tips-For-Best-Buy><b>Saving Tips For Best Buy</b></li><li><a href=#Best-Buy-Sales-FAQs><b>Best Buy Sales FAQs</b></li><li><a href=#It's-a-Wrap!><b>It's a Wrap!</b></li></ul></div>