Shopping Tips
Vera Bradley's Upcoming Sales: When To Shop For Best Deals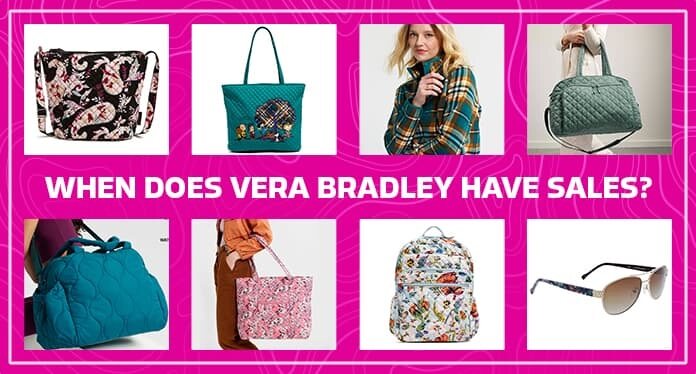 When it comes to shopping for that perfect quilted bag or accessory, the name Vera Bradley often springs to mind. With its vibrant patterns, superior-quality materials, and functional designs, Vera Bradley has become a staple in many women's wardrobes. Yet, while the brand's products offer undeniable style and durability, their cost can sometimes be a deterrent for budget-conscious shoppers. However, with some strategic planning and insider knowledge of when and where to shop, one can secure these sought-after items without breaking the bank.
The key lies in understanding Vera Bradley's sales cycle and taking advantage of various promotions or offers that the brand provides throughout the year. From online-exclusive deals to seasonal discounts, gift-with-purchase offers to reward points systems – each of these sales strategies provides an opportunity for shoppers to acquire their favorite quilted pieces at reduced prices. Moreover, navigating through these numerous options allows customers not only to save money but also to feel a sense of accomplishment – as if they're part of an exclusive group who've cracked the code to savvy shopping. In this article, we delve deeper into cracking Vera Bradley's sales: offering tips on when it's best to shop for those delightful deals.
List of Vera Bradley's Sale
Below sales will help users grab what they desire from Vera Bradley, and that too at an unbelievable cost:
1. Fall Sale
October, 2023
From vibrant patterns to timeless classics, find the perfect pieces to accompany you on your fall adventures while saving big on Vera Bradley with its Fall Sale. You can enjoy a generous 40% off on select styles, as you embrace the fall season with cozy and stylish accessories.
You don't want to miss out on this limited-time opportunity to fill your autumn wardrobe with Vera Bradley's signature charm and quality at unbeatable prices. Shop during the Fall sale and embrace the beauty of fall with every outfit.
2. Charity Sales
October, 2023
Bargain hunters can take delight in knowing that this beloved brand doesn't just slash prices at the end of each season, but also hosts charity sales that are a win-win for both style seekers and those in need.
Vera Bradley's charity sales are part of their commitment to community support and philanthropic initiatives. During these events, customers not only get fantastic deals on their favorite quilted bags but also contribute towards a good cause. These fundraising events often involve partnerships with charitable organizations, resulting in significant donation impacts.
3. Black Friday Bargains
24 November, 2023
Don't overlook the opportunity to snag some serious bargains on Black Friday, as the renowned quilted accessories brand often rolls out enticing discounts and deals that are simply too good to pass up. During this event, Vera Bradley offers Doorbuster Deals that kick off at midnight, perfect for those who enjoy a little bit of Midnight Shopping.
These limited-time offerings typically feature their most popular items such as backpacks, duffels, and bags in vibrant patterns and colors which are made even more desirable due to their 30% concession on full-priced styles. Customers can expect significant savings of 50% on sale styles, while still enjoying the high quality and durability associated with the Vera Bradley name. In addition to these fantastic sales events, Vera Bradley also provides several options designed to make your shopping experience even better.
4. Cyber Monday Specials
27 November, 2023
As the digital world spins like a carousel into Cyber Monday, the quilted accessories giant unveils an irresistible array of bargains that set hearts racing and wallets sighing with relief. Cyber Monday's Origins can be traced back to 2005 as a day dedicated by retailers for online shopping following Thanksgiving weekend.
As part of this tradition, Vera Bradley amazes its customers with their Monday Doorbusters, offering substantial 30% discounts on their popular products such as backpacks, duffels, and bags.
The brand's robust Online Traffic Management ensures a smooth virtual shopping experience despite the high volume of shoppers flocking to grab these limited-time deals. On top of the enticing price slashes during the Cyber Monday season, Vera Bradley further enhances customer satisfaction through their thoughtful Cyber Returns Policy.
5. Christmas Sale
21 December – 25 December, 2023
There's no denying that the Christmas sale is an event that shoppers wait for all year, eager to snag some fantastic deals on a wide array of products. Vera Bradley shines during this period with impressive holiday discounts and offers on its signature range of handbags, travel items, and other accessories. The brand's generosity isn't limited to just price cuts; they often introduce exclusive items specifically tailored for the festive season.
If you're on the hunt for Vera Bradley sales during the Christmas season, there are several places you can check out. Popular online shopping sites like Hip2Save offer savings of up to 90% off on Vera Bradley products, making it an excellent destination for bargain hunters. eBay, on the other hand, boasts the largest online selection of Vera Bradley Christmas bags and handbags, so you're likely to find exactly what you're looking for. Additionally, Occasionally Yours offers discounts of up to 70% off on select items, making it another great option for budget-conscious shoppers.
6. President's Day Sale
19 February, 2024
Don't overlook the significance of the President's Day sale; it's a prime time to snatch up some truly elegant Vera Bradley pieces at a fraction of their usual cost. The sale's significance lies in its timing – falling right after Valentine's Day when most retail stores are looking to clear out remaining stock and make room for new spring arrivals.
It is during the President's Day Sale that you can score heavily Discounted items, from handbags and luggage to home decor and accessories, all adorned with Vera Bradley's iconic colorful prints. You will have access not only to exclusive Online deals but also to special promotions such as free shipping and extra discounts of 25% on clearance items.
7. Easter Sale
31 March, 2024
Vera Bradley is known for its vibrant seasonal designs that bring a pop of color to any wardrobe or home decor. The Easter sale is no exception, with enthusiastic shoppers able to find everything from pastel purses perfect for spring outfits to dainty decorative items ideal as Easter gift ideas.
Notably, this holiday sees one of Vera Bradley's characteristic discount patterns come into play – deeper markdowns on winter inventory making way for fresh summer stock. When shopping during the Easter Sale, savvy customers employ specific shopping strategies to maximize their savings while also nabbing limited-edition pieces
8. Annual Outlet Sale
May 1 May 5, 2024
An annual event eagerly anticipated by many is the brand's outlet sale, a veritable haven for those seeking quality quilted accessories at significantly discounted prices. Held once a year, this Vera Bradley extravaganza brings together fans from all over to shop deals on products ranging from backpacks to duffels and other bag varieties. The Outlet Accessibility during this period sees an influx of shoppers eager to take advantage of the slashed prices and wide product selection.
For some customers, it becomes necessary to make Travel Arrangements, coming in from different states or even countries just for this shopping opportunity. Preparations for the sale are often intense as loyal customers try to ensure they get their hands on coveted items before stocks run out. To manage crowds, Vera Bradley employs a Ticketing System. Shoppers are given tickets that allot them specific time slots within which they can shop – ensuring everyone gets a fair chance while maintaining orderliness during this busy period.
9. Mother's Day Sale
12 May, 2024
With Mother's Day approaching, it's the perfect time to hunt for discounts on those designer prints that can make mom feel special. Vera Bradley's Mother's Day Sale is one of their biggest sales events which typically begins a few weeks before the holiday itself.
The exact start date varies each year, so customers are encouraged to sign up for Vera Bradley newsletters or follow them on social media to stay updated with sale announcements. This event offers substantial price reductions and even free gifts with purchases making your gift selection both affordable and memorable.
10. End-of-Season Markdowns
June, 2024
The end-of-season typically occurs during major season transitions, allowing Vera Bradley to clear inventory overstock and make room for new collections.
With their rich patterns, durable materials, and functional designs, these marked-down items offer a fantastic opportunity for customers to add quality pieces to their wardrobes without breaking the bank. It's also worth keeping an eye out for potential discount predictions online or in-store newsletters as they can give you a heads-up on upcoming deals.
11. Mid-Year Clearance
June, 2024
The Mid-Year Clearance is a much-anticipated event for Vera Bradley enthusiasts as it provides an opportunity to grab those vibrant patterns and colors at discounted prices. Implementing wise Clearance Strategies, such as shopping early in the sale when inventory is still plentiful, can ensure customers get exactly what they want.
Halfway through the year, the quilted accessories powerhouse doesn't disappoint, rolling out a clearance sale that offers an unbeatable 70% concession on their products. However, buyers should also be mindful of the company's return policy during this period. Knowing your preferred Shopping Timing is essential in making the most out of these sales. Some people prefer to shop just after midnight when new deals are typically posted while others may prefer daytime shopping. Regardless of timing preferences, one must always keep an eye on Discounted Items that quickly run out of stock due to high demand.
12. Independence Day Sale
28 June – 4 July, 2024
Hook, line, and sinker that's how easily you'll be drawn into the spectacular Independence Day sale where one can snag some serious bargains on top-notch Vera Bradley products. This brand has a knack for creating an irresistible sales atmosphere around this holiday, luring customers with deep discounts and exclusive offers.
The company uses well-planned discount strategies which include offering special deals on selected items such as handbags, luggage, accessories, and home decor. This is also the time when they unveil their patriotic collection – unique, limited edition pieces available only during this period. The Independence Day Sale typically lasts from late June through early July giving shoppers plenty of time to take advantage of these online deals.
Other Ways To Save On Vera Bradley Products
Vera Bradley is known for its stylish and colorful bags, accessories, and home goods, but it's always a good idea to save money on your purchases. Here are some ways to save on Vera Bradley products:
1. Shopping Apps
An app comparison is necessary to determine which one offers the best deals and cashback opportunities on Vera Bradley products. Some popular options include Honey, Rakuten, Swagbucks, and Ibotta. These platforms not only provide easy access to various online retail stores but also offer exclusive discounts and rewards for their users.
2. Online Vs. In-store Pricing
The beauty and appeal of Vera Bradley products may be consistent, but it appears that their prices can fluctuate depending on where you choose to shop. This is largely due to a retail strategy known as Dynamic Pricing. Online retailers often adjust prices based on algorithms that consider factors like demand, inventory, and competitor activity.
3. Online Exclusive Deals
Online shopping at Vera Bradley often brings forth opportunities for customers to enjoy exclusive patterns not found in retail stores. These one-of-a-kind designs give customers a sense of exclusivity and uniqueness, aligning with their subconscious desire for belonging.
4. Limited Time Offers
As a cherry atop an already delicious cake, the brand also presents limited-time offers, that act as fleeting golden opportunities for customers to acquire their coveted quilted accessories at prices that are too tempting to resist.
5. Seasonal Discounts
With the change of seasons comes a wave of generous discounts on quilted accessories, reflecting the brand's knack for delighting customers with more than just vibrant patterns and durable materials. Vera Bradley has a well-planned discount strategy, releasing seasonal sales that allow fashion-forward shoppers to save money while staying stylish.
6. Student Discounts
Don't let the stress of academics weigh you down; lighten your load with an irresistible 15% student discount on your favorite quilted accessories! Vera Bradley, understanding the financial constraints of student life, offers deals that make their high-quality products more affordable.
7. Email Sign-up Offers
Signing up for email updates from this iconic brand is a golden ticket to a world of exclusive offers and discounts. The Newsletter Benefits are numerous, starting with the promise of receiving fresh news about Vera Bradley's latest quilted designs straight into your inbox. This way, you'll never miss out on any new product launches or limited-edition collections.
8. Free Shipping Offers
It's crucial for potential buyers to familiarize themselves with Vera Bradley's Shipping Policies. Often, these free shipping offers apply to purchases exceeding $99 or during specific promotional periods. This strategy not only encourages bulk buying but also ensures customer satisfaction and loyalty.
Frequently Asked Questions
1. What is the return policy for Vera Bradley items purchased on sale?
Vera Bradley's return policy allows items purchased on sale to be returned under certain conditions. The item must be unused and in original condition, with all tags attached. Returns are accepted within 60 days of purchase for a refund or exchange. Both online returns and in-store exchanges can typically handle these sales exceptions. However, it's best to check the policy details on their website for clarity.
2. Are there any special discounts for military personnel or veterans at Vera Bradley?
Yes, Vera Bradley offers a special discount of 15% for military personnel and veterans. Through their Military Appreciation program, both active duty service members and veterans can receive discounts upon verifying their eligibility with the necessary identification. This Armed Forces Benefit is a token of gratitude for their services.
3. Can I combine different promotional offers when shopping at Vera Bradley?
Vera Bradley does not allow promotion stacking, meaning you cannot combine different promotional offers like discount codes, loyalty discounts, or birthday offers on a single purchase. However, the brand often provides free shipping promotions so keep an eye out for those. Always check their policy before shopping to make sure of what deals can be used together.
4. How does Vera Bradley ensure the quality of their products during major sales events?
Vera Bradley ensures the quality of their products during major sales events through rigorous quality control measures. They maintain high standards in their production process, from careful material sourcing to meticulous craftsmanship scrutiny. Each product's durability and design are thoroughly checked before it hits the shelves, ensuring customers receive top-quality items even during big sales.
5. Does Vera Bradley offer any special sales or discounts for first-time shoppers?
Yes, Vera Bradley offers special discounts for first-time shoppers. If you sign up for their email subscription, you can receive a welcome discount on your first purchase. They also have loyalty programs that offer incentives like exclusive deals and early access to sales. These shopping tips can help first-timers save money while enjoying the brand's products.
Conclusion
As the sun sets on a day filled with shopping, one can almost see the vibrant colors of Vera Bradley's quilted designs shimmering in their mind. Successfully navigating through the maze of sales and promotions has rewarded them with not only beautiful products but also unbeatable deals. Informed shoppers know that to shop at Vera Bradley is to be part of an exciting chase. Analyzing each sale and seasonal discount are crucial step toward securing the best deals. The rhythm and flow of this retail dance make it clear: savvy customers who understand Vera Bradley's sales truly get more bang for their buck.
<div class='toc'><ul><li><a href=#List-of-Vera-Bradley's-Sale><b>List of Vera Bradley's Sale</b></li><p> <a href=#1.-Fall-Sale>1. Fall Sale</p><p> <a href=#2.-Charity-Sales>2. Charity Sales</p><p> <a href=#3.-Black-Friday-Bargains>3. Black Friday Bargains</p><p> <a href=#4.-Cyber-Monday-Specials>4. Cyber Monday Specials</p><p> <a href=#5.-Christmas-Sale>5. Christmas Sale</p><p> <a href=#6.-President?s-Day-Sale>6. President?s Day Sale</p><p> <a href=#7.-Easter-Sale>7. Easter Sale</p><p> <a href=#8.-Annual-Outlet-Sale>8. Annual Outlet Sale</p><p> <a href=#9.-Mother?s-Day-Sale>9. Mother?s Day Sale</p><p> <a href=#10.-End-of-Season-Markdowns>10. End-of-Season Markdowns</p><p> <a href=#11.-Mid-Year-Clearance>11. Mid-Year Clearance</p><p> <a href=#12.-Independence-Day-Sale>12. Independence Day Sale</p><li><a href=#Other-Ways-To-Save-On-Vera-Bradley-Products><b>Other Ways To Save On Vera Bradley Products</b></li><p> <a href=#1.-Shopping-Apps>1. Shopping Apps</p><p> <a href=#2.-Online-Vs.-In-store-Pricing>2. Online Vs. In-store Pricing</p><p> <a href=#3.-Online-Exclusive-Deals>3. Online Exclusive Deals</p><p> <a href=#4.-Limited-Time-Offers>4. Limited Time Offers</p><p> <a href=#5.-Seasonal-Discounts>5. Seasonal Discounts</p><p> <a href=#6.-Student-Discounts>6. Student Discounts</p><p> <a href=#7.-Email-Sign-up-Offers>7. Email Sign-up Offers</p><p> <a href=#8.-Free-Shipping-Offers>8. Free Shipping Offers</p><li><a href=#Frequently-Asked-Questions><b>Frequently Asked Questions</b></li><li><a href=#Conclusion><b>Conclusion</b></li></ul></div>