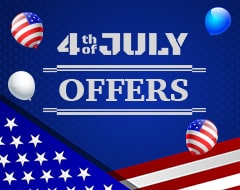 4th of July Offers
19 Coupons & Offers
19 Verified
4th of July Offers
All (19)
Coupons (2)
Offers (17)
4th of July Offers on Electronics
Details on 4th of July
The 4th of July Sales Coupons & Offers
If you're looking for all the latest 4th of July deals and offers, then you should definitely check out GrabOn. This website is dedicated to providing shoppers with the best possible selection of products and services throughout the holiday season. From food delivery to home improvement supplies, GrabOn has something for everyone. And don't forget about their amazing discounts – you can always find great deals on items like furniture, mattress, clothing, beauty, TVs, headphones, and more! So be sure to visit us today for the best coupons, promo codes, and discounts for massive savings on your orders!
What is the 4th of July all about?
The 4th of July is a national holiday in the United States that celebrates independence from Great Britain. It is also known as Independence Day and Fourth of July. The Declaration of Independence, which was signed on July 4, 1776, declared all men are created equal and entitled to life, liberty, and the pursuit of happiness.
The day is typically celebrated by barbecuing outdoors with family or friends, grilling meat, or using other recipes that showcase American flavors such as funnel cakes and watermelon salad. Families often go for long walks or visit parks to enjoy patriotic displays and concerts featuring favorite stars LIVE!
While you are sure to celebrate America's Independence, do check out the best deals from your favorite brands, and stores and get up to 75% off. Importantly, look for discount codes, and cashback offers that you can use when you purchase the best-selling items in town.
Best 4th of July Offers For 2022
There are many great offers available for the 4th of July this year, so it is hard to choose just one. Some of the best options include discounted air travel, free admission to attractions, and discounts on food and merchandise. You can also find deals on home improvement products and services, appliances, apparel, and accessories, wellness products, bedding, laptops, fire pits, decors, and more. Here's the list of 4th of July deals from your favorites: Amazon, Walmart, Macy's, Old Navy, Best Buy, Lowe's, Sam's Club, Overstock.com, World Market, etc.
Save More With GrabOn
During this special season, we present you with some of the most important tips that will surely help you save more. Read on…
Subscribe to your favorite store or brand to stay up-to-date with the best ways to save on your orders.
Sign up to the choice of your brand to get a list of coupons, and hot deals.
Take a look at the shipping policies, and opt for free shipping (if any), before your checkout. Also, look for deals and codes that offer free delivery during this season.
Search for loyalty rewards or referral bonus points from top brands for scoring extra benefits. This will help you get an additional discount or free products on your orders.
Finally, stay connected to GrabOn.com and get all the latest information on 4th of July deals and savings. You can also use our exclusive coupons on your final billings.
FAQs
Do the 4th of July sales end on the same day?
No. Some stores continue to offer discounts and special offers throughout the holiday weekend.
What are the best 4th of July coupons?
There are a lot of great deals to be found on 4th of July products, but some of our favorites include clothing and accessories, barbecue supplies, and more.
Is there any 4th of July discounts available?
There are many different 4th of July deals and offers that are currently being offered. You can check out our list for special saving options.
For More Savings Subscribe Now
We Value Your Savings As Much As You Do. Subscribe now And Keep Saving On Everything With The Latest Coupons and Offers!