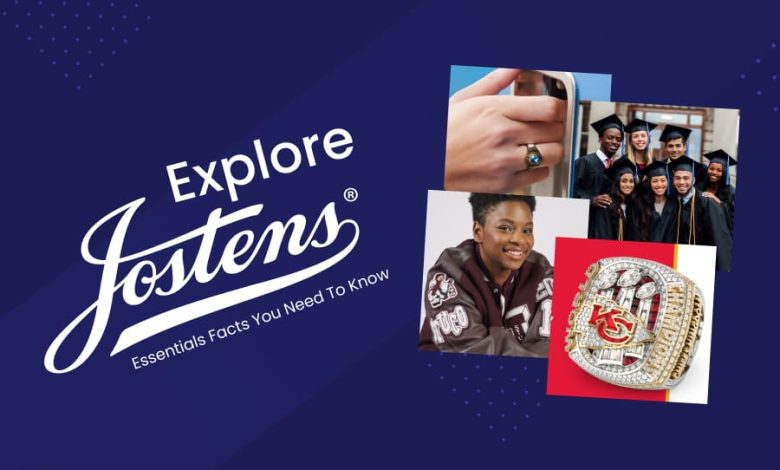 In the world of personalized merchandise and memorabilia, one name has consistently stood out for decades – Jostens. This renowned company is a titan in its industry, offering a spectacular range of products that commemorate life's most cherished milestones. From class rings that encapsulate high school spirit to yearbooks brimming with nostalgia, graduation regalia that mark academic achievements to sports apparel proclaiming team pride, Jostens' offerings are as diverse as they are meaningful. As we delve into this article, we'll be exploring the many facets of this remarkable company and uncovering why it has become such an integral part of many people's life journeys.
Humorist Erma Bombeck once quipped, "Graduation day is tough for adults. They go to the ceremony as parents. They come home as contemporaries." It's safe to say that with the help of Jostens, these transitions can feel less like an existential crisis and more like a celebratory event! The company not only provides tangible keepsakes but also fosters connections through shared experiences and memories. So buckle up and prepare for an enlightening journey through the vibrant world of Jostens – where every product tells a story and every story deserves to be told.
Company Background
Established in 1897 by Otto Josten, a watch repairman from Owatonna, Minnesota, there is an intriguing backstory to the founding history. Originally named "Josten's Repair Service," it started as a small jewelry business that gradually expanded its product line. This expansion was driven by Josten's innovative idea to produce high school class rings a novelty at the time. Within years, his vision transformed into reality, with Jostens becoming synonymous with commemorating important life events.
An integral part of understanding Jostens lies within its core values or the Company Philosophy. They believe in creating enduring symbols of achievements and unforgettable memories through their products. Maintaining such ethos has yielded positive results for them over more than a century.
Their commitment to quality and customer satisfaction is what underpins every decision made by their dedicated Executive Team. Comprising industry veterans and innovators alike, they are responsible for steering this legacy firm towards new milestones while preserving its rich heritage.
Jostens' Headquarters Location, nestled in Minneapolis, MN, reflects both its Midwestern roots and dynamic nature as a leading corporation. The office houses various departments working collaboratively to deliver unique products that mark significant moments globally. Furthermore, due to their exceptional craftsmanship and reliability, they have established unmatched Market Influence.
Range of Products
You'll be amazed by the vast array of products Jostens offers, spanning from class rings and yearbooks to apparel and graduation essentials. With a focus on Product Quality in each item that leaves their hands, you can rest assured that every product is crafted with meticulous attention to detail.
Their Customization Options are second to none, providing customers with an opportunity to express their unique personality and achievements through high-quality keepsakes. Whether you're looking for discounts on something traditional or modern, plain or sparkling with gemstones, Jostens coupons have got you covered.
The company's extensive range includes:
Class Rings: Crafted using quality metals like gold, silver, and EverEdge? Steel.
Yearbooks: Created with state-of-the-art technology ensuring vibrant colors that last generations.
Graduation Products: Including announcements, diplomas, caps & gowns all customizable!
Apparel: High-quality varsity jackets and other school spirit wearables.
Jostens goes above and beyond when it comes to its Production Process, ensuring that not only does the final product look fantastic but also holds sentimental value for years to come. They believe that the materials they use play a significant role in this process which is why they place great emphasis on careful Material Selection.
Yearbooks
In this digital age where everything seems to be going virtual, Jostens has also embraced the concept of Digital Yearbooks. These versions offer interactive features such as video clips and links to additional content, making them an engaging alternative to hardcopy books while still providing the same nostalgic feel.
Moreover, they provide platforms for Yearbook Fundraising, helping schools raise needed funds efficiently and effectively through innovative methods like online campaigns and social media promotions. Jostens believes strongly in Student Involvement during the creation process. They encourage kids to contribute ideas, and photos, and even help design pages that result in yearbooks that truly represent their experiences and personalities.
Furthermore, one can choose from a plethora of unique Yearbook Themes, ranging from classic styles honoring school traditions to trendy ones reflecting popular culture. The company provides comprehensive guides and tools to help staff create a cohesive theme throughout the book seamlessly now isn't that something swell
Class Rings
Immortalize your school spirit and cherished memories with Jostens' exquisite class rings, a timeless symbol of achievement and pride. The ring's design goes beyond just looking good it tells a story about who you are and what you've accomplished.
It's not just metalwork; it's an emblem that carries profound Ring Symbolism, representing honor, tradition, and lifetime connections. Jostens allows for even deeper personalization through their innovative offering of Custom engraving on each class ring. This feature enables individuals to inscribe significant details such as graduation year or initials, making each piece unique to its wearer.
If this doesn't get your nostalgia engine revving already, here are four enticing aspects to consider:
You can customize your gemstone choice.
You have the option to choose from various metals including gold, silver, and more durable options like Lustrium?.
There is an extensive range of style choices ranging from traditional designs to sleek contemporary ones.
Each ring comes with a warranty ensuring long-term satisfaction.
When discussing these fantastic heirlooms-to-be, we cannot forget about Ring Durability – after all, a keepsake is only worth keeping if it lasts! Fear not because Jostens assures durability by crafting each ring meticulously using high-quality materials designed to withstand time while retaining its luster.
Graduation Products
Whether it's Graduation Trends, Diploma Frames, Commencement Invitations, Graduation Gifts, or Cap Decorations; Jostens has got everything covered to mark your success in style.
One of the top sellers at Jostens is their collection of Diploma Frames. These are not just any frames; they're crafted meticulously to preserve and display one's hard-earned diploma. They come in various designs which can be personalized according to individual preferences.
And let's not forget about gifts. The best part about accomplishments is sharing them with others by giving thoughtful tokens like our unique selection of Graduation Gifts!
| | |
| --- | --- |
| Product Type | Description |
| Graduation Trends | Latest trends in graduation fashion and accessories |
| Diploma Frames | Personalized frames for displaying diplomas |
| Commencement Invitations | Customizable invitations for announcing graduation |
| Graduation Gifts | Wide variety of meaningful presents for graduates |
| Cap Decorations | Creative decorations for adding a personal touch to graduation caps |
So next time someone asks what makes graduations so special – don't just tell them it's about crossing another hurdle in life but also about all the small things that add up to make it a grand celebration, thanks to Jostens!
Sports Apparel
At Jostens, they understand that every sport requires unique attire; hence, they offer a diverse range of Athletic Uniforms. Whether you're looking for basketball jerseys or soccer shorts, they've got it covered. They believe in equipping each athlete with top-notch gear that not only enhances their performance but also boosts team spirit.
Imagine preserving the victorious moments with custom-made championship rings or celebrating individual achievements with personalized trophies! Isn't it what makes the journey worthwhile Moreover, if you're looking for something more personal, consider their line of Custom Jerseys. They are perfect for showcasing individual identities within a team while maintaining unity.
They extend beyond clothing into providing integral Team Equipment. From football helmets to baseball bats – everything needed by athletes to excel in their respective games is readily available under one roof.
Additionally, understanding how important it is for an athlete's body to breathe during strenuous physical activities, they provide high-quality Performance Gear. Their selection includes moisture-wicking fabrics designed to keep players cool and dry during intense workouts or competitions.
Personalized Gear
From trendy hoodies, custom-printed t-shirts, and stylish jackets to embroidered caps, Jostens takes pride in offering a vast selection of high-quality merchandise that you can customize to reflect your individuality or commemorate a special event. The customization options are not limited to apparel only; they extend further to accessories like bags, jewelry, water bottles, phone cases, and much more.
The beauty of personalized gear lies in its ability to create lasting impressions while simultaneously serving practical utility. Whether it's an annual sports event or graduation ceremony, make those memories tangible through our range of event souvenirs.
Not just events but also birthdays, anniversaries, or any other occasion worth celebrating can be made memorable with our lineup of beautifully crafted personalized gifts. And when holidays roll around the corner, look no further than Jostens' holiday merchandise collection for thoughtful gift-giving solutions. Choose from vibrant themed shirts expressing festive cheer or cozy blankets perfect for snuggling in on cold winter nights all customizable as per your wishes!
Jewelry Care
Preserving the shine and splendor of your personalized jewelry requires a bit of know-how allow us to guide you through this crucial process. The first step is jewelry cleaning; it's important not to let dirt, sweat, or any other form of grime stay on your precious pieces for long periods. Cleaning should be done gently using soft bristled brushes and non-abrasive cleaners. For more delicate types such as pearls, just a simple wipe-down with a moist cloth will do the trick.
The next step involves proper storage solutions that are key in maintaining your jewelry's brilliant luster over time. Here's our recommendation:
Gemstones: Store them separately. They can scratch each other and also damage metals if kept together.
Metals: Use anti-tarnish strips. These absorb oxidants that cause tarnishing. Rolled-up in individual clothes is ideal too!
Pearls & Other Delicate Pieces: Soft pouches. Keeps them free from scratches and dust particles
Maintaining the quality of gemstones entails avoiding direct exposure to harsh chemicals like chlorine or detergents which could lead to discoloration – so remember to take off those rings before scrubbing down the kitchen sink! Also vital for gemstone care is protecting them from extreme temperature changes, which might cause some stones to crack.
Jostens and Technology
The company is a shining example of how traditional businesses can incorporate Digital Transformation in their operations to stay relevant and competitive in this tech-dominated age. With an aim to elevate customer experience to new heights, Jostens has embraced various Tech Innovations, like AI-powered customization tools, advanced data analytics for optimized marketing strategies, and seamless integration across multiple devices.
The influence of e-commerce on today's retail landscape cannot be understated, especially when it comes to personalizing shopping experiences.
To keep pace with these changing dynamics, Jostens leverages the vast potential of the virtual marketplace through its intuitive e-commerce platform.
This approach not only provides unparalleled convenience for customers but also enables Jostens to reach wider audiences and engage them more effectively.
Additionally, they prioritize Online Security by employing robust measures such as encryption technologies and regular system audits ensuring safe transactions and protection of user information. Lastly, recognizing the growing dominance of smartphones in our lives, Jostens has invested significantly in developing interactive mobile applications that offer easy navigation and lightning-fast response times.
Frequently Asked Questions
1. How does Jostens ensure the quality of its products
Jostens ensures the quality of its products through strict quality control measures in its manufacturing process. They adhere to high-quality standards and showcase craftsmanship excellence. If a product doesn't meet these standards, Jostens offers a product guarantee to repair or replace it at no extra cost.
2. What materials does Jostens use in their jewelry and other products
Jostens uses a variety of materials in their jewelry such as gold, silver, and non-precious metals. They follow sustainability practices in sourcing these materials to minimize environmental impact. Their products are designed to be hypoallergenic, limiting allergenic materials for customer safety. Jostens offers customization options with durable materials ensuring long-lasting keepsakes.
3. Does Jostens offer any special discounts or promotions
Yes, Jostens does offer special discounts and promotions. These are available during certain promotional periods and are subject to their coupon policies. Discounts can be applied to various categories of products they sell. Also, some exclusive membership benefits might include additional discounts. However, eligibility for these discounts may vary, so it's important to check the details on their website or with a company representative.
4. Are there any collaborations between Jostens and other companies or brands
Yes, Jostens has collaborated with other brands to create unique and innovative products. These partnerships benefit both companies by allowing them to combine their strengths in designing collaborative pieces that resonate with customers. This kind of brand integration often leads to successful cross-promotion strategies, increasing the visibility and impact of both brands involved.
5. How does Jostens handle disputes or complaints from customers
Jostens handles customer disputes or complaints through a process focused on complaint resolution and dispute handling. If a customer isn't satisfied, they first try to address the issue with service improvement measures. This includes understanding the problem, finding possible solutions, and taking action to correct it. If a satisfactory solution still can't be found, Jostens has refund policies in place. The goal is always to maintain high levels of customer satisfaction.
Final Thoughts on Jostens
The company's evolution has been nothing short of extraordinary, merging time-honored craftsmanship with advanced technology to create products that capture life's most important moments in unique and memorable ways. Its deep-rooted brand identity resonates with millions across America who associate Jostens with quality commemorative jewelry, yearbooks, graduation regalia, and more.
The market analysis reveals an interesting trend regarding Jostens' competitors; while other companies might be faster or cheaper, none have managed to match Jostens' powerful combination of heritage, product quality, and customer-centric tech innovations.
Amidst fierce competition, it's not always easy being green but for this Minnesota-based stalwart, their secret sauce appears to be just that: staying true to its roots while embracing change and adaptation like a chameleon on St Patrick's Day!
As we look toward the future prospects of Jostens', it seems pretty clear -the sky isn't merely the limit; it's the starting line. With continuous investments in innovative technologies tailored specifically towards improving consumer experiences- such as implementing augmented reality into their online shopping journey- they're kicking traditional boundaries to curb the status quo outta the park! So here's raising our proverbial glasses (or class rings) to Jostens may your legacy continue to inspire generations yet unborn!
<div class='toc'><ul><li><a href=#Company-Background><b>Company Background</b></li><li><a href=#Range-of-Products><b>Range of Products</b></li><li><a href=#Yearbooks><b>Yearbooks</b></li><li><a href=#Class-Rings><b>Class Rings</b></li><li><a href=#Graduation-Products><b>Graduation Products</b></li><li><a href=#Sports-Apparel><b>Sports Apparel</b></li><li><a href=#Personalized-Gear><b>Personalized Gear</b></li><li><a href=#Jewelry-Care><b>Jewelry Care</b></li><li><a href=#Jostens-and-Technology><b>Jostens and Technology</b></li><li><a href=#Frequently-Asked-Questions><b>Frequently Asked Questions</b></li><li><a href=#Final-Thoughts-on-Jostens><b>Final Thoughts on Jostens</b></li></ul></div>