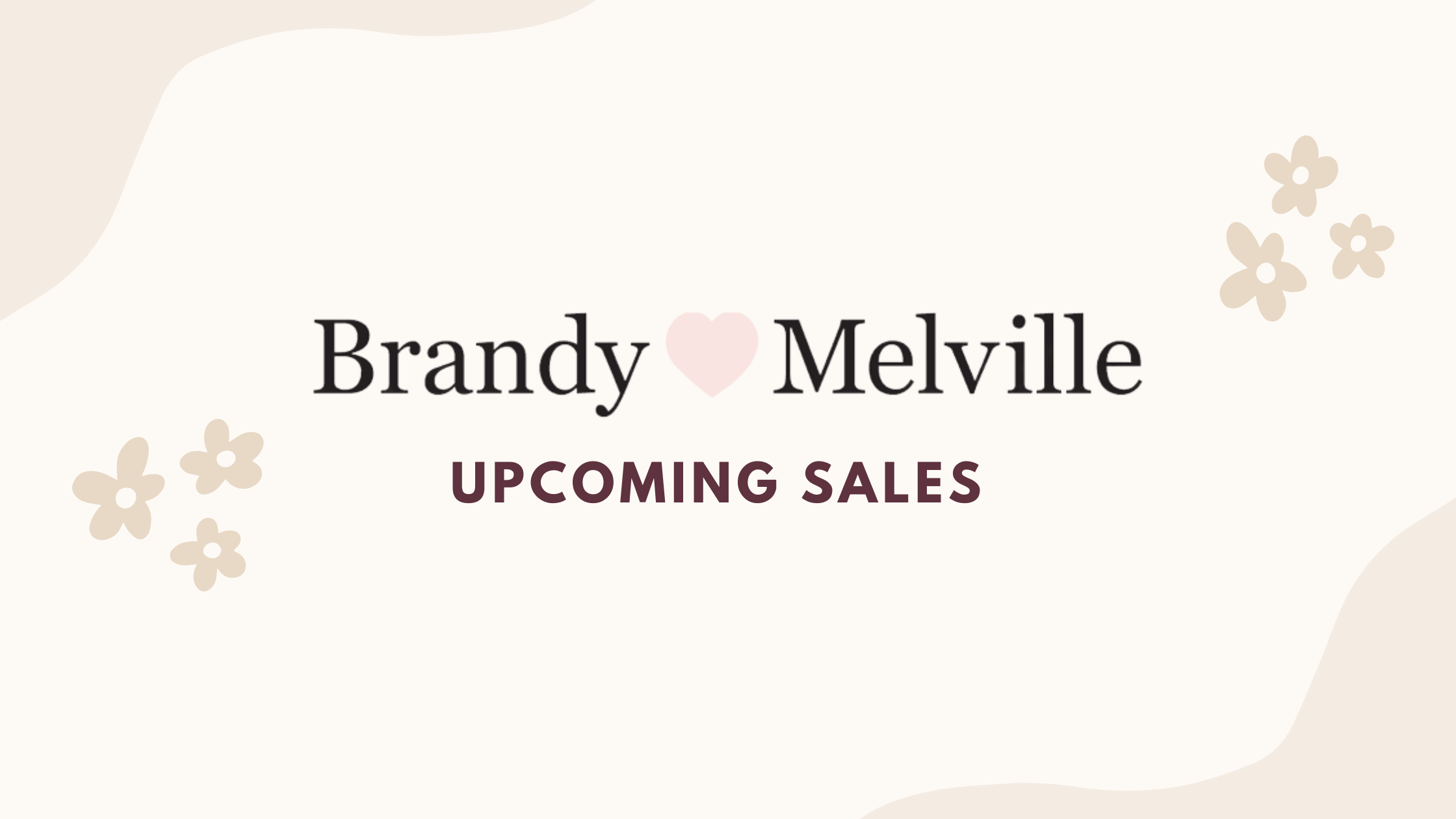 Brandy Melville is the leading online destination for women looking for fashionable yet affordable clothing. Through the power of word-of-mouth marketing, the brand has grown by leaps and bounds over the years to become the most preferred destination for setting a new trend in the fashion world by offering some relevant, cool, and fast fashion.
According to a Piper Jaffray report, the brand took the #1 spot for up-trending brands in 2014 and also became known for holding unique cash-only fashion sales. However, when it comes to the brand, there is a lot to know. We've compiled a guide to help you understand everything Brandy Melville has to offer its customers, including upcoming sales, discounts, year-long offers, and much more. Read further!!!
Does Brandy Melville Hold Sales Online?
Yes. According to our research, Brandy Melville has limited online sales all year. However, one can take advantage of their offline cash-only sales, such as the Warehouse sale, to get the best clothes and fashion accessories at the lowest prices ever, with everything priced at $5 and up to $15.
When Does Brandy Melville Have Next Sales?
Ongoing Brandy Melville Sale is New Year where they give 10% to 20% discounts across all categories. Brandy Melville runs regular sales all over the year, and special holiday sales as per season, but usually does not advertise any dates in advance. Most of the sales by Brandy Melville, over the years were large-scale offline events, meaning they were mostly cash-only sales, but currently, one can witness online sales happening more frequently.
To learn more about Brandy Melville's sales, and some of the discounts one can get, read through the below section.
List of Brandy Melville Sales
The following are some popular sales and discounts that you can take advantage of.
1. New Year Sale: New Year, Brandy Melville has unimaginable deals for shoppers. The discounts are valid on new arrivals, bottoms, tops, and more. During this sale, new users can get up to 20% off their entire order. So, do check out the latest offers to save more.
2. Warehouse Sale: The Warehouse sale is Brandy Melville's most popular sale, offering discounts on all available categories. One can shop for a variety of collections, including the best tops for women, jeans, graphic tees, and more. All of the products are reasonably priced, with prices starting at $5 and rising to $10 and $15. Typically, this sale is scheduled to run nonstop for two to three days.
Online payments are not encouraged during this sale event, meaning it is entirely cash-based. If you want to take part in this offline sale, make sure you arrive hours ahead of time to ensure you get the best products. The best collections, valued at $50 or more, are available for as little as $10. That is the amount you can save. A deal? Right!!!
3. In-Store Sale: Brandy Melville offers its customers special deals every single day of the year, unlike special sale occasions like Warehouse. Special discounts are available on a variety of products, including shirts, graphic sweatshirts, hats and caps, hair accessories, and so on.
4. Garage Sale: Brandy Melville's Garage Sale is similar to the Warehouse Sale, but it is mostly held in the United Kingdom. You can browse thousands of collections, all of which are priced at 5?/15?/20?/25?.
The majority of these sales are held in large halls, with clothes arranged in boxes according to style or category. If you see something you like, grab it without thinking twice. And, as a pro tip, bring your own bags so you can dump as much as you want without relying on the plastic carry bags provided at the sale event.
5. Thanksgiving Sale: Every year, on Thanksgiving, which is essentially the fourth Thursday of November, Brandy Melville hosts a holiday sale. Customers can shop for sweaters, tank tops, intimates, cargo, and much more at this sale with a flat 20% discount applied to everything. The deals are only available in stores in the USA and are cash-only. While some stores open at 7 am, major retailers that draw large crowds of shoppers throw their doors open at midnight.
The Grove, Walnut Creek, Topanga, Westlake, Studio City, San Diego, Broadway, Irvine, Santa Monica, San Francisco, and Ala Moana are just a few of the well-known Brandy Melville locations.
6. Black Friday Sale: This popular Brandy Melville sale takes place right after Thanksgiving. Customers can take advantage of thousands of discounts on thousands of items during this sale, including Brandy Melville's jewelry collections and bags, socks, belts, and more. Check out the buy one, get one offer at Brandy Melville if you plan to shop there during this sale.
8. Cyber Monday Sale: During this sale, one can shop and receive a minimum of 10% off, free shipping, and other advantages. Typically, this sale is less popular than the others mentioned above, but you can be sure to find some excellent discounts and bargains. During this specific sale, Brandy Melville announces coupon codes on its social media platforms, which can help you save an additional 20% on all of your purchases.

9. Christmas: Beginning on Christmas Eve, Brandy Melville has unimaginable deals for shoppers. The discounts are valid on new arrivals, bottoms, tops, and more. During this sale, new users can get up to 20% off their entire order. So, do check out the latest offers to save more.
Brandy Melville has a number of popular sales for Christmas, including reductions on the Demin jackets, Cargo trousers, puffer jackets, crop shirts, crop jackets, and many other lines. In addition to the previously indicated normal discount, Brandy Melville will also offer coupons to customers on all of its social media platforms, particularly Instagram. We also have some encouraging news for Australians. You may be sure to receive the finest bargain as the new shop in Melbourne's Chapel St, South Yarra, is open to the public. Savings are assured; however, this may be more of an offline sale.
Others: Amazon, Walmart, and other retailers also provide discounts on Brandy Melville products. These eCommerce behemoths have additional discounts for online shoppers that offer up to 70% off when using Brandy Melville's coupons and promotional codes.
Even if Brandy Melville does not run a popular sale during certain seasons, you can check out these platforms. During a time like this, some simple ways to save money include using specific banks for total order concession, using specific sale-related coupons, and so on.
About Brandy Melville
Brandy Melville is a clothing and fashion accessory company that targets teenage girls and young women. Silvio Marsan and his son Stephan founded the brand in 1970 in Italy, and it has a fascinating backstory. It's a fictional story about two people, an American girl named Brandy and an English guy named Melville, who met in Rome and fell in love, which inspired the brand's name and logo.
This popular fashion brand has grown by leaps and bounds since its inception, and in 2009, it took a flight to Los Angeles, USA. Despite its European origins, Brandy Melville modifies its pricing, accessories, and clothing styles for its American customers to ensure that they receive the best of the best clothes and accessories.
Brandy Melville currently sells its products online (its official website) and in physical stores in China, Singapore, United Arab Emirates, the Philippines, Canada, the United Kingdom, and other countries, including the United States and Europe with a record, nearing 100 stores.
Brandy Melville Categories & Discounts
From clothing to accessories, Brandy Melville has thousands of products in well-liked categories to meet all of your needs. Let's look at everything the brand has to offer in the section below, including its most popular products, their price ranges, special offers, and more.
Basics: This category is divided into three sections: tanks, t-shirts, and bottoms, with prices ranging from $14 to $28. Jillian Basic Cotton Top, Sheena Basic Tank, Ribbed Crop Top, Mirabelle Dress, and other popular collections can be found in this section.
Clothing: This section contains a wide range of collections, including sweatpants and sweatshirts, as well as sweaters, bottoms, tops, jackets, matching sets, intimates, dresses, and much more. Starting at $7 and going up to $58, the category has everything you'd ever need to fill your closet with classy, stylish, cool, and sassy clothing. The best clothing products in this section? Here they are – The Ronnie Floral Lace Tank, Faith Reversible Puffer Jacket, the Brielle 90's Jeans, the Boy Short Underwear, the Alex Denim Jacket, Emery Lace Shorts, etc to name a few. However, if you want to learn more about some of the best online shopping sites and apps that offer discounts on Brandy Melville products and a variety of other popular brands, please visit our linked blog post, which contains detailed information on the subject.
Graphics: Because of the variety of designs, refined colours, and prints, this section is undoubtedly the most popular among young teenage girls. Some of the company's best-selling and eye-catching collections include the Penelope Chill Since '93 Top, Chole Hypnotic Top, Christy Chill Since 1993 Taipei Hoodie, Erica Yosemite Sweatshirt, etc. The collections start from $18.
Accessories: Brandy Melville offers stylish and affordable accessories that are perfect for women. Their rings, necklaces, bracelets, earrings, bags, purses, pouches, belts, caps, and more start at just $3! Brandy Melville has something for everyone, whether you're looking for a special gift or want to add some personality to your own wardrobe.
Additional Brandy Melville Savings
There are a few ways one can save on Brand Melville clothing and fashion accessories. Take a look at the below options:
Amazon:When purchasing Brand Melville products on Amazon, one can receive a flat 10% off, free one-day delivery (applicate to Prime users), and other benefits.
Student Discount Codes: Exclusive student coupons are available from a variety of platforms that sell Brandy Melville's products on their website. These codes can be entered during the payment process for additional savings.
Third-Party Retailer: When you buy Brandy Melville products from a third-party retailer, you can save even more. The products from Brandy Melville can be found in stores such as Amazon, Etsy, Pacsun, and others.
Also Read: Stores Like Brandy Melville
How to Get Notified of Brandy Melville Sales?
As previously stated, Brandy Melville does not advertise its sales weeks in advance, as some brands do. Typically, it will publish a shout-out post on its social media handles such as Instagram and Facebook, in which it will share information about the sale such as the location (if in-store), exclusive coupon codes, new user offers, and the offer decided for a specific sale event.
We hope you enjoyed reading this blog post and learned about what this brand has to offer throughout the year. Please let us know if there is anything else we should include. We would be delighted to do so.
Brandy Melville FAQs
1. Why is Brandy Melville So Popular Among Teenage Girls?
For pre-teen and teen girls, Brandy Melville has emerged as the go-to brand for apparel and accessories in the last 20 years. In addition to its warehouse sale, which has everything from $5 to $15, it is well known for its assortment of collections, particularly tops, graphic tees, and cozy sweatshirts.
2. What Is The Brandy Melville Next Sales Date?
Brandy Melville typically does not publish any dates for its year-round regular sales or its seasonal holiday sales. Over the years, the majority of Brandy Melville's sales have taken place at sizable offline events that were primarily cash-only transactions, but today's online sales are more common and often have fantastic offers. Please read the section below if you're looking for information on Brand Melville's current sales.
3. Are Brandy Melville's Clothes Of Good Quality?
Of course, all Bandy Melville clothing is of high quality and reasonably priced. Aside from clothing, accessories such as belts, caps, and so on are known for their durability, making them a one-stop shop for all shoppers.
4. What Age Groups Does Brandy Melville Target?
Brandy Melville has become the go-to destination for all fashion lovers and is best for teenage girls between the ages of 12 to early 20s.
5. What Is Brandy Melville's Fashion Style Like?
Brandy Melville's style is described as "California cool" by the majority of young people. The styles are super classy, and fresh, and they take inspiration from 90's retro fashion, which makes them popular among teenage girls.
Conclusion
Thank you for taking the time to read through this article and staying updated on the latest sales and discounts. We appreciate your support and hope that you found the information useful. If you're interested in exploring more shopping opportunities, we invite you to check out our informative sale article on Bloomingdale's. Discover the latest trends, promotions, and exclusive deals that await you at this renowned department store.
Happy shopping, and we look forward to sharing more informative articles with you in the future!