Even when the pandemic was at its peak, the airline industry in the US alone managed to generate over $130 billion in revenue. And that too, with a 49% decline in air travel in the year 2020, which is about 559 million passengers. All this was possible because people were not aware of the top secret way of booking flights. That's why this article will enlighten you on the best time to book flights and save money.
When Is The Best Time To Book A Flight?
Historically, it's been cheaper to fly during the week than on the weekends – especially Sundays. We went on various flight booking sites to find out the cheapest days to fly. Here's what we found!
Best Day To Book Airline Tickets(Domestic)
According to Google Flights historical flights data, the prices for U.S. domestic flights tend to be their lowest 21-60 days prior to departure, with the average price reaching its lowest point 44 days beforehand.
According to CheapAir study based on the last 12 months of data, best day to buy the flight tickets is 76 days out from the travel date. The cheapest day to travel is Wednesday, whereas the most expensive day to travel is Sunday.
This graph shows the best day to buy airline tickets. However, prices often fluctuate, so you might not find the exact same prices, but they will be similar.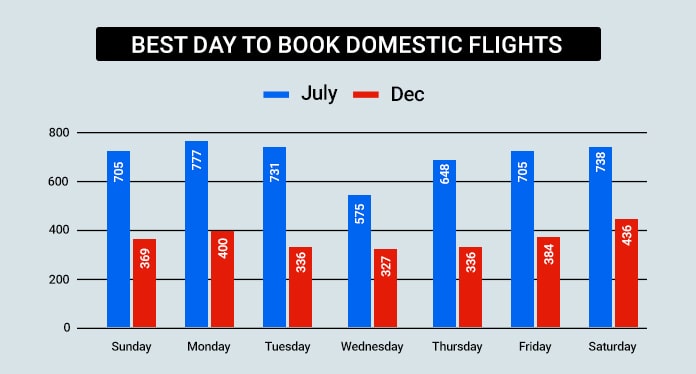 The average price of flights is lower when tickets are bought on Tuesdays, Wednesdays, or Thursdays than when they are bought on Saturdays or Sundays.
Wednesday is the cheapest day to book flights throughout the week, followed by Thursday. But as we observed on the site, if you book your flight 4-5 months in advance, it gets even cheaper.
We concluded that it's best to book flights 2-3 months in advance, rather than waiting till the last day when prices for flights skyrocket. Moreover, the destination and time of the year may also affect the prices. For example, if you are planning to travel in the holiday season, the prices will be high as there will be a lot of demand.
When Is The Best Time To Book A Flight For International Travel?
When it comes to international flights, it's better to make the bookings sooner rather than later. Also, the prices for international flights are dictated by the destination and season.
Best Day To Buy Plane Tickets(International)
We dug deeper into various flight booking websites to find the best day to book flights. Here's what we found: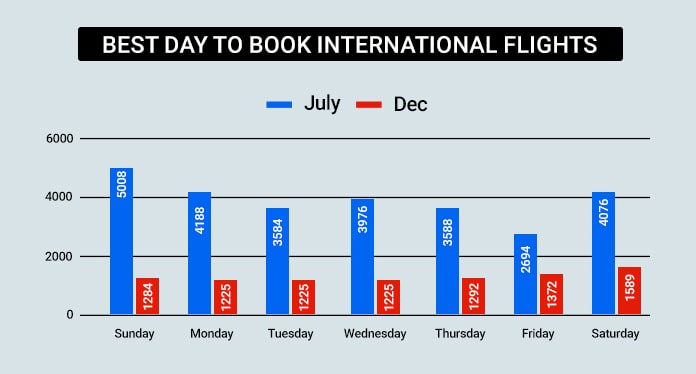 Here we could find similar results to domestic flights, but there were too many variations. For instance, even though Wednesday prices are lower, predicting the cheapest price in a month is harder.
However, we found that booking a flight half a month in advance gives way better prices. But if you want it to be even cheaper, book your flights 2-3 months in advance. As you can see in the chart, flight prices in December are way cheaper than the current date.
When is the Best Time to Book Flights for Christmas?
For domestic Christmas holiday travel, it is best to plan a bit further ahead. In the past, the lowest prices for airfare were found 36-74 days before departure, hitting their lowest point 52 days out.
Best Time to Book a Flight for Summer Travel
As we slowly enter summer, people are starting to plan holidays and getaways to other countries or states. This shift in demand can show an upward trend in flight prices, so to find out the best time to buy plane tickets for summer travel, we had to do some in-depth research.
As it turns out, the sweet spot for booking flights for summer holidays is 2 ½ months before departure. For example, if you book a round-trip flight to Spain from California on September 4th, it will cost you $900. Whereas, the same ticket costs $2,846 dollars in June, when this blog was written.
Best Time to Book a Flight for Holiday Travel
The best time to buy flight tickets for this holiday season is 64 days before the departure date. But that doesn't mean better prices won't show up on other days. You should scour various flight booking sites to get the best price. The 64-day mark just means the best prices may show up around that day.
It might seem like Thanksgiving and Christmas are far away enough, but if you are planning to visit your grandmother in a different state, you will have to book your flight right away because a lot of people will have the same idea and the prices will increase. Start monitoring the booking prices and buy the tickets when you see a price you like.
Best Time to Book Spring Break Flights
Are you getting ready for the winter travel season and worried about flight ticket fares? Planning and booking the flights in advance is a good idea. The prices for domestic trips tend to be lowest 23-59 days before departure, and 38 days out is when they've hit their lowest point.
Best Time to Book Flight Ticket from USA to Other Countries:
According to CheapAir study, best day to buy the flight tickets for your Canadian travel is about 2 months out from your travel date.
Best day to buy the flight for Mexico is about 2 months from your planned travel.
The best deals to book the flight tickets from U.S. to Europe are typically found about 129 days before departure and prices tend to be lower anywhere between 50 and 179 days out.
Best time to buy the flight for Caribbean is about 69 days out from the travel date.
Central America's best time to book the flight ticket is 68 days out from the travel.
Best buy to book South America's flight tickets is 80 days out from the planned date.
How To Save On Flight Tickets?
The demand for flights has gone sky high as more and more people choose flights over other means of transportation. And consequently, the prices have also gone up. We have brought you these tips and tricks to help you save money on flight tickets:
The first tip is to start tracking flights way in advance to observe the price fluctuations. This way, whenever the price drops you can buy the tickets.
Next you should use Google Flights or Hopper to receive price change notifications.
Rather than booking flights from the companies' websites, use flight booking sites like CheapOair, Hopper, SmartFares or Qatar Airways.
You could book a package deal, which means you can book a hotel alongside the flight tickets. Doing this will get you great deals and discounts.
In case you own a credit card, you must have accumulated some miles. It's time to use those miles and save money on flight tickets.
Use the 24 hour rule to cancel your tickets in case there is a price drop.
Always compare different websites for prices.
Check which is the best day to buy airline tickets and accordingly you can book your flights.
Tips For Finding Cheap Holiday Airline Tickets
Having a clear idea of what you are going to do can bring clarity. But did you know? It can also help you get cheaper prices on flight tickets, but this requires a solid strategy. Don't worry, we have got you covered on that front as well. Use this strategy to save money on your next trip.
First, you need to sign up for updates from Google Flights or some other site that sends you notifications when there is a price drop. This way, you don't have to check prices every day, especially during holidays.
Now that you have signed up for updates, wait till you receive the best price, and once you find a price that you like, compare that price to other websites.
You can also consider traveling on holidays like Christmas, as on the actual date, people don't like to travel which brings the prices down.
Now you are all set. Book your flight and start traveling.
Best Airline Services To Book Cheap Airline Tickets
Hoping you understand when is the best time to book a flight, let's look at where you should book the flights. There are various platforms available for booking flights, but choosing the right one can help you get more discounts. So, here are a few websites with the best offers for you:
1. CheapOair
CheapOair is a well-known website where millions of people book their flights on a regular basis. The website has various features to help you find the right flight and also a place to stay. So, head on over to their website to book your next flight, and here are some CheapOair coupons to help you save money.
Furthermore, CheapOair has a variety of seasonal sales throughout the year with massive discounts available. It is currently offering Black Friday and Cyber Monday sales, which will undoubtedly help you save money on domestic and international flight bookings. Aside from that, you can subscribe to its newsletter to receive exclusive deals as soon as they become available.
2. SmartFares
SmartFares is an all-in-one destination for traveling. Be it flight tickets or hotel room bookings, SmartFairs can help you plan your next trip with ease. And here's some great news: get great deals with SmartFares discounts from GrabOn.
In addition to using coupons, one can avail of the most competitive deals and discounts on airfares on this Black Friday. You can happily fly your family and friends to some of the most beautiful places in the world, and give them the best present of their live. SmartFares latest offering this Black Friday sale includes a massive price cut on select cities like New York, Los Angeles, London, Paris, Dubai, Bangkok, and more.
3. Qatar Airways
If you want to book flights directly from the company's website, Qatar is a great option. They have an "explore" section where you can discover new places to visit and get information about tickets at the same time. And to make your next trip with them cheaper, here are some Qatar Airways deals.
While Qatar Airways has some of the best membership plans with massive discounts, its holiday flight ticket sale is something you should take advantage of. With its upcoming Black Friday deals, you can save between 30% and 65% on your next vacation, on your flights, get up to 50% off on extra luggage, etc. For the most recent fares and discounts, visit the website and see what's best for you.
FAQs
Is there a best day to book flight tickets?
Yes, According to few studies based on historical data, best day of the week to book a flight is Wednesday and Thursday is the second cheapest flight prices day of the week.
Which month is the best to fly?
January is the cheapest month to travel and February is the second least expensive month of the year to fly.
Which month is the most expensive month to fly?
December is the most expensive month to travel and November is the second most expensive month to fly.
How far in advance should you book your flight?
It's a great idea to book your flights 2-3 months in advance. Additionally, you can monitor the prices on different days to get the best possible price on your bookings.
Should I buy flight tickets individually or in a group?
It's better to buy tickets individually because if you book all the seats at once, you will be paying the same amount for each seat. Whereas, if you buy tickets individually, you may get lower prices on some of the seats.
How to find out about unannounced sales for flights?
Airlines generally announce sales in advance, so you will have to start checking for sales in advance as well. For instance, the Christmas sale is live on CheapOair.
Has Covid affected the best time to buy airline tickets?
Initially, yes, but things have slowly come back to normal. But the next wave of Covid may also affect prices.
Which time to avoid booking a flight ticket?
The worst time to book flights would be last minute bookings, and our research showed that Sundays and Saturdays had the highest prices for flights.