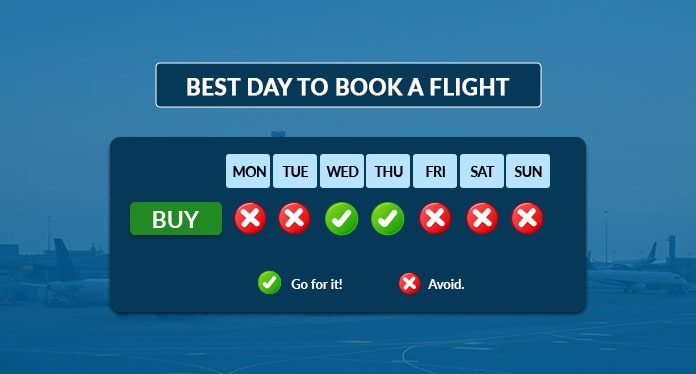 Well, well, well…Summer's just in, and most of you have your big summer trip planned. When did you book your flight tickets? How much did it cost you? We are sure some of you paid more than what you were budgeting for. Isn't it? Booking flight tickets is an art form – it requires you to paint a bigger picture of where and when you plan to travel while also focusing on the little deets, such as how many months early you should book your ticket and the airlines to consider.
If you've already booked your tickets, we wish you happy travels (but bookmark this blog before planning your next trip!); however, if you are planning for a winter wonderland or a ski kinda trip, you've reached the right place at the right time. Consider this blog your final boarding call to get all the valuable insider information on the best time and day to book your flight tickets. So, let's take off!
What is the Best Day to Book a Flight?
Let's face it. Airline fares are expensive! We all know a 'somebody' who claims booking flight tickets on Tuesdays is cheaper than on Fridays. Or that midnights are the ideal times to make the purchase. These sure are common (but very popular) myths. Previously, Tuesdays were cheaper since most airlines released new sales, and other airlines went above and beyond to match the sale prices. But this doesn't stand true today.
A recent research conducted by Expedia on 4 years' worth of flight travel data revealed that contrary to most beliefs, Sunday is the cheapest day to book flight tickets with travelers saving almost 5% on domestic flight bookings and up to 15% on international bookings.
Google Flights on the other hand says booking a flight ticket between Tuesday and Thursday tends to be cheaper but with a margin of 1.9%.
Be it a mid-weekday or the weekend, deals on flights and travel do not follow a set pattern. Shedding light on the same, Hayley Berg, the lead economist at Hopper says, "There are many factors that impact pricing, so there is no golden rule that applies to all flights, nor is there a specific time of day, week [or] month that is better to book, in general. It all varies, depending on the route you're flying, etc."
How Many Days in Advance is it Ideal to Book Airline Tickets (Domestic)?
According to Google Flights' historical flight data, the prices for U.S. domestic airlines tend to be their lowest 21-60 days prior to departure, with the average price reaching its lowest point 44 days beforehand. Another study by Expedia stated the golden time period to be 28 to 35 days. However, we recommend you book your domestic air ticket at least 1 month prior to your departure date.
Now that you know when to book your flight tickets, let's also talk about the best day to fly. After thoroughly researching website after website, we found out that the cheapest days to fly domestically are weekdays, specifically, Tuesdays and Wednesdays where you can save about $85 on a round-trip. The next feasible options are just a day before or after Sunday (Saturdays and Mondays) where you can save about $50.
How Many Days in Advance is it Ideal to Book Airline Tickets (International)?
International trips need planning far in advance when compared to domestic trips. It is optimal to book a flight ticket about 6 months in advance to save about 10%, as suggested by Expedia. Even CheapAir has a timeline mapped out that states that 1.5 to 5.5 months (or 46 to 164 days) is the 'Prime Booking Window' for international trips.
But, when is the best time to fly international?
Flying out on a Thursday can help you save up to 6% (or $60) on round trips and since most people travel during the November-December time frame, the months post the holiday season (January and February) are the cheapest months to fly.
Best Time to Book Flight Tickets from USA to Other Countries
According to CheapAir, the best day to buy flight tickets for your Canada trip is about 2 months from your travel date.
The most ideal time to buy flight tickets to Mexico is about 2 months before your planned travel.
The best time frame to book flight tickets from the U.S. to Europe is typically found about 129 days before departure and prices tend to be lower anywhere between 50 and 179 days.
The best time to buy airplane tickets for a Caribbean getaway is about 69 days from the travel date.
68 days before the date of travel is optimal for a trip to Central America.
The best time to book your tickets to South America is 80 days from the planned departure date.
Best Time to Book a Flight for Summer Travel
As we slowly enter summer, people are starting to plan holidays and getaways to other countries or states. This shift in demand can show an upward trend in flight prices, so to find out the best time to buy plane tickets for summer travel, we had to do some in-depth research.
As it turns out, the sweet spot for booking flights for summer holidays is 2 ½ months before departure. For example, if you book a round-trip flight to Spain from California on September 4th, it will cost you $900. Whereas, the same ticket costs $2,846 dollars in June.
Best Time to Book a Flight for Holiday Travel
The best time to book air tickets for this holiday season is 64 days before the departure date. But that doesn't mean better prices won't show up on other days. You should scour various flight booking sites to get the best price. The 64-day mark just means the best prices may show up around that day.
It might seem like Thanksgiving and Christmas are far away enough, but if you are planning to visit your family/friends in a different state or country, you will have to book your flight right away because a lot of people will have the same idea and the prices will increase. Start monitoring the booking prices and buy the tickets when you see a price you like.
Worst Day To Book Flights
Have you ever wondered which day of the week is the worst for booking flights? Well, according to ARC's 2023 report, it turns out that Friday takes the crown as the worst day to book flights. Be it for domestic or international travel, these two days are considered to be the worst days to book flights. But what makes Friday the worst day? Let us shed some light on this curious finding. As per the report, more and more people plan their travel as the weekend approaches which results in a surge in flight bookings. And as you can imagine when the demand goes up, so do the prices. Airlines are quick to respond by raising their ticket prices on this particular weekday, leaving us travelers with fewer pennies in our pockets.
In fact, you can expect flight costs to spike anywhere between 5% to 15% on Fridays compared to other days of the week. That's quite a significant increase just because it's the start of the weekend rush. So if you're looking to save some money, it's wise to avoid booking your flights on Fridays.
Now, you might be thinking, "What about Saturdays? Are they any better?" Hard luck!! As per the report from Hopper, Saturdays don't date much better when it comes to flight prices, and the pinch is evident in domestic travel. So, if you want to maximize your savings and avoid unnecessary expenses, it's best to steer clear of booking flights on Friday or Saturday. Instead, try to be a bit more strategic and consider booking on other weekdays when the demand is lower, and the prices are more favorable.
How To Save On Flight Tickets?
The demand for flights has skyrocketed as more and more people are opting to travel by flight over other means of transport. Consequently, the prices have also gone up. We have some tips and tricks to help you save money on flight ticket bookings:
Track flight prices to observe fluctuations. This way, whenever the price drops you can buy the tickets.
Use Google Flights or Hopper to receive price change notifications.
Rather than booking flights from the companies' websites, use flight booking sites like CheapAir, Hopper or SmartFares.
Opt for a package deal, which means you can book a hotel alongside the flight tickets. Doing this will get you great deals and discounts.
In case you own a credit card, you must have accumulated airmiles. Use them to save money on flight tickets.
Leverage the 24 hour rule to cancel your tickets in case there is a price drop.
Always compare different websites for lower prices.
Best Airline Services To Book Cheap Airline Tickets
We've covered when to book flight tickets. The next question to arise in your head is where. Right? So, let's now look at where you should book the flights. There are various platforms available for booking flights, but choosing the right one can help you get more discounts:
1. CheapOair
CheapOair is a well-known website where millions of people book their flights on a regular basis. The website has various features to help you find the right flight and also a place to stay. So, head on over to their website to book your next flight, and here are some CheapOair coupons to help you save money.
Furthermore, CheapOair has a variety of seasonal sales throughout the year with massive discounts available. Aside from that, you can subscribe to its newsletter to receive exclusive deals as soon as they become available.
2. SmartFares
SmartFares is an all-in-one destination for traveling. Be it flight tickets or hotel room bookings, SmartFares can help you plan your next trip with ease. And here's some great news: get great deals with SmartFares discounts.
You can happily fly your family and friends to some of the most beautiful places in the world, and give them the best present of their lives. SmartFares' latest offering includes a massive price cut on select cities like New York, Los Angeles, London, Paris, Dubai, Bangkok, and more.
3. Qatar Airways
If you want to book flights directly from the company's website, Qatar is a great option. They have an "explore" section where you can discover new places to visit and get information about tickets at the same time. And to make your next trip with them cheaper, here are some Qatar Airways deals.
With the Qatar Airways membership plans and massive discounts, you can save between 30% and 65% on your next vacation, on your flights, get up to 50% off on extra luggage, etc. For the most recent fares and discounts, visit the website and see what's best for you.
FAQs
1. Is there a best day to book flight tickets?
Yes, According to a few studies based on historical data, the best day of the week to book a flight is Sunday.
2. Which month is the best to fly?
January is the cheapest month to travel and February is the second least expensive month of the year to fly.
3. Which month is the most expensive month to fly?
December is the most expensive month to travel and November is the second most expensive month to fly.
4. Should I be flexible with my travel dates to find cheaper flights? 
Flexibility with travel dates can often lead to better prices, as you can take advantage of the lowest fare options available.
5. Should I clear my browser cookies to get better prices? 
Clearing browser cookies may not have a significant impact on flight prices, as prices are more influenced by demand and other factors.
6. Do flight prices change depending on the season? 
Yes, flight prices can vary significantly depending on the season, with peak travel seasons usually being more expensive.
7. Are red-eye flights usually cheaper? 
Yes, red-eye flights (overnight flights) are often cheaper due to the less desirable departure times.
8. How far in advance should you book your flight?
It is ideal to book airline tickets at least 21 days before the departure date for domestic travel. For international travel, it's a great idea to book your flights 4 to 6 months in advance.
9. Should I buy flight tickets individually or in a group?
It's better to buy tickets individually because if you book all the seats at once, you will be paying the same amount for each seat. Whereas, if you buy tickets individually, you may get lower prices on some of the seats.
10. How to find out about unannounced sales for flights?
Airlines generally announce sales in advance. You can also sign up to various newsletters and credit cards to stay up-to-date on upcoming promotions and deals.
11. How can I stay informed about flight deals and promotions? 
Signing up for airline newsletters and following travel deal websites on social media can help you stay updated on the latest flight deals and promotions.