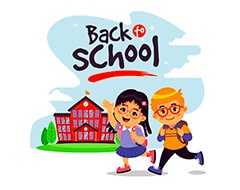 Back To School Discounts & Promo Codes
57 Coupons & Offers
57 Verified
Back To School Discounts & Promo Codes
All (57)
Coupons (11)
Offers (46)

Back To School Deals & Coupons
Details on Back To School
Trending Back To School Promo Codes, Coupons & Deals For Sep 2023
| Brands | Back To School Coupon Codes & Offers | Categories |
| --- | --- | --- |
| Ebay | Flat 20% OFF | Electronics & Fashion |
| Bloomchic | Get 20% OFF | Beauty |
| Best Buy | Up To $300 OFF | Electronics |
| Cider | Up To 60% OFF | Fashion |
| Stylevana | Up To 50% OFF | Beauty |
About Back-to-School Sales
As the summer is slowly winding down, the buzz of a new school year is filling the air, and we can't help but get excited for those long-awaited Back-to-School sales. All across the country, retailers are getting ready to shower students and parents with amazing deals on all the must-have supplies and trendy clothes. Backpacks, notebooks or the latest fashion, these sales are like a golden ticket for families to stock up on everything for a kick-start to the upcoming school season.
And guess what? There's an extra treat! Leading brands, including BestBuy, PatPat, etc., usually throw in Back-to-School coupons to add a sprinkle of budget-friendliness to the whole shopping experience. Who doesn't love saving a few bucks while still getting top-notch stuff, right? With these deals and discounts available on GrabOn, you're in for an adventure of great savings and incentives, ensuring you're all set and geared up for the exciting academic year ahead.
Categories covered under Back-to-School Sales
Electronic Gadgets: A sleek and powerful laptop or a compact tablet perfect for note-taking, the choices are abundant. Don't miss out on the cutting-edge smartphones boasting amazing camera capabilities to capture those unforgettable moments. And for staying connected and powered up throughout the day, you'll find a variety of handy accessories like headphones, power banks, and portable chargers.
Apparel: Fashion-forward students can dive into racks filled with trendy dresses and skirts, while those aiming for a more formal look can find blazers and trousers to match their style. With an array of colors, patterns, and sizes available, students can let their unique personality shine through their wardrobe choices.
Footwear: Whether you prefer comfortable sneakers for everyday wear or formal shoes that add a touch of sophistication to special events, these sales offer something for every taste. And for those sports enthusiasts, you'll find sports-specific shoes that ensure you stay at the top of your game during Phys Ed classes and extracurricular activities.
Dorm Room Essentials: If you're heading off to college, don't forget to shop for dorm room essentials. From bedding and storage solutions to small appliances and decor items, the Back-to-School sale has got you covered.
Sports and Fitness Gear: Stay active and embrace your athletic side with sports and fitness gear. Whether you need new sneakers, workout clothes, or sports equipment, you'll find great deals on items that will keep you in top shape throughout the school year.
School Supplies: From notebooks and pens to pencils, erasers, and highlighters, you'll be well-equipped for taking notes and completing assignments. But that's not all; these sales also cater to more specialized needs, providing items like calculators and art supplies.
Popular Online Stores that Offer Back-to-School Sales
Best Buy: Best Buy is a go-to destination for tech-savvy students during Back-to-School Sales. They offer savings of up to $500 on select Windows laptops, and you can snag Chromebooks for as little as $189, making it the perfect time to upgrade your academic tools. Don't forget to take advantage of the Best Buy coupons to unlock even more discounts and enjoy a budget-friendly shopping experience.
Temu: Oh, you wouldn't believe the amazing deals you'll find at Temu during Back-to-School season! They've got jaw-dropping discounts of up to 90% on a wide range of products. You name it, they've got it - from clothing and shoes to backpacks, headphones, and even jewelry - all at unbeatable prices. It's like a treasure trove for Back-to-School shoppers!
PatPat: When it comes to stylish clothing at wallet-friendly prices, PatPat is the place to be! During Back-to-School Sales, they spoil customers with discounts of up to 70% on tops, tees, jeggings, and more. It's the perfect destination for fashion-forward students who want to look good with affordability.
Tomtop: Known for its impressive range of electronics and gadgets, Tomtop is a go-to online store for tech-savvy students. With the Tomtop coupon code, you can enjoy up to 60% off during this sale. Whether you need laptops, computer accessories, or earpods they have the best quality and affordable products for you.
Camper: Back-to-School season means fantastic deals on kids' footwear at Camper. With discounts of up to 40%, you can find comfortable and stylish shoes for the little ones at affordable prices. And here's a little tip: don't forget to explore Camper's promo codes for extra savings and a delightful shopping spree for you and your kids.
Saving Tips & Tricks During Back-To-School Sales Events
As the back-to-school season approaches, numerous brands are gearing up to host special sale events tailored to help you save big on your shopping. From clothing to stationery and electronics, these back-to-school sales offer fantastic opportunities to stock up on essentials while keeping your budget in check. To make the most out of these deals, we encourage you to explore our comprehensive saving tips and tricks to maximize your savings, make informed purchasing decisions, and ensure a successful and economical back-to-school shopping experience.
Loyalty Programs and Rewards: Many retailers offer rewards programs specifically tailored for the Back-to-School season. You can sign up for these programs to unlock exclusive discounts, earn cashback, or accumulate points that can be redeemed for future purchases.
Group Buying Power: Leverage the power of collective buying to save more during the Back-to-School sale. By pooling your resources, you can often access discounted prices that wouldn't be available to individual shoppers.
Social Media Promotions: Stay tuned to your favorite brand's social media channels during this sale. Keep an eye out for flash sales, limited-time offers, and social media giveaways that can help you score even more savings.
Cashback Websites: Make online purchases through cashback websites to earn money back on your Back-to-School shopping. It's a simple way to earn some extra money while buying the items you need.
Student Discounts: Many retailers offer exclusive student discounts during the Back-to-School season. Always keep a valid student ID beside you to take advantage of these special offers.
Promo Codes: In addition to physical coupons, explore the world of virtual voucher codes. Websites like GrabOn offer a plethora of digital codes that can be applied during online checkout to save big time on your overall purchase.
FAQs
Are there any lesser-known Back-to-School deals for college students?
Absolutely! Beyond the usual discounts, some online retailers and service providers offer exclusive deals for college students. You can look for special student pricing on software, streaming services, or even gym memberships.
Can I expect any unadvertised discounts during the Back-to-School sale?
Yes, sometimes you may. To stay in the loop, sign up for newsletters or follow your favorite stores' social media accounts for announcements of exclusive savings.
Is it fine to use my student discount with other coupons during the Back-to-School sale?
It depends on the store's policy. Some retailers may allow you to stack your student discount with other ongoing promotions, while others may have restrictions.
Do I get a refund if I find a lower price for an item I purchased during the Back-to-School sale?
Some brands offer price protection policies, allowing you to request a refund or price adjustment if you find a lower price within a specified period. But you need to check the store's policy.
For More Savings Subscribe Now
We Value Your Savings As Much As You Do. Subscribe now And Keep Saving On Everything With The Latest Coupons and Offers!