Holidays
Everything You Should Know About SeatGeek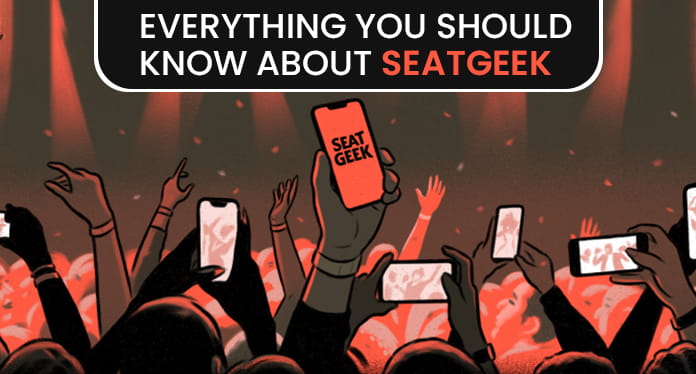 SeatGeek is an innovative ticketing platform that makes it easy to find and purchase tickets to events near you. Whether you're looking for a concert, a sporting event, or something else entirely, SeatGeek has you covered.
With its intuitive search interface and reliable customer service, SeatGeek is the go-to ticketing platform for savvy consumers. In this article, we'll cover everything from how SeatGeek works to what types of tickets they offer and more!
What is SeatGeek?
SeatGeek is a one-stop shop for concert and sports tickets, an oasis in the ticketing desert that'll get you into the action with just a few clicks. With its comprehensive selection of events to choose from, SeatGeek has quickly become one of the leading providers of event tickets online.
The company's history dates back more than 14 years; they have since developed their platform to include numerous features such as competitive ticket prices, various event categories, customer support services, review systems, coupon codes, user interface design, security features, and customer reviews.
In addition to these features, customers can also use SeatGeek's price comparison feature to ensure they are getting the best deal on their purchases. Customers who have used this service consistently report high satisfaction levels due to its convenience and reliability.
How Does SeatGeek Work?
Have you ever wondered how SeatGeek works? The ticket-buying process is simple and intuitive. You can search for tickets by a variety of criteria such as location, event type, time frame, or price range. Once you find the event and seats that fit your needs, simply click on the "Buy Now button to purchase them. When you complete your purchase, SeatGeek will send out a confirmation email with all the details about the tickets you purchased.
If at any point during the buying process, you need assistance from customer service, they are available to help via phone and chat support. Furthermore, customers have access to detailed reviews written by other users who have used SeatGeek in the past so they can make an informed decision based on their experiences before booking tickets.
Additionally, there are several different types of tickets offered on SeatGeek including general admission, reserved seating, VIP packages, and more all at varying prices depending on demand. In addition to purchasing tickets through its website or mobile app, SeatGeek also allows fans to resell their spare tickets if needed and offers refunds according to its refund policies outlined online.
What Types of Tickets Does SeatGeek Offer?
With a variety of ticket types available, SeatGeek makes it easy to find the perfect tickets for your event. Whether you're looking for affordable ticket prices or seats with great views, SeatGeek has something that meets your needs. The platform offers individual tickets in different categories such as sports, concerts, theater, and comedy shows. It also provides customers with detailed venue maps so they can choose their ideal seat locations.
SeatGeek offers several options within each category including reserved seating, general admission tickets, and more. Customers have the ability to filter by price range and view ratings from other users on every ticket type before making their purchase. Additionally, there are promotional offers available if you sign up for email notifications and some events even offer refunds if plans change. With customer service support just a click away, SeatGeek is sure to make finding the right tickets easy and stress-free!
| | |
| --- | --- |
| Event Type | Description |
| Sports | Tickets for professional and college sports events such as basketball, football, baseball, soccer, and more. |
| Concerts | Tickets to music concerts featuring a wide range of artists and genres, from rock and pop to hip-hop and classical. |
| Theater | Tickets for theatrical performances, including plays, musicals, and other live productions in theaters. |
| Comedy Shows | Tickets to stand-up comedy shows and comedy festivals featuring popular comedians. |
| Festivals | Passes and tickets to music festivals, food festivals, cultural events, and other outdoor celebrations. |
| Arts and Culture | Tickets for exhibitions, art galleries, museums, and cultural events showcasing art, history, and heritage. |
| Family Events | Tickets for family-friendly events like circuses, ice shows, children's theater, and amusement park admissions. |
| Special Events | Tickets to unique and special events such as awards ceremonies, charity galas, and exclusive gatherings. |
| Comedy Clubs | Admission to comedy clubs and venues hosting regular stand-up comedy performances. |
Features of SeatGeek
SeatGeek boasts a range of impressive features that set it apart in the world of event ticketing. With interactive seating charts, users can explore the available deals and get a visual preview of their seat view, ensuring they make an informed choice before purchasing tickets. Furthermore, SeatGeek employs a Deal Score system, color-coding deals from best to worst based on value, giving users confidence that they're getting the best possible deal.
The convenience of SeatGeek extends beyond the ticket purchase itself. Mobile tickets eliminate the need for physical prints, as users can simply display their e-tickets in the SeatGeek app to gain entry to venues. If you're attending an event with friends, there's no need to wait outside in the rain; SeatGeek enables you to send tickets to your friends' phones with a simple tap, either for free or at a cost (US only).
Additionally, SeatGeek provides a hassle-free option for those who can't make it to an event they've purchased tickets for. Users can easily sell their tickets on SeatGeek's Marketplace, with the platform even suggesting the best price to help you quickly offload your tickets. The app also offers a "Discover Nearby Events" feature, allowing users to browse tickets for various live events based on preferences such as team, artist, venue, genre, or sport.
When it comes to payment, SeatGeek offers flexibility, allowing users to conveniently pay via Google Pay or Credit Card. And for those looking for a little extra excitement, the "Daily Tap" feature lets users enter once a day for a chance to win free tickets to live events happening nearby, adding an extra layer of engagement to the SeatGeek experience.
What Are the Benefits of Using SeatGeek?
SeatGeek, the renowned ticket resale marketplace, offers a plethora of advantages for those seeking tickets to various live events, whether it's a thrilling sports match, an electrifying concert, a captivating theater show, or any other live performance.
Let's delve into the key benefits of using SeatGeek:
Wide Ticket Selection: With SeatGeek, you gain access to an extensive inventory of tickets. This means you're more likely to find those coveted seats that perfectly suit your preferences and budget.
Competitive Pricing: SeatGeek goes the extra mile by comparing ticket prices from a multitude of sellers. This ensures that you snag the best possible deal, helping you save money on your event tickets.
Convenient Delivery Options: Convenience is at the forefront of SeatGeek's service. They offer a variety of delivery methods, allowing you to receive your tickets quickly and hassle-free.
Secure Transactions: Security matters, and SeatGeek takes it seriously. Your personal and financial information is safeguarded through a secure payment system, giving you peace of mind while making transactions.
FanProtect Guarantee: Worried about the authenticity of your tickets? SeatGeek's FanProtect Guarantee assures you that you'll either receive valid tickets or get your money back, ensuring a risk-free ticket-buying experience.
But wait, there's more! Here are some additional perks that come with using SeatGeek:
Deal Score: SeatGeek employs innovative Deal Score technology to help you identify the best ticket deals, ensuring you get the most value for your money.
Verified Tickets: Rest assured that all tickets listed on SeatGeek are verified, so you can confidently attend your chosen event without any worries about counterfeit tickets.
Buyer Guarantee: The Buyer Guarantee offered by SeatGeek acts as your safety net. In case you encounter any issues with your tickets, this guarantee has your back.
Fan Support Around the Clock: Have questions or concerns? SeatGeek's dedicated customer support team is available 24/7, ready to assist you with any inquiries.
In sum, SeatGeek stands out as a reliable and convenient platform for buying and selling tickets to live events. When you're on the hunt for unbeatable ticket deals, SeatGeek should be your go-to choice.
However, it's important to keep a couple of things in mind when using SeatGeek:
Ticket Delivery Time: Depending on the event and the seller, tickets may not always be available for immediate delivery. Plan accordingly to ensure you have your tickets in hand when you need them.
Fees: Keep in mind that SeatGeek charges fees for both buying and selling tickets. These fees can vary depending on the specific event and the seller you choose.
Refund Terms: While SeatGeek's Buyer Guarantee offers protection, it's essential to review the terms and conditions thoroughly before purchasing tickets to understand the extent of coverage for potential refund scenarios.
What Are the Drawbacks of Using SeatGeek?
As convenient and useful as SeatGeek may be, there are a few drawbacks to consider before making your purchase.
First, the fee structure can be quite complicated; it is important to read up on their pricing policy in order to know what kind of service fees you will pay for each ticket before you make any purchases.
Second, customer service can be somewhat lacking. It is often difficult to get quick responses from the company or assistance with issues that arise when trying to buy tickets.
Third, payment security could be improved upon; although they have strong measures in place to protect customers' personal information, some users still feel uneasy about sharing such sensitive data online.
Fourth, reselling fees can also add up quickly if you plan on selling multiple tickets at once.
Lastly, the refund process can sometimes take longer than expected depending on how busy SeatGeek's staff is at the time.
In addition to these points, user experience has been found by some customers to not always meet expectations due mainly to inconsistencies in price accuracy and availability of certain tickets. Moreover, ticket scalping continues to plague SeatGeek despite its efforts to fight against it through automated tools and other initiatives.
Also worth noting are customer reviews which have indicated dissatisfaction over various aspects of using this platform including delays with refunds and overall lack of customer support. All things considered, however, many people find that the advantages outweigh the disadvantages when using SeatGeek for purchasing tickets.
What is the SeatGeek Guarantee?
The SeatGeek Guarantee ensures that customers can purchase tickets with confidence, providing peace of mind in an uncertain world. It is a comprehensive protection plan for all ticket purchases made on the platform covering everything from secure purchases and reliable refunds to event tracking and price analysis.
SeatGeek also offers discounted deals on select events as well as seat selection tools to help customers find the best seats at the best prices. They provide detailed user reviews so you know exactly what to expect before making your purchase and offer convenient delivery options including mobile ticketing. Customers can also take advantage of their 24/7 customer support team if they have any questions or need assistance with their orders. With the SeatGeek Guarantee, you can be sure that your tickets will arrive safely and securely and that you'll get great value for your money!
How Do I Sign Up for SeatGeek?
Discovering the perfect event just got easier with SeatGeek sign up today and get access to great deals on tickets! Signing up for a SeatGeek account is simple and fast. All you need to do is fill out some basic information like your name, email address, and location. Once that's done, you can start searching for tickets right away.
With SeatGeek's easy-to-navigate ticket search engine, finding events near you has never been easier. Additionally, when signing up for an account you'll have access to features like payment options, Ticket Reselling capabilities, Refund Policy details, Price Predictor analysis tools, Deals & Offers promotions, and much more. You also now have the ability to delete your account at any time in case you decide not to continue using the service anymore. So what are you waiting for? Join SeatGeek today and unlock all of these amazing features!
How Can I Contact SeatGeek?
Struggling to find the perfect answer to your question? Reach out and get in touch with SeatGeek it's like having a knowledgeable guide on your side! The Customer Support team provides live chat assistance, as well as a helpful Help Center page full of frequently asked questions. You can also call or email their support team with any further inquiries you may have. If you need help understanding the ticketing process or want more information about their refund policy, they offer live assistance through both phone and online chat options. Additionally, if you fill out their questionnaire, you will receive personalized responses from a member of the Support Team within 24-48 hours. With so many ways to contact them, SeatGeek has all of your customer service needs covered!
What Payment Methods Does SeatGeek Accept?
With so many ways to purchase tickets, SeatGeek offers a variety of payment methods for customers' convenience. To ensure safe and secure transactions, they accept all major credit cards such as Visa, Mastercard, American Express, and Discover Card. In addition to accepted cards, SeatGeek also has various payment gateways available like Apple Pay, PayPal, and Google Pay which are highly secure too.
For added buyer protection, there are no hidden fees or surprises when it comes to the buying process with SeatGeek. Customers can clearly view ticket prices plus any applicable fees associated with their order before completing the transaction. Furthermore, customers have access to refund policies in case an event is cancelled or rescheduled along with detailed fee structures that explain how each charge is calculated during the payment process. With these features combined, users can be sure of enjoying a reliable and hassle-free experience every time they use SeatGeek's payment services.
How Do I Search for Tickets on SeatGeek?
Finding the right tickets for your next event can be a daunting task, but SeatGeek makes it easier with its simple search feature. You can easily find exactly what you're looking for by using their various search strategies and ticket filters. Whether you want to filter by price range or type of seating, SeatGeek has something for everyone. With an array of promo codes available and real-time updates on ticket availability, you can get the best possible deal on your desired seat. To ensure secure ticket delivery and payment processing, SeatGeek uses trusted security measures such as SSL encryption and fraud protection technologies. Additionally, customer reviews are available to give insight into the quality of service that each venue provides. If you want to compare prices before purchasing a ticket, SeatGeek also offers a convenient "Price Compare tool so you know you're getting the best value. Finally, if there are any changes to the event schedule or date/time, SeatGeek will keep users informed with timely notifications about those updates as well.
How Do I Buy Tickets on SeatGeek?
Purchasing tickets on SeatGeek is a cinch – with just a few clicks you can secure your seat for the event of your dreams! Simply search for the event you would like to attend and browse through available tickets. You can filter by ticket prices, check out customer reviews, and compare fees at different vendors. Once you have selected an option that fits within your budget, you will be taken to a secure checkout page where you can enter billing details and complete the purchase.
SeatGeek also offers additional features such as VIP access, price alerts, promo codes, seat maps, and more. With these tools, customers are able to find the best deals while being confident in their purchase decisions thanks to helpful customer reviews. Plus getting the best value has never been easier since Seat Geek compares ticket prices from hundreds of trusted sellers so no one ever overpays again!
How Do I Resell Tickets on SeatGeek?
Selling tickets on SeatGeek is an easy and convenient way to make some extra money! With the right reselling strategies, selling tips, and safety considerations in place, you can be sure that your ticket sales will be successful.
Before beginning, it's important to consider the value of the tickets you possess. Taking into consideration both the market demand for the event as well as any applicable fees associated with reselling tickets, you should establish a price point that allows you to turn a profit while still appealing to potential buyers. Additionally, familiarizing yourself with buyer protection policies offered by SeatGeek ensures that all transactions are secure and valid.
This includes understanding different payment methods available as well as being aware of potential risks when dealing with ticket fraud. Finally, managing risk is essential when reselling tickets; this means carefully monitoring changes in ticket prices along with taking precautionary measures against fraudulent activities. By following these steps, you'll be able to successfully sell your tickets on SeatGeek without having to worry about any potential pitfalls!
What is SeatGeek's Refund Policy?
SeatGeek operates as a marketplace catering to the buying and selling of tickets for live events. It is important to note that SeatGeek's policy does not permit refunds, cancellations, exchanges, or adjustments to the quantity of tickets ordered once a transaction is completed. This policy is consistent with the general approach adopted by the vendors listed on our platform, where all sales are considered final.
However, in the event that your scheduled event is canceled and not rescheduled, SeatGeek does exercise its discretion to provide you with a full refund of the purchase price. This refund will be issued to the original payment method you used during the checkout process. Alternatively, depending on the relevant state laws, SeatGeek may offer you a credit that can be utilized for future purchases on our platform.
What is SeatGeek's Mobile App?
The SeatGeek app provides users with a secure payment system, an enhanced mobile experience, and access to various ticket types. With its price comparison functionality, customers can easily find the best deal for them while being assured that all payments are secure.
The user reviews section helps customers make better decisions when choosing tickets or events; they can also search tickets based on location or time constraints. For those looking to resell tickets, SeatGeek's app allows them to do so quickly and efficiently. Plus, there are often promotions available as well as API integration capabilities for added convenience. All in all, the SeatGeek mobile app makes attending events easier than ever before – get it today and start exploring what's out there!
What Is SeatGeek's Price Predictor?
Have you ever wondered if you're getting the best deal on sports or concert tickets? SeatGeek has the answer for you! This innovative platform forecasts the prices of event tickets sold on the secondary market, which includes popular platforms like StubHub and eBay. In a nutshell, SeatGeek is like your personal crystal ball for ticket prices, helping you make informed decisions and save money.
Imagine SeatGeek as the "Farecast" of event tickets, drawing a parallel to the web startup that once provided price predictions for airline tickets before Microsoft acquired it for a whopping $115 million. SeatGeek applies the same principle, but this time, it's all about helping you score fantastic deals on event tickets.
So, how does it work? SeatGeek tracks ticket prices and analyzes market trends. By doing so, it empowers ticket buyers like you to gauge whether ticket prices for a specific event are on the rise or dropping. Armed with this valuable insight, you can make your purchase at the most opportune moment, ensuring you get the best value for your money.
This service is particularly significant because, let's face it, ticket prices can be quite unpredictable, especially in the secondary market. Events stir up excitement, causing prices to fluctuate dramatically in the days leading up to the big day. With SeatGeek, you can stay ahead of the game, seize the ideal moment to buy your tickets, and maximize your savings.
Consider this: the average transaction in the secondary ticket market hovers around $500. That's no small sum! But by utilizing SeatGeek, you're not just gaining peace of mind; you're also potentially saving a substantial amount. In a world where every dollar counts, SeatGeek is your trusted companion in the quest for affordable event tickets.
How Can I Get Deals on SeatGeek?
If you're on the hunt for great deals on event tickets, SeatGeek has you covered with several savvy strategies to save your hard-earned cash. First and foremost, keep your eyes peeled for promo codes. SeatGeek frequently releases these money-saving codes, and you can discover them directly on their website or via their social media platforms. Alternatively, you can explore third-party websites like RetailMeNot or Groupon, where SeatGeek promo codes may also be available. These codes can unlock significant discounts, making your event experience even more affordable.
Another excellent way to stay in the savings loop is by signing up for SeatGeek's email list. By doing so, you'll gain access to exclusive deals and discounts that are sent directly to your inbox. Additionally, following SeatGeek on their social media channels is a smart move. The company often shares updates on special promotions and offers on their social platforms, ensuring you stay in the loop about any potential savings opportunities.
When it comes to securing the best price, don't forget to shop around. SeatGeek takes the hassle out of this process by presenting you with a comprehensive list of ticket options from various sellers. By comparing prices from different sources, you can rest assured that you're getting the best possible deal. Plus, buying tickets early can often translate to significant savings. So, plan ahead whenever you can, as tickets tend to be more budget-friendly when purchased well in advance.
Flexibility can be your ally when seeking affordable tickets. If your schedule permits, consider being open to different dates, as this can lead to more budget-friendly options. Additionally, resale tickets are often available at lower prices compared to tickets sold directly from the venue. Finally, if you're eyeing an event, think about attending it on a weekday. Tickets for weekday events typically come with more wallet-friendly price tags than those for weekend extravaganzas. And if you're feeling particularly adventurous, try negotiating a better price by buying your tickets in persona tactic that might just yield some unexpected savings. With these strategies in your arsenal, you'll be well-equipped to snag those sought-after deals on SeatGeek. Happy ticket hunting!
How Does SeatGeek Compare to Other Ticket Sites?
SeatGeek stands out from other ticket sites with its comprehensive suite of features that make it easier to find the best deal. From pricing models and competition analysis, to promotional strategies and payment options, SeatGeek offers a range of tools that give users an edge when searching for tickets.
Additionally, they provide access to more than 100 different ticket resellers so customers have greater choice in terms of ticket availability. They also offer seat selection capabilities as well as price comparisons, making it easy for users to choose the right ticket at the best price. Furthermore, their platform includes advanced security measures such as encrypted transactions and user reviews which help ensure buyers can trust where they purchase their tickets from. Overall, these unique features make SeatGeek one of the most reliable and trusted ticketing websites on the market today.
What Is the SeatGeek API?
SeatGeek's API is a powerful tool that provides users with access to millions of tickets, as well as detailed ticket sales data, allowing them to get the best deals on events they want to attend. In fact, SeatGeek processes over 10 million searches every day – making it one of the most widely used ticketing platforms in existence.
The API offers an overview for developers and businesses alike, giving them insight into how their product or service can be integrated with this platform. It also features many benefits such as increased accessibility, advanced security protocols, feature-rich integrations, technical support available at any time, and cost-effective solutions.
The API documentation includes all necessary information about its use as well as details about each endpoint so anyone interested in using it can quickly understand what's needed before getting started. Additionally, SeatGeek ensures maximum security by implementing strict measures regarding user authentication and authorization when accessing the API; moreover, extensive testing is conducted throughout the development process to ensure top quality performance. Finally, there are several features built into the API for added convenience such as automated notifications whenever new tickets become available and custom filters to help you find exactly what you're looking for.
How Do I Delete My SeatGeek Account?
If you've decided to part ways with your SeatGeek account, the process is straightforward, regardless of whether you're using the web, Android, or iOS. To initiate the account deletion procedure on the web or Android, start by accessing the SeatGeek app. Once you're in, go to your order history within the app or visit the 'Me' section of your SeatGeek account. Here, you'll find the option to "Contact Support." Tapping this will allow you to send a request to SeatGeek's support team expressing your desire to close your account.
For iOS users, the process is just as simple. Open the SeatGeek app on your iOS device and navigate to the 'Me' tab. Scroll down until you see the "Delete account" option. Tap this, and you'll be presented with instructions and terms for deleting your SeatGeek account.
It's important to carefully review these instructions and terms to ensure you understand the implications of deleting your account. Once you've completed the necessary steps, your SeatGeek account will be on its way to closure.
Does SeatGeek work with Ticketmaster?
Does SeatGeek collaborate with Ticketmaster? Certainly! The two ticketing titans team up to tantalize theatergoers. By working together, they provide customers with an array of amazing benefits such as a refund policy and fraud protection that is second to none. Furthermore, patrons can take full advantage of price comparisons between the two vendors while benefiting from dependable customer support and numerous payment options. With this partnership in place, users are sure to have a safe and satisfying experience when purchasing tickets through either platform.
Why are SeatGeek tickets cheaper than Ticketmaster?
Wondering why SeatGeek tickets are often cheaper than Ticketmaster? Let's take a look at the reasons behind this cost difference. To start with, SeatGeek allows customers to compare ticket prices from various sources in order to find the best deal for their desired event. This makes it easier for people to get great deals on tickets without having to spend hours searching through different websites or dealing with complex pricing structures.
Additionally, SeatGeek has some buying tips and tricks that can help you save even more money when purchasing your tickets. For example, selecting seats at specific price points can give you access to discounts and promotions that aren't available elsewhere. Furthermore, SeatGeek offers flexible refund policies which allow buyers to cancel their orders up until 24 hours before an event starts if something unexpected comes up whereas Ticketmaster does not provide any such option. All of these factors contribute towards making SeatGeek a better choice than Ticketmaster when looking for discounted tickets.
How to avoid loss when buying tickets in SeatGeek?
Buying tickets on SeatGeek can be a great way to save money, but it's important to take steps to ensure you don't end up losing out. One of the best ways to avoid loss when buying tickets through SeatGeek is to pay attention to price fluctuations. Prices for events change throughout the day and even after purchase so monitor prices regularly in order to get the optimal deal. Additionally, make sure that your payment security measures are up-to-date as well as familiarize yourself with their refund policies just in case something goes wrong.
You should also consider verifying any ticket codes or documents sent by SeatGeek before making a purchase. It may sound tedious but it's worth doing if you want peace of mind that you won't fall victim to fraudsters or become stuck with invalid tickets. Furthermore, running a risk analysis on each event prior to purchasing tickets will give you an understanding of what could go wrong during the process so you can plan ahead accordingly. Taking these precautions can help protect against unnecessary losses when using SeatGeek.
SeatGeek Coupons
Savvy shoppers can take advantage of SeatGeek's many discounts and promotions to get the best deal on tickets! Finding coupons and promotional codes is a great way to save money when buying tickets through SeatGeek. The website offers a variety of discounts, including percentage-off deals for specific ticket types and price comparisons with other providers. Additionally, you may be eligible for additional benefits such as free shipping or VIP access when purchasing tickets through SeatGeek.
When searching for coupons or discounts, it's important to keep in mind the different types of tickets available from SeatGeek. They offer general admission tickets for concerts, sporting events, theatre performances, and more. Depending on your budget and preferences, you can find the perfect seat at an affordable price by checking out their various ticket options. With so much choice available, there's no reason not to make use of any discount or coupon code offered by SeatGeek in order to secure the best possible value for your purchase!
SeatGeek Reviews 2023
In our comprehensive review of SeatGeek, a leading player in the event ticketing and entertainment space, the GrabOn team delved deep into what this platform has to offer. What immediately stands out is SeatGeek's incredibly user-friendly interface, making it a breeze for individuals to effortlessly navigate and secure tickets for a diverse range of events, from thrilling sports games to electrifying concerts and captivating theater shows. This accessibility proves to be a game-changer, particularly for those who might not possess advanced tech skills.
Our in-depth analysis revealed that SeatGeek shines when it comes to robust search and filtering capabilities, surpassing many competitors in this regard. Users can seamlessly pinpoint tickets based on their preferred location, date, and budget. With interactive seating charts and comprehensive event details, SeatGeek empowers users with all the information they need to make well-informed ticket choices. Perhaps the standout feature noted in our review was SeatGeek's unwavering commitment to transparent pricing, completely devoid of any hidden fees, setting a new standard of honesty in the often obscure world of ticket reselling.
Frequently Asked Questions
1. Is SeatGeek safe to use?
SeatGeek is a safe and secure platform for buying tickets. It has verified sellers, who are subject to the Seller Guarantee. All payments made through SeatGeek are secure and encrypted. You can also read customer reviews of each seller before you make your purchase, so you know what to expect. Additionally, it allows you to compare prices so that you get the best deal for your ticket.
2. Does SeatGeek offer any customer service?
SeatGeek offers a range of customer service features including live chat, secure payments, price matching, group discounts, and a mobile app. The company is dedicated to providing the best possible customer experience and has staff available 24/7 ready to help with any questions or issues you may have.
3. Does SeatGeek sell tickets to international events?
Yes, SeatGeek sells tickets to events all around the world. You can compare prices from different sellers and find the best deal for you. When buying international tickets, it is important to consider currency exchange rates as well as shipping costs and fees breakdowns. For some events, there is also an option to exchange or transfer your ticket if needed.
4. Does SeatGeek offer any additional services?
SeatGeek offers a range of additional services to make your ticket buying experience easier. It provides price comparison and delivery options for tickets, as well as user reviews to help you decide what show or event is right for you. SeatGeek also has loyalty programs and robust security measures in place to ensure customer safety.
Conclusion
Using SeatGeek is like taking a journey through the world of events and tickets. With its innovative features, user-friendly interface, and robust support system, it provides an unparalleled experience for ticket buyers. From providing access to hard-to-reach shows to guaranteeing refunds on invalid tickets, SeatGeek has become one of the premier ticket sites out there. Whether you're looking for sold-out concerts or discounted sports games, SeatGeek offers a comprehensive overview that will help you find your perfect event in no time. So what are you waiting for? Let SeatGeek take you where you want to go today!
<div class='toc'><ul><li><a href=#What-is-SeatGeek?><b>What is SeatGeek?</b></li><li><a href=#How-Does-SeatGeek-Work?><b>How Does SeatGeek Work?</b></li><li><a href=#What-Types-of-Tickets-Does-SeatGeek-Offer?><b>What Types of Tickets Does SeatGeek Offer?</b></li><p> <a href=#Features-of-SeatGeek>Features of SeatGeek</p><li><a href=#What-Are-the-Benefits-of-Using-SeatGeek?><b>What Are the Benefits of Using SeatGeek?</b></li><li><a href=#What-Are-the-Drawbacks-of-Using-SeatGeek?><b>What Are the Drawbacks of Using SeatGeek?</b></li><li><a href=#What-is-the-SeatGeek-Guarantee?><b>What is the SeatGeek Guarantee?</b></li><li><a href=#How-Do-I-Sign-Up-for-SeatGeek?><b>How Do I Sign Up for SeatGeek?</b></li><li><a href=#How-Can-I-Contact-SeatGeek?><b>How Can I Contact SeatGeek?</b></li><li><a href=#What-Payment-Methods-Does-SeatGeek-Accept?><b>What Payment Methods Does SeatGeek Accept?</b></li><li><a href=#How-Do-I-Search-for-Tickets-on-SeatGeek?><b>How Do I Search for Tickets on SeatGeek?</b></li><li><a href=#How-Do-I-Buy-Tickets-on-SeatGeek?><b>How Do I Buy Tickets on SeatGeek?</b></li><li><a href=#How-Do-I-Resell-Tickets-on-SeatGeek?><b>How Do I Resell Tickets on SeatGeek?</b></li><li><a href=#What-is-SeatGeek's-Refund-Policy?><b>What is SeatGeek's Refund Policy?</b></li><li><a href=#What-is-SeatGeek's-Mobile-App?><b>What is SeatGeek's Mobile App?</b></li><li><a href=#What-Is-SeatGeek's-Price-Predictor?><b>What Is SeatGeek's Price Predictor?</b></li><li><a href=#How-Can-I-Get-Deals-on-SeatGeek?><b>How Can I Get Deals on SeatGeek?</b></li><li><a href=#How-Does-SeatGeek-Compare-to-Other-Ticket-Sites?><b>How Does SeatGeek Compare to Other Ticket Sites?</b></li><li><a href=#What-Is-the-SeatGeek-API?><b>What Is the SeatGeek API?</b></li><li><a href=#How-Do-I-Delete-My-SeatGeek-Account?><b>How Do I Delete My SeatGeek Account?</b></li><li><a href=#Does-SeatGeek-work-with-Ticketmaster?><b>Does SeatGeek work with Ticketmaster?</b></li><li><a href=#Why-are-SeatGeek-tickets-cheaper-than-Ticketmaster?><b>Why are SeatGeek tickets cheaper than Ticketmaster?</b></li><li><a href=#How-to-avoid-loss-when-buying-tickets-in-SeatGeek?><b>How to avoid loss when buying tickets in SeatGeek?</b></li><p> <a href=#SeatGeek-Coupons>SeatGeek Coupons</p><p> <a href=#SeatGeek-Reviews-2023>SeatGeek Reviews 2023</p><li><a href=#Frequently-Asked-Questions><b>Frequently Asked Questions</b></li><li><a href=#Conclusion><b>Conclusion</b></li></ul></div>