Up To $650 USD OFF + 30% OFF All Cruises + Kids Sail FREE

Verified

ACTIVATE OFFER

GET DEAL

Secure your tickets to your dream destinations.

Enjoy fantastic discounts of up to $650.

This incredible

offer is open to all users.

Cruises - Up To $100 OFF + Flat 30% OFF + Free For Kids

Verified

ACTIVATE OFFER

GET DEAL

| | |
| --- | --- |
| Cruises | Up To $100 OFF |
| Additional Offer | Extra 30% OFF |
| Kids Sailing | FREE |
| Valid | New Users |

Get

up to $600 off

on your

cruise bookings.

Get an

extra 50% off

for all users.
Kids get their tickets for

FREE.

​​​​​​​

Pack your bags and get ready to explore the wonders that await.

Save 30% OFF All Cruises + Get Up To $150 OFF + Kids Sail Free

Verified

ACTIVATE OFFER

GET DEAL

Get 30% OFF on your cruises
And get additional

up to $150 OFF

Get

Kids sail free

on your orders
Valid for all users

Sign Up Offer - Flat $50 OFF On Your First Order

Verified

ACTIVATE OFFER

GET DEAL

Secure a generous

$50 discoun

t on your upcoming sailing adventure.

Simply sign up to unlock this incredible deal.

Don't hesitate, seize this amazing offer now!
Royal Caribbean Discounts & Offers
Up To $150 OFF On All Bookings

Verified

ACTIVATE OFFER

GET DEAL

Secure your spot now and relish savings of

up to a staggering $150

without the hassle of

using a promo code.

This incredible offer is extended to all our valued customers

Ensuring everyone can take advantage of these substantial discounts.
Don't miss out on the opportunity to enjoy significant savings on your booking!​​​​​​​

Royal Gifts Starting At Just $7.99

Verified

ACTIVATE OFFER

GET DEAL

Shop

Royal gifts

at the best price
Prices start at

$7.99

Merchandise, beach, youth collection, and seasonal collection is available


Europe Cruises - Beginning At $382 Per Person

Verified

ACTIVATE OFFER

GET DEAL

Explore

Europe's enchanting beauty affordably

with our Europe Cruises, starting at just

$382 per person.​​​​​​​

Select from diverse cruise itineraries to explore

Europe's iconic cities and coastal towns, catering to your travel preferences, whether it's the Mediterranean, Baltic, or Western Europe.

Relish well-appointed cabins and

luxurious onboard amenities, including gourmet dining and top-tier entertainment, ensuring your journey is as enjoyable as your destinations.

Immerse in Europe's rich history and diverse cultures with

guided tours and shore excursions, creating lasting memories and a deeper connection to your destinations.

7 Night Caribbean Cruises - Starting At $436 Per Person

Verified

ACTIVATE OFFER

GET DEAL

Embark on a remarkable journey to Los Angeles aboard our luxurious cruise ships, all at the best prices available​​​​​​​
Experience the magic of a

3-night Caribbean cruise,

starting at an enticing rate of

$436 per person

Pre-bookings get an additional offer.

Amazing Seasonal Cruise Deals - Starting At Just $122

Verified

ACTIVATE OFFER

GET DEAL

Book a cruise for your favorite

seasonal vacations

at the best price in the market

Spring Cruises

start

at just $122

whereas

winter Cruises

start

at just $192

Limited period offer
Terms and conditions apply

Last Minute Cruises - Starting At Just $122

Verified

ACTIVATE OFFER

GET DEAL

Book your

last-minute cruises

at the best price

Price starts at just $122

Terms and conditions apply

3 Night Ensenada Cruise - Starting At $119

Verified

ACTIVATE OFFER

GET DEAL

​​​​​​​Visit los angles in cruise at best prices.

3 night Ensenada

starting at

$119

per head.
Pre bookings get an additional offer.

4 Night Bahamas & Perfect Day - At $149

Verified

ACTIVATE OFFER

GET DEAL

​​​​​​​Get to know the

liberty of seas at bahamas.

Sports court & flash way bay are available.
Prices start at

$149 per person.

Top Cruise Destinations - Starting At Just $192

Verified

ACTIVATE OFFER

GET DEAL

Secure your

dream cruise to top destinations at unbeatable prices.

Select from premier Caribbean getaways such as

The Bahamas, The ABC Islands, and Mexico's Yucatan Peninsula.

Please note that terms and conditions do apply.

Weekend Getaways - Starting At $199

Verified

ACTIVATE OFFER

GET DEAL

​​​​​​​Choose your favorite destination for a

weekend

at the lowest prices.
Prices start at

$199.

3 & 4- night stays are available.

Holiday Cruises - Starts At $282 per person

Verified

ACTIVATE OFFER

GET DEAL

Book

holiday cruises

at great discounts for your year-end vacations.
Price starts at just

$282 per person

Limited period offer

Applicable during the holiday season only

Sail From Newyork - Starts At $580

Verified

ACTIVATE OFFER

GET DEAL

Get

cruises

from New York at the best prices.
The price range starts at

$580.

Availabl eprices are -

Cruise Schedule - Book Cruise Vacations All Year Around

Verified

ACTIVATE OFFER

GET DEAL

Choose from a

Cruise schedule

and book all year around
Cruise ship bookings are available for 2023, 2024, 2025 and 2026

Basic price starts at just $122

Royal Up - Upgrade Your Stateroom At Your Preferences

Verified

ACTIVATE OFFER

GET DEAL

​​​​​​Upgrade your

stateroom with the Royal Up program

Pricing will vary based on selected stateroom preferences
Your bid is priced per person
Making a bid on multiple rooms will increase your chances of getting upgraded, but you'll only pay for one.

Limited Time Offer - Get 25,000 Bonus Points With Royal Caribbean Visa Signature Credit Card

Verified

ACTIVATE OFFER

GET DEAL

Apply for

Royal Caribbean Visa Signature

Credit Card & get

25000 bonus points

Redeemable For $250 Onboard Credit, Or Stateroom Upgrades and more

Valid on $1,000 or more in purchases within 90 days of signing up for the card

No Annual Fee. No Foreign Transaction Fees.
Terms and conditions apply
Details on Royal Caribbean
Latest Royal Caribbean Promo Codes & Offers For Dec 2023
| Category | Royal Caribbean Coupon Codes & Discount Codes |
| --- | --- |
| Cruises | Up To $600 OFF |
| Sign Up Offer | Flat $50 OFF |
| Sail From Newyork | Starting At $580 |
| Weekend Getaways | Starting At $120 |
| 3 Night Ensenada Cruise | Starting At $119 |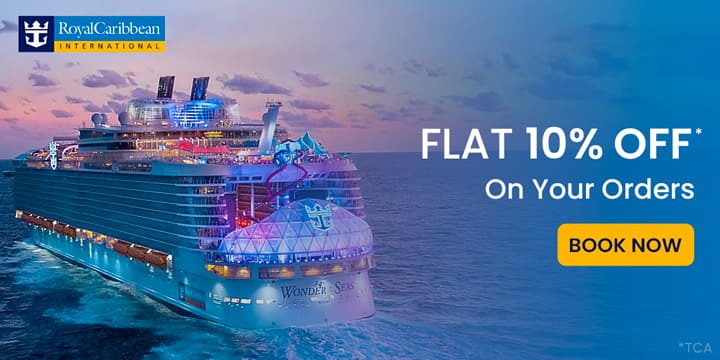 About Royal Caribbean
The best way to live your sea-to-shore dream is by traveling on luxurious cruises. And when we talk about luxury, Royal Caribbean International, as the name suggests, is one of the best cruise companies, offering voyages to more than 300 destinations. From different onboard activities like dance shows, virtual concerts, casino nights, and special dining packages they make sure to give you the best royal cruise service you have ever experienced.
Considered to be one of the best ocean liners globally, they give you plenty of ships to choose from. You can make your itinerary based on the experience you want to have. Say, if you just want to have a chilled-out vacation with good food and a vibe, you can choose Odyssey, or if you want to have a little bit of adventure filled with fun and games, you can explore the Quantum fleet. Now, if you really want to live this luxurious cruise life at a decent price, you can use the Royal Caribbean promotional codes that are readily available at Grabon.
Royal Caribbean Services
Last Minute Cruises
If you are making a last-minute bold move to book your cruise vacation with Royal Caribbean International, you can check the prices under their last-minute cruise category. These packages usually cover nearby destinations like the Bahamas, Alaska Mexico, etc. Some of the limited time deals also include island hopping, visiting glaciers, and much more.
Weekend Cruises
To make your short weekend a memorable one, you can explore their weekend cruises that cover destinations like Los Angeles, Miami, Galveston, and a lot more. To name a few of their best weekend cruise ships, we have freedom of the seas, where you will get a proper tropical vacation vibe. Then there is Independence of the seas, where you can experience some great adventurous activities including trampoline, Skee-Ball match, arcade games, etc.
Holiday Cruises
Holidays are already around the corner, so if you are making any cruise plans with your friends, you can check out the tickets for destinations like Hawaii, Italy, or say Mexico. Because these are the destinations where you will get to explore absolute fun.
Royal Weddings
Are you planning a special royal wedding? If yes, then what would be more exciting than a cruise wedding? With the Royal Caribbean cruise journey, you can make your wedding day even more special and worth remembering for your dear ones. You will get everything customized as per your preference. Be it the flower arrangement, reception decoration, and every other wedding requirement of yours.
Themed Cruises
If you wish to have certain activities in your cruise's itinerary, then you can check their themed cruises. Say, if you love galaxies and all, you can book tickets for the Star Trek cruise which covers Star Trek-themed shows, performances, and other fun activities by great actors. These themed cruises will cover destinations like Los Angeles, Mazatlan, etc.
Royal Caribbean International is hands down the best bet if you want your cruise experience to be a combination of luxury and adventure. But if you are making a last-minute booking, there is a high chance their tickets might be sold. Vacationing can always be a smooth ride with Kiwi. Kiwi is a travel platform that offers affordable flights, allowing you to travel without breaking the bank. With Kiwi promo codes, you can save even more on your flights, making your travel experience much more budget-friendly.
Royal Caribbean Deals
Daily Offers: Royal Caribbean offers daily promotions and deals to enhance your cruise experience. These deals can include discounts, onboard credits, or special packages, providing you with opportunities to make your cruise even more memorable.
Discount on All Cruises: Enjoy a fantastic 30% concession on your cruise fare, allowing you to embark on a Royal Caribbean adventure at a significantly reduced price. This offer opens the door to unforgettable vacations for budget-conscious travelers.
Kids Sail Free: Family vacations just got even more enticing with the "Kids Sail Free" promotion. Children can enjoy the cruise experience without an additional fee, making it an affordable and enjoyable option for families.
Royal Caribbean Cards: Royal Caribbean cardholders can earn a substantial 25,000 bonus points, which can be redeemed for various benefits, including onboard credit, stateroom upgrades, or even future cruises. It's a rewarding way to enhance your cruise experience.
Festive Savings: Don't miss Royal Caribbean's special deals during the Black Friday and Cyber Monday sales events. These limited-time promotions can include significant discounts, exclusive offers, or bonus perks for bookings made during this exciting time.
Group Travel: If you're planning to cruise with a group, Royal Caribbean offers special rates and packages for group travelers. Whether it's a family reunion, wedding celebration, or corporate event, group travel with Royal Caribbean ensures everyone has a fantastic experience together.
Royal Caribbean Black Friday Sale: Sail Away with 30% Off
Set sail for adventure with the Royal Caribbean Black Friday Sale, offering a generous 30% savings on the cruise fare for all guests sharing a stateroom. It's the perfect time to plan that dream vacation with your loved ones. But that's not all! Royal Caribbean is also treating you to fantastic deals on Cruise Planner purchases. Whether it's drink packages, dining packages, internet access, or other pre-cruise add-ons, you can enjoy these perks at discounted prices. Don't miss your chance to make unforgettable memories at sea.
Royal Caribbean Savings Tips & Tricks
Get up to 50% off on more than seventy thousand hotels globally only with the Royal Caribbean Hotels powered by Priceline.
Make your vacation getaway plans with your friend and family under their seasonal cruise deals to save lots of bucks.
Sign up for the Royal Caribbean newsletter to get a straightaway discount of $50 on your next sailing. Along with this, you will also get to receive updates on destination deals, promotions, and discount codes.
Book any destination at the earliest and save 30% off on your sail.
Save more frequently with Klook. Klook is a one-stop solution for all your travel needs, offering an extensive range of activities, experiences, and tours. Discover new dining experiences or embark on life-changing trekking moments at dawn with Klook. Don't forget to use Klook coupons to make your travels more budget-friendly.
Refund Policy
Royal Caribbean International has made its refund policy very clear:
Once you have made your payment, it will not be refundable from their end.
In case you are changing your ship date before making the final payment then you will have to pay a $100 USD service fee for modifying your booking.
Only the residents of the United States and Canada can avail of the option of modifying cruise dates.
Customer Support
If you have any queries regarding your bookings or want to know some extra insights into the adventures that will be happening on the cruise, you can contact the customer support team of Royal Caribbean International at 00 65 6675 0412.
FAQs
Does Royal Caribbean International offer early bird offer?
As such, there's no first come first serve thing that they follow, but you are anyways advised to book tickets in advance because what if, you fail to get even the last-minute cruise tickets because of the high demand?
Are there any Royal Caribbean coupons I can use?
Yes. There are countless promo codes for users all over the world with offers up to 60% off on select cruises.
Does Royal Caribbean offer discounts year-long?
Yes. This popular cruise line brand holds a range of sales all over the year, allowing users to grab some of the best deals in the town. Using Royal Caribbean offer codes, you can also get free drinks, and many more perks.
How much can a new user save at Royal Caribbean?
New users can sign up to Royal Caribbean to receive flat $50 discount, and many special perks.
How can I score the best deals while booking tickets for their cruise?
You can use the coupon codes available online which can help in the reduction of cruise tickets. But make sure they are verified.
What activities do their cruises cover?
Be it their themed cruises, weekend cruises, or any other type, there are certain activities that are common in every cruise. From elite dining, fun, and games to pool parties and musical performances, you will get to experience every luxury
What items are not allowed to take on their cruise?
You are prohibited to take explosive chemicals, alcohol, or any kind of illegal drugs while travelling on the cruise.
How to use Coupons
How To Use Royal Caribbean Coupons On GrabOn?
For More Savings Subscribe Now
We Value Your Savings As Much As You Do. Subscribe now And Keep Saving On Everything With The Latest Coupons and Offers!