All You Need to Know About Wegmans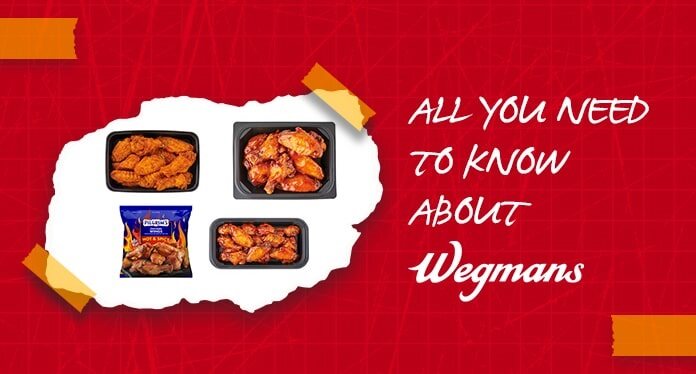 Welcome to the wonderful world of Wegmans, a supermarket chain that has carved a special niche for itself in the heart of American shoppers. You may have cruised their expansive aisles, been seduced by the wafting aroma from their in-house bakeries, or perhaps you're just intrigued by those die-hard fans who won't stop raving about it.
Either way, dear reader, this article is your golden ticket into the delightful domain of Wegmans. We're going to dig deep and uncover all there is to know about this beloved grocery store chain, from its humble beginnings to its impressive expansion.
While our mission is serious (dissecting everything Wegman), our ride will be sprinkled with fun anecdotes and humor because, let's face it, grocery shopping should never be dull!
History of Wegmans
It all began with the Wegmans Founding Story, which is as inspiring as it gets. The year was 1916 when two brothers, Walter and John Wegman, took their keen entrepreneurial spirit and kicked off their adventure by opening the Rochester Fruit & Vegetable Company.
Over time, this modest grocery store morphed into what we know today as Wegmansan empire that has been steering under the vigilant eyes of the Wegmans Family Leadership for over 5 generations now.
The next exciting chapter revolves around the Wegmans Expansion Timeline. From its humble beginnings in New York State, there was no stopping this retail juggernaut. In 1968, they ventured outside their home territory for the first time ever by launching a store in Syracuse.
Now let's dive into some of those key historical milestones that have shaped the brand's evolution.
I bet you didn't know that one such milestone was when Robert B. Wegman took over leadership from his dad in 1950. He transformed these local supermarkets into a regional powerhouse through innovative services like full-service pharmacies and market cafestruly pushing boundaries on what people expected from a grocery store experience!
And who can forget about Danny and his two daughters Colleen and Nicole Wegman carrying forward the legacy since 2005? Under them, we saw online grocery shopping introduced via Instacarttalk about keeping up with technology trends!
Wegmans Locations
Well, let me take you on a journey through the store expansion of this supermarket giant. From their humble beginnings in Rochester, New York, they have grown to 109 stores spanning 86 cities in the U.S. as of 2023. Talk about spreading their wings! They've got quite a regional presence now, staking claims in Maryland, Massachusetts, North Carolina, and more.
To ensure location accessibility isn't an issue for loyal customers; new locations are often strategically chosen in highly populated residential areas or urban centers.
Lastly, but definitely not least (yes, I made up that word), let's dive deep into their unique store design, which is another reason why folks keep coming back. Picture this: spacious aisles filled with fresh produce under warm lighting, creating an inviting ambiance unlike any other grocery chain out there.
With departments modeled after European open-air markets and American street vendors, shopping at Wegmans feels less like running errands and more like a gastronomic adventure.
Wegmans Specialties
Let's start with Wegmans Bakery. Here, they aren't just selling loaves of bread and cookies; I'm talking artisanal creations that would make even French bakers blush.
Ever had a loaf of Tuscan bread so fresh it could sing Puccini? How about a gingerbread cake that makes your taste buds do the cha-cha slide? That's what we're talking about here, folks. And don't get me started on their pastriesthose flaky morsels of buttery heaven are crafted to perfection every single day.
Moving along the foodie joyride, let's talk about meal-prepping options at Wegmans. If cooking isn't really your thing, or maybe you're too busy saving kittens from trees or writing the next great American novel, no worries! They've got you covered with delicious and nutritional meals that can be heated up in minutes.
Think gourmet dishes like Thai Coconut Chicken, Beef Barbacoa Tacos, or vegan delights such as Quinoa Stuffed Peppersthese aren't your typical supermarket ready-meal people! It's like having Gordon Ramsay personally prepare dinner for you (minus the yelling).
The last stop on the tour is the trifecta – Wegmans Seafood Department, Gourmet Cheese Selections, and Specialty International Foods aisle. Are you someone who likes to explore flavors from around the globe without leaving home? Well, my friend, welcome aboard the flavor express!
You'll find everything from sushi-grade fish in their seafood section to cheeses so exquisite they might compel you to write sonnets in their honor in their cheese selection area. The international foods aisle alone boasts products from over 70 countries worldwide, including Italian truffle oil and Japanese matcha tea, making cooking a global feast an absolute breeze.
Wegmans Loyalty Program
Known to turn even the most stingy penny pinchers into faithful followers, this program is no laughing matter – unless of course, we're talking about how ludicrously good it is!
The program's benefits are vast and varied; they include exclusive offers like discounts on popular items, Wegmans coupons tailored just for your tastes (because who doesn't love saving money on their favorite snacks?), and access to cooking demonstrations designed to transform you from kitchen klutz to culinary connoisseur.
When it comes to reward earning, Wegmans has made it ridiculously easy. You get points every time you shop so whether you're filling up your cart with fresh produce or snagging one last-minute item, those purchases add up big time in terms of rewards.
As if that wasn't enough incentive to join, there are also different membership levels which can lead to increased savings and more perks. From basic members all the way up to VIP status where things really start sizzling – think priority checkout lanes and invite to special events – your commitment pays off in spades.
The Wegmans Shopping Experience
The impressive store layout is designed to make you feel like you're wandering through a bustling market in the heart of Italy or France rather than inside a supermarket chain in upstate New York.
There are sections for fresh produce, high-quality meats and seafood, gourmet cheeses from around the world, organic products sourced locally and globally, plus an abundance of vegan and gluten-free options.
With wide aisles that give plenty of room for carts (and impromptu dance-offs if the mood strikes), navigating through this food haven is as easy as pie...which by the way, they also have aplenty.
When it comes time to check out your cart brimming with goodies, expect nothing less than stellar cashier interactions.
These folks don't just scan items roboticallythey engage with you!
They might chat about their favorite ways to cook spaghetti squash or recommend which craft beer pairs best with those artisanal pretzels you've picked up.
And speaking of recommendations, keep an eye out for in-store events such as cooking demonstrations and wine tastings that take place regularlybecause who doesn't love sipping a pinot noir while debating whether to get the brie or gouda?
The Wegmans App
Imagine having a personal shopping assistant right in your pocket who's also an expert navigator through the aisles! Navigating this app is as easy as finding a needle in…a well-lit room full of needles (that you don't have to step on!). It's efficient, intuitive, and user-friendly, even if you're technologically challenged, like Aunt Sally, who still uses her flip phone from 2006.
The beauty doesn't stop at mere navigation, though. The Wegmans app goes above and beyond by offering digital coupons galore. Yes, no more fumbling around trying to cut out paper coupons or forgetting them at home when you most need them.
With just one tap, these digitally savvy discounts are applied directly to your purchases, making savings easier than convincing Uncle Bob that his '80s rock band isn't getting back together.
Oh, but wait! There's more: personalized recommendations based on your previous orders or frequently bought items are provided to make sure you never miss out on what you love.
Community Involvement of Wegmans
It's not all just fresh produce and artisanal cheeses; they're also championing charitable initiatives that pack quite the punch.
Did you know that in 2022 alone, Wegmans donated over 32.8 million pounds of food products for hunger relief? That's enough to fill the Grand Canyon…okay, maybe not, but it's still impressive!
Their volunteer efforts are equally commendable; employees regularly roll up their sleeves to participate in local cleanups or lend a hand at community events.
Wegmans' commitment doesn't stop there; sustainable practices are integral to their operations as well.
You're probably imagining them hugging trees right now, which they might do, but we're talking more along the lines of solar panels on store rooftops and an aggressive recycling program.
Even the EPA has acknowledged them for using green power more frequently than other retailers nationwide.
Source: Wegmans 2022 Community Impact Report
So while you're munching on one of those delectable chocolate eclairs from their bakery (don't deny it!), remember you're supporting a business actively reducing its carbon footprint. But wait, there's more!
Wegmans' education sponsorships have helped countless students achieve higher learning opportunities through scholarships totaling over $120 million since 1984.
The next time you visit Wegmans, take pride in knowing each purchase contributes towards these noble endeavors.
Now, isn't that food for thought?
Frequently Asked Questions
1. Does Wegmans accept returns?
Wegmans accepts returns on most items purchased in-store or online as long as you have the original receipt and the item is still within its return window.
2. What are the employment opportunities at Wegmans?
Wegmans offers a variety of employment opportunities, including roles in customer service, management, culinary, and baking. They offer employee benefits like scholarships, career advancement opportunities, extensive training programs, and diversity initiatives to ensure an inclusive work culture.
3. Does Wegmans have a sustainable or eco-friendly initiative in place?
Yes, Wegmans focuses on green packaging and waste management to reduce their environmental impact. It also promotes energy conservation through various practices within its stores. Additionally, the stores offer a range of organic products and prioritize local sourcing to support sustainable farming and reduce carbon emissions associated with transportation.
4. What are Wegmans' policies regarding food allergies?
Wegmans takes food allergies and dietary restrictions seriously. All the products use clearly marked allergy labels to help you identify potential allergens. Wegmans also offers a wide range of gluten-free options, nut-free products, and vegan offerings to accommodate various dietary needs.
Thinking More than Just Groceries? Think Wegmans!
As we conclude our exploration of all things Wegmans, it's clear that this supermarket is not just a place to shop for groceries; it's a world of endless possibilities and delightful discoveries.
So, go forth, brave explorer, and may your cart always be filled with the delights and surprises that Wegmans has to offer. Happy shopping!
<div class='toc'><ul><li><a href=#History-of-Wegmans><b>History of Wegmans</b></li><li><a href=#Wegmans-Locations><b>Wegmans Locations</b></li><li><a href=#Wegmans-Specialties><b>Wegmans Specialties</b></li><li><a href=#Wegmans-Loyalty-Program><b>Wegmans Loyalty Program</b></li><li><a href=#The-Wegmans-Shopping-Experience><b>The Wegmans Shopping Experience</b></li><li><a href=#The-Wegmans-App><b>The Wegmans App</b></li><li><a href=#Community-Involvement-of-Wegmans><b>Community Involvement of Wegmans</b></li><li><a href=#Frequently-Asked-Questions><b>Frequently Asked Questions</b></li><li><a href=#Thinking-More-than-Just-Groceries?-Think-Wegmans!><b>Thinking More than Just Groceries? Think Wegmans!</b></li></ul></div>